The Copa del Rey MAPFRE, organized by the Real Club Náutico de Palma, is one of the most important regattas on the Mediterranean calendar.
It has always been hugely popular with Swan owners. Over a quarter of the 133-boat fleet attending the 38th edition, including 31 entries in exclusive one-design classes, is an impressive achievement for Nautor's Swan.
The Copa del Rey is once again the final, decisive event in The Nations Trophy Mediterranean League; the annual four-event season-long series dedicated to Swan One Designs. Taking place from 27 July to 3 August, the 2019 Copa del Rey will determine which ClubSwan 50, Swan 45 and ClubSwan 42 has won its respective class this year and, also, which nation has proved itself the best.
With 14 ClubSwan 50s, five Swan 45s and 12 ClubSwan 42s racing in Swan One Design configuration, this year is a serious step up on last year's showing proving both the popularity of the Swan One Design formula and the event location in Mallorca. Racing has proven to be tight across the season and only one yacht looks to be unassailable in its class standings. In the battle to be Best-Placed Nation, Italy has amassed a 13-point lead over Germany, with Russia a further 16 points behind. Austria, Switzerland and Spain are all in reach of the podium, but results will need to go their way.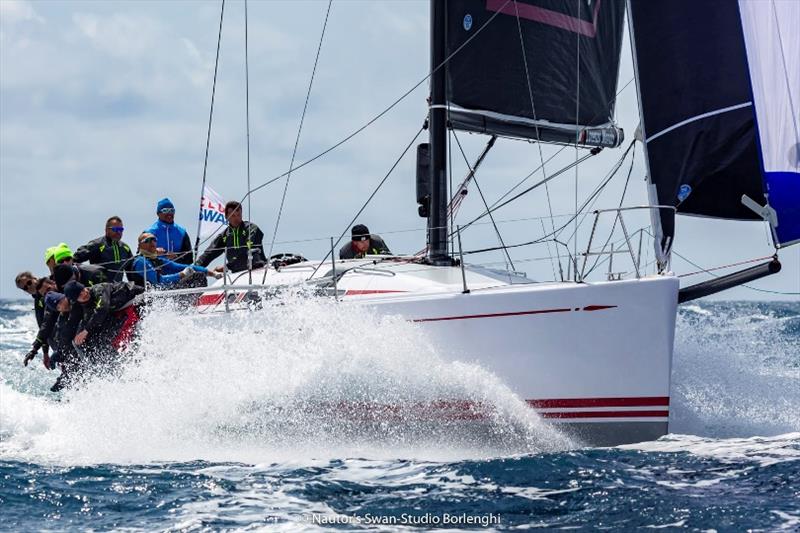 Copa del Rey Mapfre – photo © Nautor's Swan / Studio Borlenghi
ClubSwan 50
After three events in the Mediterranean League, Leonardo Ferragamo's Italian entry Cuordileone currently leads by seven points from Dmitry Rybolovlev's Skorpios from Russia, with the Austrian ClubSwan 50 Stella Maris owned by August Schram a further two points back in third. Ferragamo's crew have been consistently on the top steps of the podium with a 1,2,1 scoreline in the three events so far. With so many ClubSwan 50s competing in Palma, Cuordileone's position is not mathematically secure, but the team will go into the final event with considerable confidence.
Last year's winner at Copa del Rey and of The Nations Trophy Mediterranean League in the ClubSwan 50 class, Hendrik Brandis, the owner of German yacht Earlybird, could conceivably outpace Ferragamo, but he does not hold out great hope: "To repeat the successes of 2018 will be very challenging. Firstly, there are simply many more ClubSwan 50s on the line and, secondly, the level of sophistication and proficiency has gone up significantly for all boats. Without doubt, we had an advantage when we started to race in the class as one of the very first boats launched. That edge has been lost in the meantime. However, since I like challenges, I am looking very much forward to Copa del Rey and The Nations Trophy itself, in October.".
Aside from the potential winners, one ClubSwan 50 will attract special attention. Aifos 500 is entered as a result of a collaboration between Nautor's Swan and the Spanish Navy. The '500' in the boat name is significant. Spain has begun to celebrate the 500th anniversary of the first circumnavigation of the Earth by Portuguese explorer Ferdinand Magellan and Spanish discoverer Juan Sebastián Elcano. The celebrations will go on until 2022 and as part of them the Spanish Navy will race a ClubSwan 50 during the Copa del Rey, where SM King Felipe will probably sail as skipper.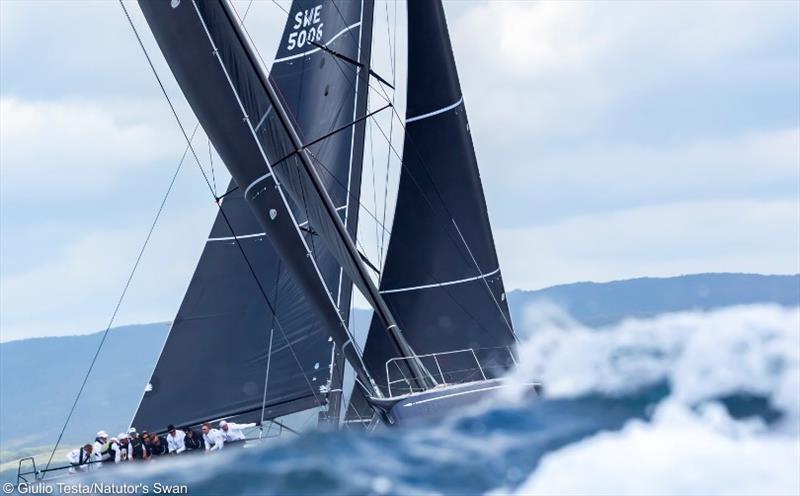 Copa del Rey Mapfre – photo © Nautor's Swan / Giulio Testa
Leaderboard (after three events)
1. Cuordileone (Italy) 28 pts
2. Skorpios (Russia) 21 pts
3. Stella Maris (Austria) 19 pts
4. Ulika (Italy) 18 pts
5. Earlybird (Germany) 17 pts
Swan 45
Luis Senìs Segarra from Spain, owner of Porrón IX, two-time and defending world champion in the Swan 45 class, has made clear his intent to win The Nations Trophy Mediterranean League 2019. Holding a five-point lead over the second-placed Motions, owned by Lennard van Oeveren, Senìs and Porron IX cannot be overtaken whatever the results at the Copa del Rey. This is unlikely to dampen the enthusiasm of Senìs. Last year, the one event he and his crew failed to win was the Copa del Rey. Something they wish to redress.
It will not be straight-forward. Copa del Rey might close out the Mediterranean League, but there is still The Nations Trophy in October and the opportunity prove that Porrón IX is fallible is something that will inspire the opposition. Tea Ekengren, owner of Blue Nights, summed up the feeling: "The main target for Blue Nights this year has been to have an enjoyable Swan One Design racing season. By the results, I think we have done quite well. We surely think we can beat any boat, as we have done in previous regattas. Porrón has been more consistent so far, but we are also in a good situation right now, so we just have to sail very well."
Leaderboard (after three events)
1. Porrón IX (Spain) 13 pts
2. Motions (Netherlands) 8 pts
3. Blue Nights (Finland) 6 pts
4. Fever (Germany) 3 pts
5. Thetis (Italy) 3 pts
ClubSwan 42
The ClubSwan 42 class has attracted its biggest fleet of the season. Lorenzo Mondo's Far Star is the leading boat in the League standings in attendance, but is not secure with at least four others able to overtake the Italian crew. With this motivation, the competition is expected to be fierce, as Natalia Brailoiu of Natalia, just three points behind Far Star explains: "The Copa del Rey is a beautiful, but a very long and complicated event. Everything can happen during the six days of racing in the bay of Palma. Sailing is sport. You can win or you can lose. The important thing is the preparation and the training we do, to do our best and enjoy every race."
Brailoiu believes she and her crew have worked hard and deserve to do well in Palma, although she is aware the weather may not make it easy: "We have worked hard, so our goal is to do well at the Copa del Rey. For the moment, we look at the first race of the first day. Then we'll look at the second race. The meteo can vary from the usual thermal wind of 18 knots and chop to the very light conditions we experienced last year. We have to be ready." Were Natalia to prevail, Brailoiu is clear: "Winning is the cherry on the cake… and we do like cherries so much…"
Leaderboard (after three events)
1. Fantaghirò (Italy) 15 pts
2. Far Star (Italy) 14 pts
3. Natalia (Romania) 11 pts
4. Spirit of Nerina (Italy) 8 pts
5. Mela (Italy) 6 pts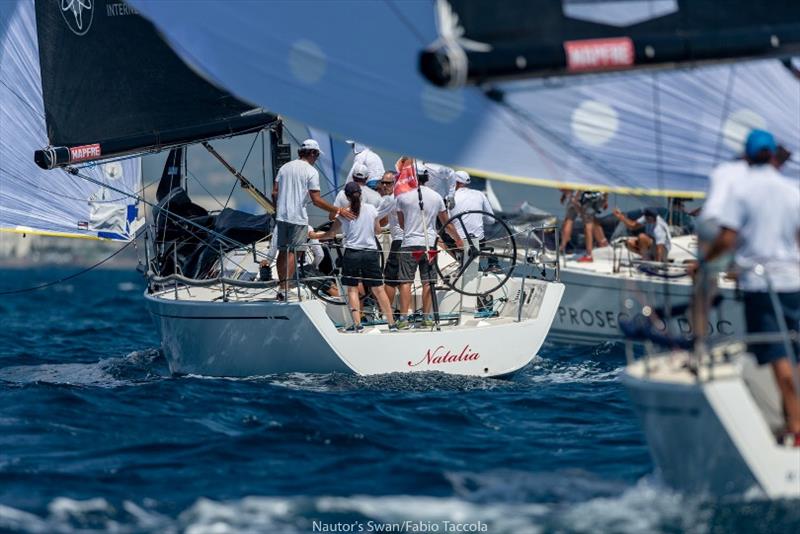 Copa del Rey Mapfre – photo © Nautor's Swan / Fabio Taccola
The Nations Trophy Mediterranean League 2019
The prize for Best-placed Nation is Italy's to lose. 11 countries will be represented by the Swan One Design yachts racing at the Copa del Rey and with two of the three classes being sizeable there are plenty of points to be won and lost. Aside from the glory associated with competing for one's nation, the country winning the Best-placed Nation this year will carry a point forward to The Nations Trophy 2019, scheduled for Palma in October.
Leaderboard (after three events)
1. Italy 50 pts
2. Germany 37 pts
3. Russia 21 pts
4. Switzerland 17 pts
5. Spain 17 pts
Swan Handicap Entries
In addition to the 31 Swan One Design entrants, a further six Swans are participating in the handicap divisions. Four will feature in the 13-boat BMW ORC 1, including the Swan 45 Rats on Fire (ESP) which won the division in 2017 and finished second in 2018. Meanwhile, BMW ORC 2 has two ClubSwan 42s participating.
The 38th Copa del Rey MAPFRE starts on Saturday, 27 July and concludes with the final prize giving on Saturday, 3 August. A maximum of 11 races, including one coastal race, will be sailed by the Swan One Design classes and those Swans competing in the ORC divisions. No more than three races will be sailed on any day. With some 37 Swans taking part across the different divisions, Nautor will provide one of the largest yacht-brand representations, amounting to over 25% of the fleet.
by Nautor's Swan