Final preparations are under way to celebrate the 20th edition of Argentario Sailing Week starting on Thursday 19 June and wrapping up on Sunday 23 June 2019.
Old hands and 10 debutants are making their way to Porto Santo Stefano to enjoy 4 days of racing on the crystal blue waters of the Tyrrhenian Sea with the islands of Giglio, Montecristo and Elba as a stunning backdrop.
Piero Chiozzi, President of the Yacht Club Santo Stefano stated: "Celebrating the 20th edition of the classic yacht regatta Argentario Sailing Week brings us great joy and we are proud of how our event has grown over the years. The municipal administration of the Comune Monte Argentario, the territory of Maremma and members of our yacht club have believed in it and have been at our side throughout the years. Thanks to their support and to our sponsors, we have been able to ensure great organization and a warm welcome to the Grandes Dames, owners and crews who return year after year. Argentario Sailing Week has become a not to be missed event in the classic yacht racing world and we are more than pleased to be welcoming 10 new yachts at the 2019 edition. "
The history of yachting ranging from 1899 with lovely Tigris designed by Alfred Mylne to spirit of tradition Toi e Moi launched in 2018 designed by Dykstra Naval Architects will be docked in Porto Santo Stefano, offering sailing and beauty enthusiasts alike the opportunity of admiring these majestic Grandes Dames of the Sea up close. All participating yachts, their designers and stories are described in great detail on the event's Facebook page.
Welcome Debutants!
Argentario Sailing Week 2019 in the Vintage class welcomes Tigris (1899 – Alfred Mylne), Viola (1908 – William Fife III), Chips (1913- Burgess W. Starling), Barbara (1923 – Charles Nicholson). Making their debut in the classic class, Artica II (1956 – Illingworth & Laurent), Rosalù (1963 – Sparkman & Stephens) Magdalus Secondo (1971 – Sangermani). Finally, in the Spirit of Tradition class, Tintagel (1994 – Hoek Design), IlHabela II (2005 – Sean McMillan) and Toi e Moi (2018 – Dykstra) will be racing in Santo Stefano, Maremma, for the first time.
Can't wait to see you Old Hands!
Returning to race in the breathtaking Gulf of Argentario, in the Big Boat class Halloween (1926 – William Fife III). In the vintage class, Caroly (1948 – Baglietto), Argyll (1948 – Sparkman & Stephens) Pandora (1907-Anker), Marga (1910-Liljiegren), Olympian (1013-Gardner), Chinook (1916-Herreshoff), Stormy Weather of Cowes (1934 – Sparkman & Stephens), Skylark of 1937 (1937 – Sparkman & Stephens), Manitou (1937 – Sparkman & Stephens) and Varuna (1939 Sparkman & Stephens). Among the returning yachts belonging to the classics class, Chin Blu III (1965-Illingworth), Corsaro II (1961- Sparkman & Stephens), Il Moro di Venezia I (1975 – German Frers), Galahad (1962 – Morgan) and Ojalà (1973 – Sparkman & Stephens).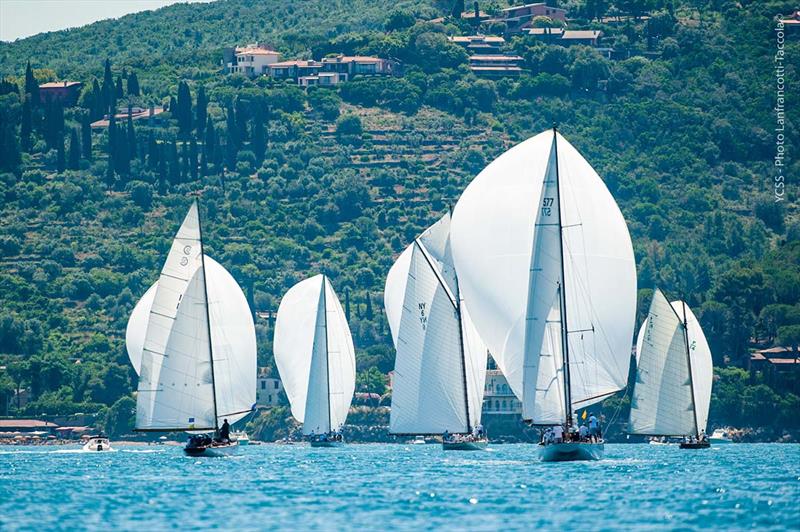 Argentario Sailing Week – Maremma and Argentario © Lanfrancotti Taccola
The fleet of Argentario Sailing Week will be divided into 3 categories: Classic, Vintage and Spirit of Tradition yachts.
Argentario Sailing Week 2019 is organized by the Yacht Club Santo Stefano and by the Municipality of Monte Argentario with the patronage of the Region of Tuscany, the Province of Grosseto, of the Proloco di Porto Santo Stefano, Approdi SsA and of the Comune di Monte Argentario.
Sponsors of 20th Argentario Sailing Week: Bettoja Hotels, Caffè Mauro, Dino Zei Orologi, Sittel, Nautica Vitelli, Zeurino snc, Engel & Volkers, Farblue.it, Assonautica Diglio and Delta Yachting Service.
Technical Partners: Verdissimo, Argentarola, Acquedotto del Fiora, Cantina Vinicola Banfi, Consorzio Tutela Olio Seggiano DOP, Moroni Editore and Consorzio LaMMA for weather forecasting.
20th Edition Argentario Sailing Week Programme:
Wednesday 19 June – Reserved for registration and measurement. In the evening, the Argentario Sailing Week welcome cocktail will take place at the Yacht Club Santo Stefano.
Thursday 20 June – The Mayor of Monte Argentario will greet all participants at 8.30 at the Town Hall before the Skippers' briefing. The first warning signal.
Friday 21 June – After racing, the Spanish Fortress built in the 18th Century overlooking the Argentario Bay will provide a magical setting for the crew dinner organized by the Yacht Club Santo Stefano
Saturday 22 June – Racing followed by Party at the racing village
Sunday 23 June – Prize Giving Ceremony 2019 at the Race Village (6pm) followed by a Farewell Cocktail.
Quick Links:
by Tessa Wiechmann