British Clipper 2017-18 Race Circumnavigators, Mike Miller (50, from Windsor) and Glenn Manchett (53, from Cambridge), who raced on board the winning Sanya Serenity Coast team, have returned to China's tropical paradise this month to compete in the country's famous Round Hainan Regatta.
Having enjoyed everything that Sanya had to offer during the Clipper Race stopover, Mike was especially looking forward to calling into the tropical resort whilst racing on Wan Ming Tang Bravery Honor Team in the race that start and finishes in Haikou, Hainan.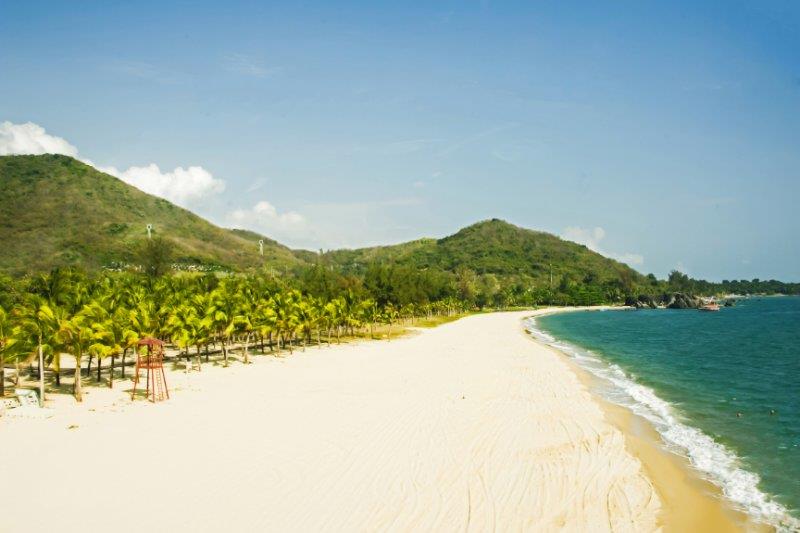 The tropical shores of Sanya greeted the Clipper 2017-18 Race crew in February last year – photo © Clipper Race
During a talk held during the pit-stop in Sanya to promote the Sanya Ambassador programme for the Clipper 2019-20 Race, Mike said: "It was overwhelming last year when Sanya's team yacht returned to its home port. The beautiful scenery and seas of Sanya left me and my family with unforgettable memories.
"During the Clipper 2017-18 Race, I made friends with all Sanya Ambassador crew who taught me about Chinese culture. I hope that there will be more excellent Sanya Ambassador crew joining the next race to let the world know more about China and love Sanya!"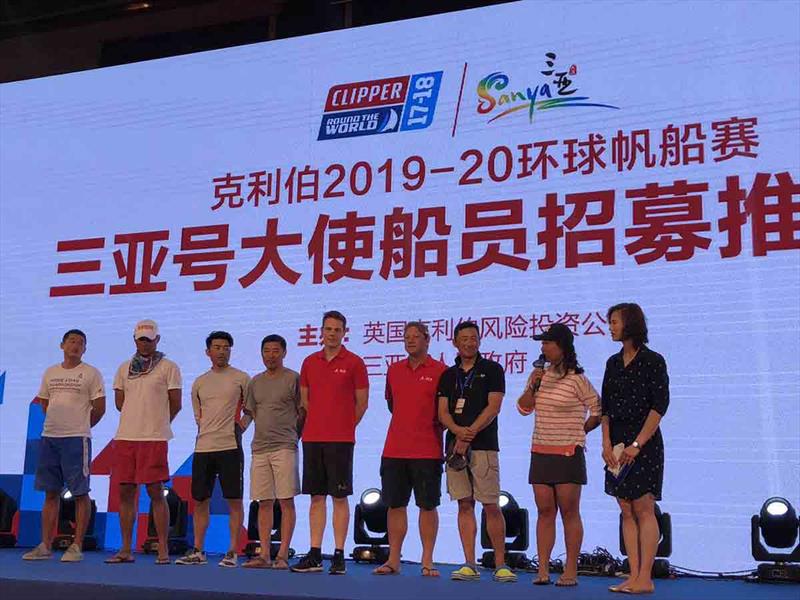 Clipper Race crew members and Sanya Ambassador crew members talk all-things Clipper Race – photo © Clipper Race
Also in attendance were previous Sanya Ambassador crew members Han XiaoQiang (Big RIver), Xing WeiWei (WeiWei), Gao Hong (Gordon), Manjiang Liu (Kobe), Daniel Newham and media berthers Ming Hao (Ming) and Wang Bo (Wanbert).
Sharing their Clipper Race experience, they explained how the opportunity to become a Sanya Ambassador has given them the chance to take on the grueling challenges, and also provided them with a once in a lifetime experience whilst helping to spread the word of Sanya.
Clipper 2019-20 Race Sanya Ambassador Crew applications close on Wednesday (27th March). The programme, which is available to residents of Sanya, gives locals the chance to take part in the 2019-20 edition of the epic 40,000 nautical mile circumnavigation when it kicks off this summer.
The Round Hainan Regatta was founded in 2010 by the China Yachting Association and celebrated its tenth edition this year.
by Clipper Round the World