Cowes SailGP practice racing: Dylan Fletcher puts a stake in the ground at home event
Home town hero Dylan Fletcher and his Great Britain SailGP Team set the pace during practise racing on Thursday, placing a target on their backs ahead of their home event.
The six national teams, comprising of the world's best sailors, had their final day of practise following the King's Cup – a major sailing event hosted by the Duke and Duchess of Cambridge in support of their charitable causes, taking place on the SailGP racecourse. The Brits came out firing, to win both races.
True to its mission of redefining sailing, SailGP reached a new frontier in high-performance sailing earlier in the week, when Fletcher's British team broke the 50-knot speed barrier on its home turf on the Solent, off the Isle of Wight. Fletcher didn't hold the record for long. Australia's Tom Slingsby went a knot faster on Wednesday to mark the highest speed of 51.24 knots. Overall leader Nathan Outteridge also joined the 50-knot club when the Japanese team hit 50.37 knots. The race is on to be the first to reach similar speeds during racing.
"The main thing is we did it first and on home waters. No one remembers who did it after," said Fletcher. "We just knew we had to do it before the Australians. It was such a strong day for the breeze, and it was likely they were going to be going quicker, so we were stoked to do it first, especially on home waters."
Slingsby's Australia team was not present for practise racing today. On Wednesday after breaking Fletcher's previously set speed record, the Australians broke their wing on the way to the dock.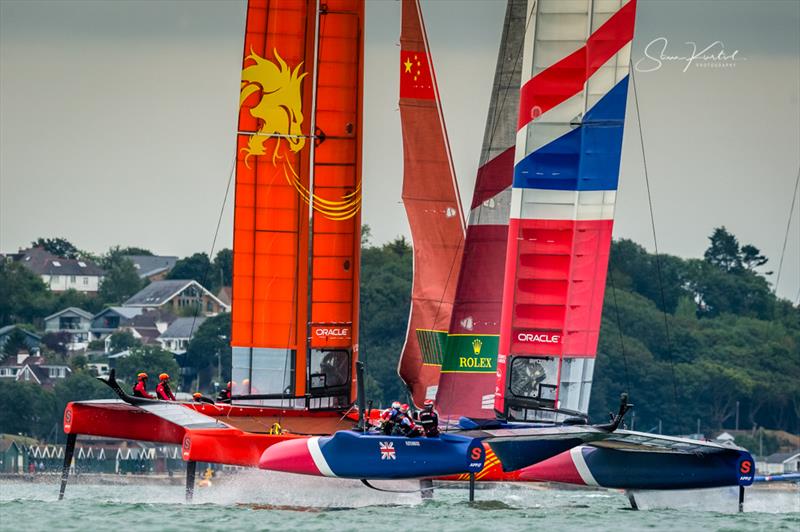 Cowes SailGP practise racing on Thursday evening – photo © Sam Kurtul / www.worldofthelens.co.uk
In front of a full crowd in the SailGP Race Village at Egypt Point, Slingsby was noticeably irritated at Fletcher for breaking the 50-knot barrier first. "We weren't on the water, and I was saying congratulations to Dylan, and then I heard them saying, 'yeah it's good to get one up on Tom.' I was sitting on shore; I wasn't allowed to go sailing and within five minutes of sailing the next day we had already broken it. We aren't even reaching the limits of these boats, we were only in 20 knots of breeze, and we did 51 knots."
Given Fletcher's out-performance this week, the British squad is the team to watch. Everyone is gunning to beat the Brits on the racecourse, especially the United States' Rome Kirby, who is just one point behind Fletcher on the leaderboard.
Fierce rivalries have emerged in SailGP Season 1, and Cowes serves as the last stage before teams contend for $1 million in Marseille. At the top of the leaderboard sit long-term friends and rivals Outteridge and Slingsby, who are separated by just one point.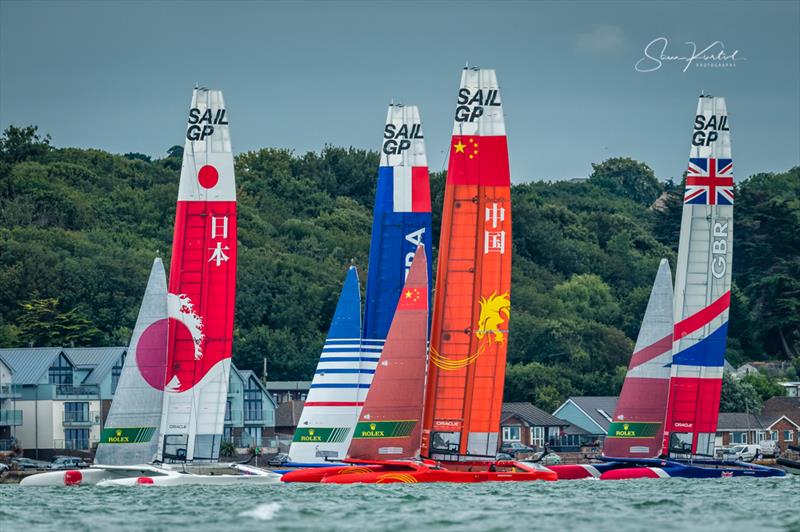 Cowes SailGP practise racing on Thursday evening – photo © Sam Kurtul / www.worldofthelens.co.uk
"The racing is getting closer and tighter, particularly against the Australians," said Outteridge. "It's usually them or us, but in New York, we saw the Americans win a race and the British win one in San Francisco, so I think it'll be closer. I don't think it's going to be a straight forward event. Looking at the weather coming, it could be quite intense."
There's no doubt SailGP Season 1 is turning out to be a close race all the way to the finish.
"We have home advantage, but I think there's also a disadvantage in being the home team because the amount of pressure on you and the expectation," said Fletcher. "Our eyes are all focused on the big prize."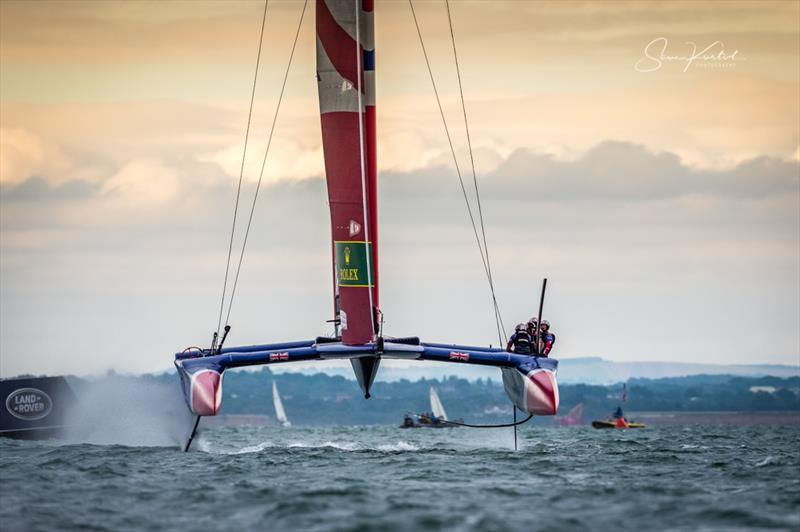 Cowes SailGP practise racing on Thursday evening – photo © Sam Kurtul / www.worldofthelens.co.uk
With strong winds and adverse weather anticipated for the first day of racing at Cowes SailGP, it is nearly certain that the expected weather will impact the schedule on Saturday, August 10.
For more information visit SailGP.com/Cowes.
by SailGP