Fremantle was back to its very best for day two of the 2019 Dragon World Champi-onship.
After a few hours waiting ashore chilling and sipping coffees in the sunset lounge, the regular sea breeze gathered for two fabulous races under cloudless blue skies and aqua marine waters.
Race two of the championship got started at 1225hrs with a brisk 15 – 16 knot S/SW breeze using the two lap windward/leeward course. Soon after the start disaster struck for local Royal Freshwater Bay YC club champion Willy Packer when his jib sheets gave way forcing his retirement from the race. The rest got away cleanly for the long slog upwind into the familiar Freo chop. A new leader turned around the top mark first in Peter Heerema and his crew representing the Netherlands. The flying Dutchman was followed by Dmitry Samokhin in RUS76, sailing Rochnrolla and Klaus Diederichs and his crew of Jamie Lea and Diego Negri in third. All 32 boats rounded the top mark and split gybes downwind.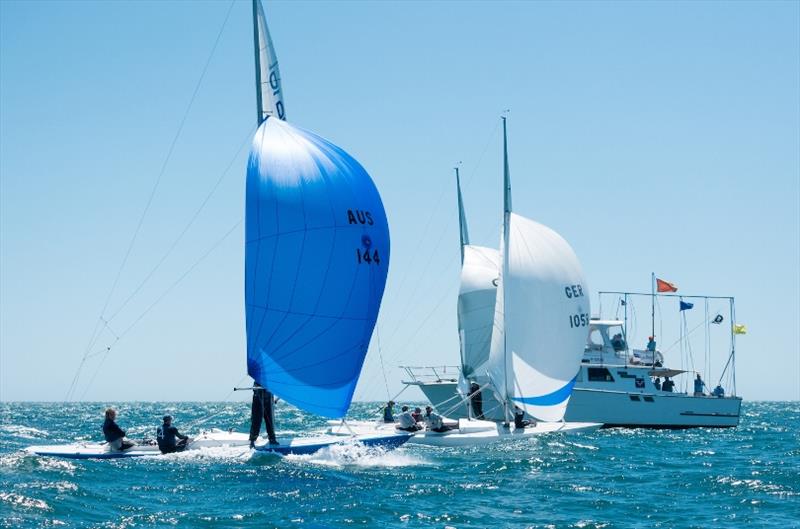 Day 2 – 2019 Dragon World Championship at Fremantle – photo © Tom Hodge Media
At the bottom gate the order stayed the same with Anatoly Loginov in Annapurna and Peter Gilmour's Yanmar Racing Team in close contention. As the breeze climbed a notch on the second lap, there were some gains and losses across the race track but the first three boats remained in the same finishing positions. In the Corinthian fleet which accounts for two-thirds of the entries, Karabos lX sailed by Nick Rogers, Leigh Behrens and Simon Burrows, all the way from Tasmania, finished an impressive 7th place followed by the Dutch sisters in Olinghi supported by Janka Holan and Pedro Andrade in 9th. Local (RFBYC) dragon supremo Andrew Foulkes sailing Tatsu with Andrew Bennett and Matthew Stafford finished in the top ten.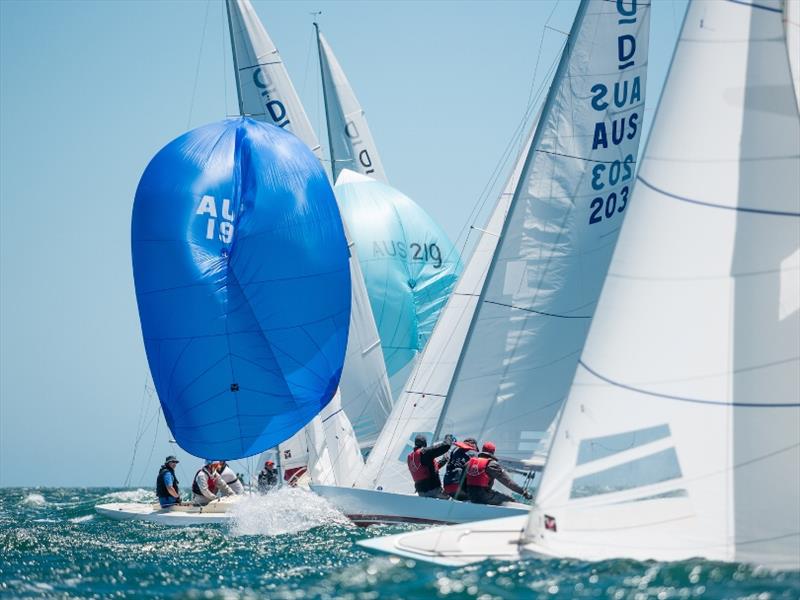 Day 2 – 2019 Dragon World Championship at Fremantle – photo © Tom Hodge Media
Race three of the series begun at 1430hrs with a course axis of 210 degrees in a gusty 16 – 19 knot established sea breeze. Started under U flag the fleet were again well behaved with a big sag mid line. The smart money was quite well spread across the length of the start line. It was back to normal service with TUR1212, Provezza with her world champion crew helmed by Andy Beadsworth back leading from the front.
She was followed by the two British boats, Grand Gordon and his Louise Racing team and Klaus Diederichs and his highly experienced Fever crew.
With more rock n roll than a Rolling Stones concert it was entertaining downwind sailing for the fleet of keen spectator craft watching the action.
At the gate these three boats were followed in by RUS27 Annapurna, NED411 Olinghi and SUI318, 1Quick1 with Wolf Waschkuhn on the helm. The fleet were well spread on the second run but the top three places remained the same.
Course one comes with an upwind leg halfway up the windward leg but not enough opportunity for anyone to challenge the Turkish entry who crossed the line for their first gun of the 2019 Dragon Worlds. Grand Gordon and his highly tuned team of Ruairidh Scott, Sophie Wequelin and James Williamson finished second with Klaus Diederichs and Fever picking up another third of the day. An excellent fourth for the Dutch team onboard Olinghi rounds off an excellent day for them.
After two-thirds for the day Klaus Diederichs commented on how much he enjoyed racing today:
"Two great races in superb sailing conditions. We really enjoyed it out there today, it was really worth the wait earlier in the day whilst the wind conditions established."
With an 11th Nick Rogers sailing Karabos IX ends the day as lead Corinthian on 37 points. Simon Barter from the UK sailing a chartered boat finished the day as second Corinthian on 44 points.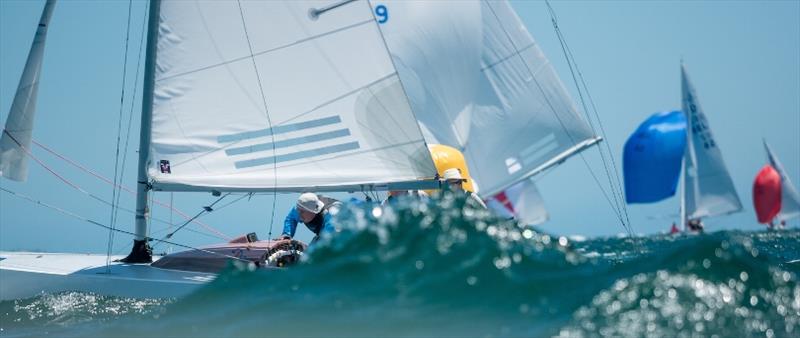 Day 2 – 2019 Dragon World Championship at Fremantle – photo © Tom Hodge Media
A healthy competition exists amongst many of the club sailors racing at the Worlds in Fremantle. Local sailor Ethan Prieto-Low who skippers Hotspur, goes head to head with Stephen Locke sailing Taranui with Reuben Rosoling and Pat Vos as crew. Despite only stepping into the Dragon a few months ago the Taranui team are placed well overall in 11th and top local WA boat overall. Ethan has improved markedly over the last two seasons challenging the top WA Dragon teams. Sailing with his day John Low and Brad Stout, he sits in 16th place overall.
The overall results leave points tight after three races with the current world champions, Provezza on eight points, Louise Racing on 9 points and Fever on 11 points. All to play for on day three of the Championships with a general forecast of more 'Gin n Tonic' racing in a building breeze.
Tired sailors returned ashore for some superb hospitality in the shape of the Yanmar Racing special BBQ supported by Irongate Wagyu beef supplied by Peter Gilmour and his team. The evening was finished off with another stunt by the great Grandfather of Dragon Racing, Gordon Ingate, posing with a large group of under 30 year old Dragon sailors racing at these World Championships, proving that there is still plenty of fire in the belly of the Dragon Class as a top one design keelboat.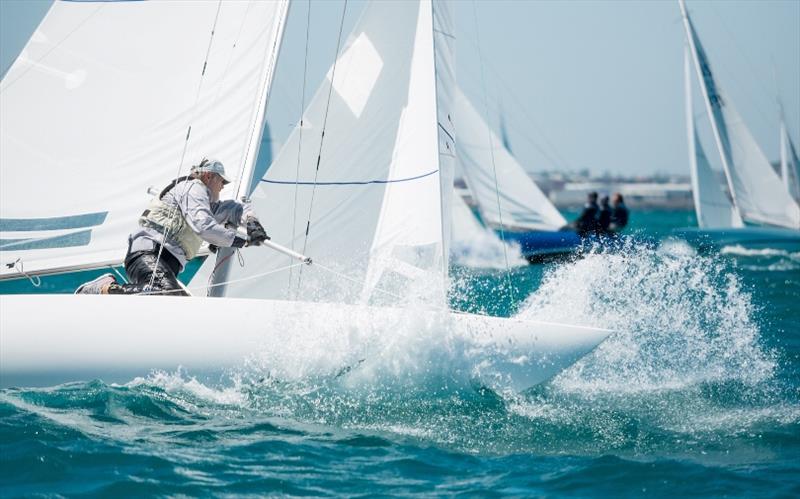 Day 2 – 2019 Dragon World Championship at Fremantle – photo © Tom Hodge Media
A three time Olympic Gold medallist and multiple class world champion Jochen Schuemann is enjoying sailing the Dragon here in Fremantle. He is racing with Kai Michael Schaper and Klaus Skripalle and despite shredding a spinnaker today is still in contention in 9th overall.
"I was last sailing in Australia at the Sydney Olympic Games and after that at the Melbourne Dragon World Championship and I love to sail in Australia, thats why I made a deal to come and sail with a German team. We are sailing for the first time together, it is a little too much wind for us and a little too much fun but we love it."
The third day of racing takes place on Sunday with two more races with an earliest start signal of 1200 noon. Bring it on.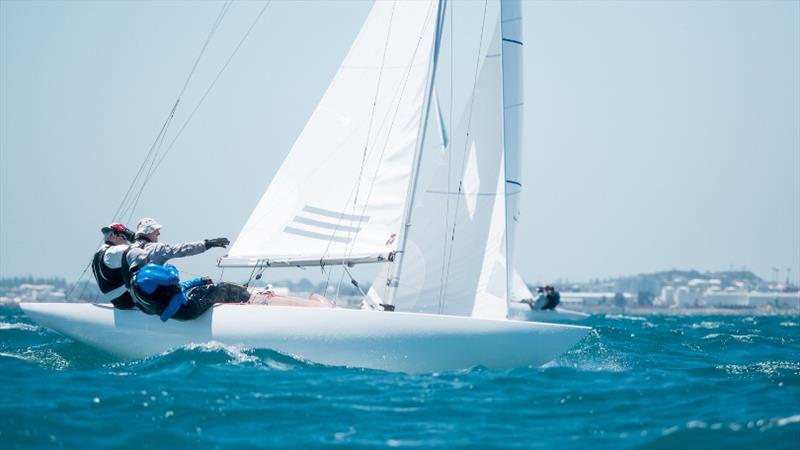 Day 2 – 2019 Dragon World Championship at Fremantle – photo © Tom Hodge Media
Links:
by Jonny Fullerton, Dragon Worlds Fremantle