After hours of chasing breeze all over Sydney Harbour, PRO Phil Yeomans was only able to get one race away before calling it a day.
"There was not much from anywhere. We had contacts up and down the harbour and even made a call to Tathra down the coast before hoisting AP over A and sending the fleet back to MHYC".
Congratulations to Tom and Alan Quick's Outlaw for winning their fourth regatta this season, making them the hot favourite going into the NSW State Title and National Championships being held in the coming weeks.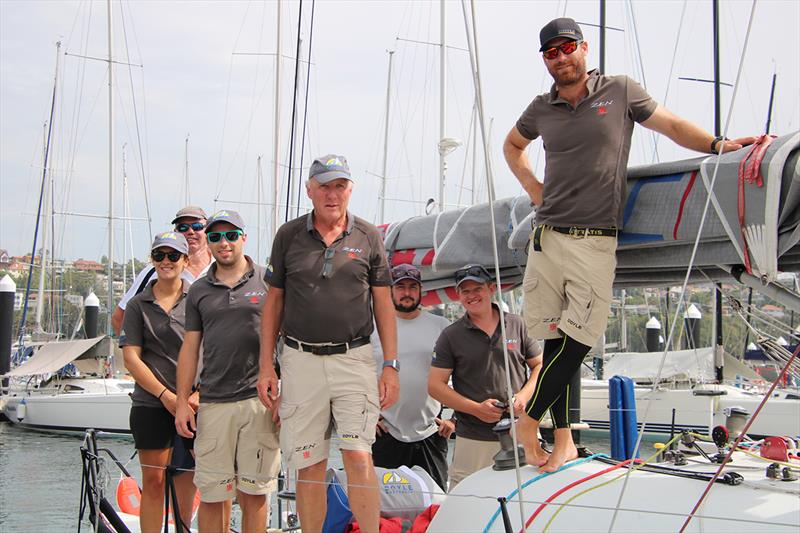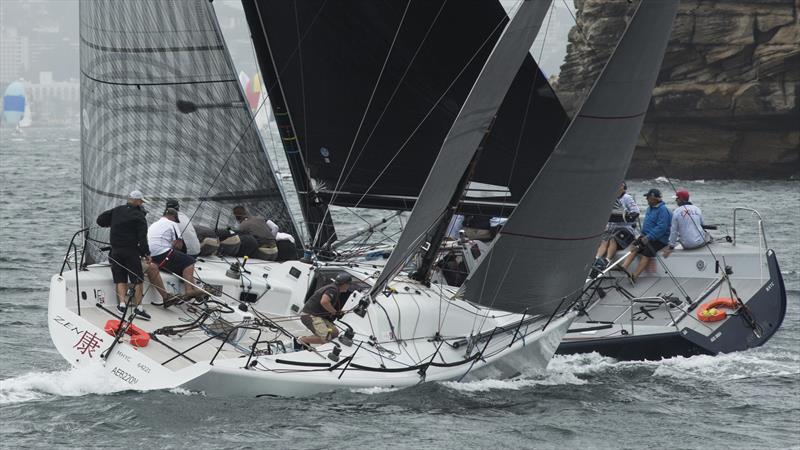 2019 Farr 40 One Design Trophy day 2 © Margaret Fraser-Martin
Rob Reynolds and the Exile crew hit the podium for the first time this season just three points behind Edake. Tactician Gary Geitz is pleased to have a set team for the States and Nationals. "Not changing crew every regatta is always a benefit. Last year we had a change of two people every regatta".
Geitz commented on Exiles crew work. "Our teamwork yesterday wasn't up to scratch. We lead the fleet in the first couple of races and crew work let us down which was costly. We had a good start in today's race. There was a very high tide of 193meters and were were the first to tack soon after the start and stayed on the western shore with the current. Rob (Reynolds) steered well today and was more accurate in the lighter air which is tough".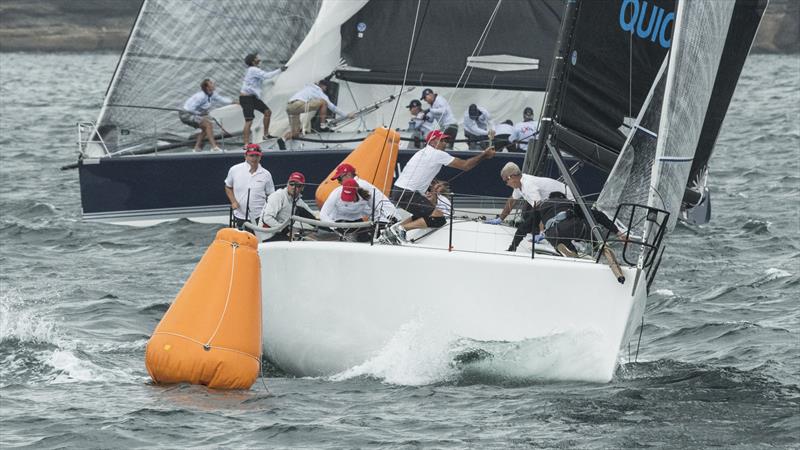 2019 Farr 40 One Design Trophy day 2 – photo © Margaret Fraser-Martin
Exile appears to be peaking right on time with the States and Nationals looming. Geitz continued, "We have some new sails coming, which coupled with a bit of training should put us where we need to be for the States and Nationals".
Overall Results:
| Pos | Sail No | Boat Name | Skipper | R1 | R2 | R3 | R4 | R5 | Pts |
| --- | --- | --- | --- | --- | --- | --- | --- | --- | --- |
| 1 | AUS040 | OUTLAW | Tom & Alan Quick | 1 | 8F | 1 | 1 | 1 | 12 |
| 2 | 7 | EDAKE | Jeff Carter | 6 | 3 | 2 | 2 | 3 | 16 |
| 3 | 8884 | EXILE | Rob Reynolds | 3 | 5 | 4 | 5 | 2 | 19 |
| 4 | 64221 | ZEN | Gordon Ketelbey | 2 | 1 | 6 | 6 | 5 | 20 |
| 5 | SM2008 | DOUBLE BLACK | Rob Pitts | 5 | 2 | 5 | 4 | 4 | 20 |
| 6 | 8001 | FORTY | Sam Hill | 4 | 4 | 3 | 3 | 6 | 20 |
| 7 | 9327 | SOLYMAR | Jason & Mary King | 7 | 6 | 7 | 7 | 8F | 35 |
The Farr 40 NSW State Title will be held 2 & 3 February 2019 at MHYC and the following nine boats are confirmed for racing:
1. Double Black (MHYC & SYC)
2. Edake (MHYC)
3. Exile (MHYC)
4. Forty (RSYS)
5. Good Form (NCYC)
6. Nutcracker (SYC)
7. Outlaw (CYCA)
8. Solymar (CYCA)
9. Zen (MHYC)
by Jennie Hughes