Earlier this year the class lost a beloved member of the Farr 40 family.
Tasmanian Tim Roberts has sailed in the class for over a decade, competing in nine world championships overseas, winning three national championships and attending over sixty regattas aboard Voodoo Chile, Transfusion, Zen and most recently Outlaw.
All members of the Farr 40 class, past and present, have been rocked by Tim's passing. He was a fierce competitor, a beautiful friend and an all-round great guy who will be dearly missed.
Bow decals etched with the initials TR were proudly displayed on all boats and the Outlaw crew and skipper Tom Quick felt Robert's presence with them at every rounding of the day.
"It has been an extremely sad off season for the team with the passing of their mastman. Tim was an integral part of the Outlaw crew and previously sailed with other Australian Farr 40 teams including Transfusion, Voodoo Chile and Euro Central, winning three John Calvert-Jones national championships.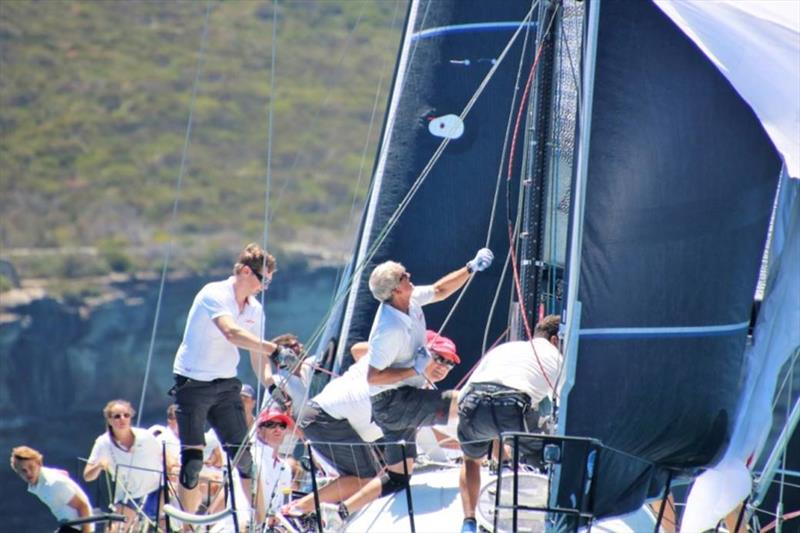 Tim Roberts bossing it at the 2020 NSW State Title – photo © Farr 40 Australia
Tim was a fantastic character to have as part of the team and one of the best mastmen in the fleet. He will leave an irreplaceable void in the team and will be missed greatly. Outlaw will sail the summer with Tim in their minds and will push for another Australian title in memory of our team mate and great friend." Quick said.
This weekend's crew declarations resembled a Hollywood all-stars party including the best of the best in the business with Tom Slingsby calling the shots on Bluetack, Will Ryan on Newcastle entry Good Form, Nathan Wilmot on Nutcracker and Tom Burton on Double Black, proving the stature of the class by the talent it continually attracts.
Farr 40 One Design Trophy – photo © Farr 40 Australia
The CYCA dock was buzzing with the most Farr 40's we've seen assembled in Sydney in over a decade. Teams were excited to be back at the home of the Sydney to Hobart yacht race for the first time in many years and the Class would like to thank the CYCA for their great hospitality and race management.
Boat of the day went to Class newbies Brent Lawson and Patrick Delany on Bluetack with Tom Slingsby as Tactician scoring 3.3.1.1 giving them a five point lead over Nutcracker in second place. Lawson and Delany reached the top of their game in the Adam's Ten class before joining the Farr 40 fleet and both were pleased with today's result in their maiden Farr 40 regatta.
"We had no expectations today. This was our first race in the fleet and clearly there is nothing wrong with the boat. It's been a lot of work getting the boat ready and we are really pleased with the results. The wind was kind to us today. Every time we've gone out it's been 25 knots, so today was generous with the wind. Tomorrow will be a bit stronger, which will be a test for us and we will need to be on our game." Lawson said.
Delany was at the helm today and is excited to be sailing in the Class. "We like the skill involved in one design racing and it seemed a logical leap up for us from the Adams Tens. We saw a lot of Farr 40's at MHYC and thought it would be a good challenge for Brent and I." Delany said.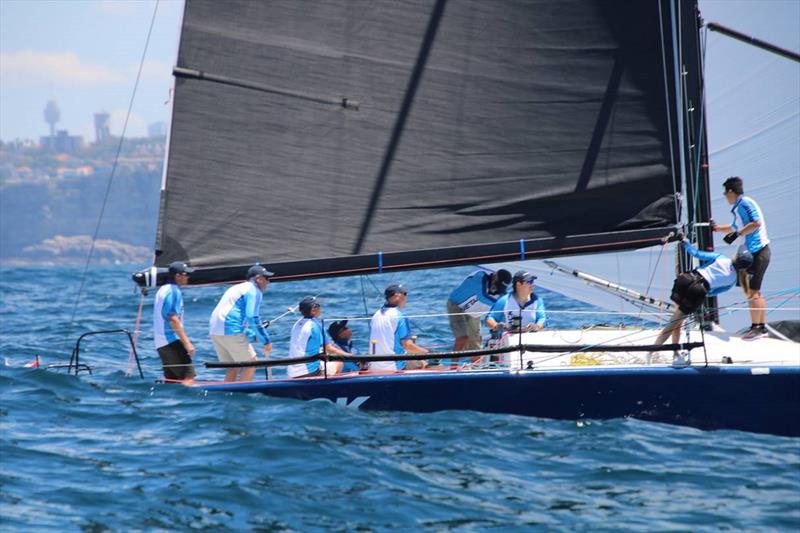 Boat of the Day Bluetack with owners Patrick Delany and Brent Lawson and Tom Slingsby as Tactician – Farr 40 One Design Trophy – photo © Farr 40 Australia
PRO Denis Thompson ran four races offshore on the Macquarie Circle in 8-10 knots from ESE and all the boats were very evenly matched in these conditions.
Tomorrow's racing will commence at 10.55am on Sydney Harbour for the final four races of the regatta.
by Farr 40 Australia