Barnacle growth was the root cause of Finnish skipper Tapio Lehtinen's slow solo circumnavigation but the 110 day difference between his and Race winner Jean-Luc Van Den Heede's time was definitely enjoyable.
"I have certainly got my money's worth from the entry fee." Tapio had joked with Race organiser Don MacIntyre before his return to Les Sables d'Olonne at 20:21hrs on Sunday.
"This is the best organised race I have ever taken part in…And the most selfish thing I have ever done… It is the fulfilment of a life-long dream…I'm not enrolling myself just yet, but yes, absolutely, I would do it again!" the 61 year old from Helsinki said at his press conference today.
"Yet asked what was the lowest moment in the race, the answer appeared to cover several months. "I had been sailing neck-and-neck with Istvan Kopar across the Indian Ocean when suddenly he started to get away. I thought there must be something wrong – perhaps a fishing line caught in the propellor – and dived overside during a calm spell before the Hobart film drop to investigate. It was not a rope or net, but barnacles growing all over the hull. When I first saw them on the bottom, I knew my race was over."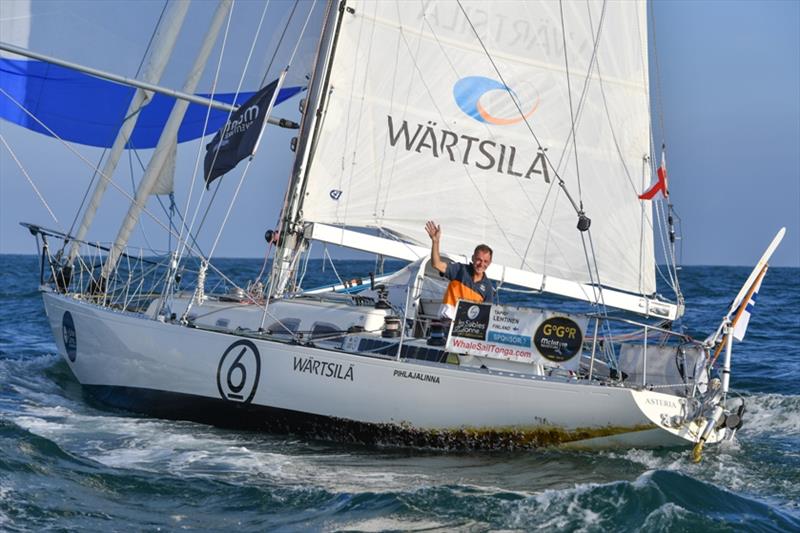 Tapio Lehtinen and his yacht Asteria, finishing off Les Sables d'Olonne yesterday. – photo © Christophe Favreau / PPL / GGR
Other skippers had taken the opportunity to clean their hulls during their compulsorary 24 hour stop in Tasmania, but by the time Tapio and his Gaia 36 Asteria reached Storm Bay Australian authorities had put a stop to it. Careening hulls had to be undertaken beyond the 200 mile territorial waters.
Tapio readily admits to an aversion to sharks, so when he prepared to dive overside during a calm period after leaving Tasmania he recalled "I was tying my improvised boarding ladder to the boat in preparation of diving overboard and spotted this huge shark swim alongside the boat – and that was the worst day of my life."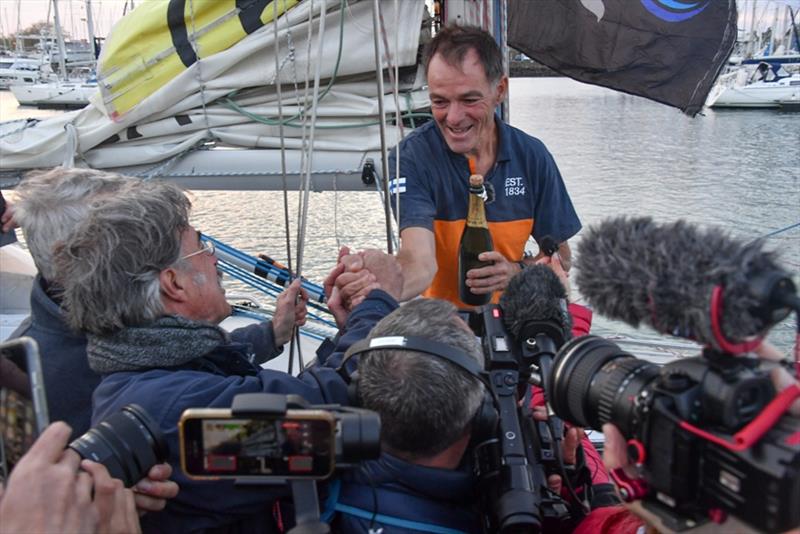 Media scrum: Lehtinen besieged by media and fellow Golden Globe race skippers wanting a word and to welcome him back – photo © Christophe Favreau / PPL / GGR
Tapio was accompanied the last 10 miles to the finish by Bernard Moitessier's famous yacht JOSHUA a French entry in the original Golden Globe Race 50 years before. "I sense the smell of Tahiti in Les Sables" Tapio shouted across in reference to Moitessier's decision to foresake the success of finishing by continuing towards a second circumnavigation 'to save my soul' as he put it, before finally dropping anchor off the Pacific island.
Susie Goodall's SITraN Teddy saved
Suzy Goodhall has said very little about her harrowing experience when forced to abandon her yacht DHL Starlight after being rolled and dismasted in the Pasific but here is one piece of good news. Among the few things she carried with her in a small backpack when craned on to the cargo ship that came to rescue her, was her SITraN teddy bear she was carrying around the globe as a fundraiser and awareness opportunity for the great work of SITraN. Rather than accept the return of her bear it was decided that Susie should keep him for future expeditions and adventures so he sails on… That's one special Teddy!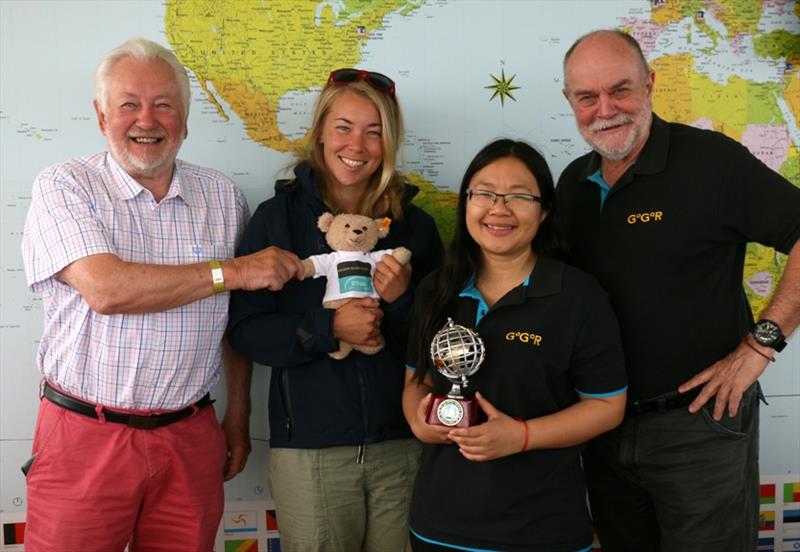 Left to right: Stuart Keane returning the SITraN Teddy to Suzy Goodall accompanied by Race organisers Jane and Don McIntyre – photo © Tina Martin / PPL / GGR
It is still possible to secure one of the remaining entrant SITraN Teddy bears (from Abhilash Tomy, Istvan Kopar, and Tapio Lehtinen) Check in to GGR Facebook page to bid for the remaining Teddies and help great research that SITraN does to combat Motor Neurone Disease, Alzheimer's disease and Parkinson's disease.
Prize winners
Winner GGR 2018 Jean-Luc VDH (FRA) Matmut 211D 23H 12M Suhaili timber perpetual model and trophy model, RALF TECH Winners' watch, BOATSHED.COM £5000 winners purse
Second: Mark Slats (NED) Ohpen Maverick 216D 00H 18M – Trophy model of Suhaili
Third: Uku Randmaa (EST) One and All 254D 18H 40M – Trophy model of Suhaili 1st Corinthian (Unsponsored) entry trophy
Fourth: Istvan Kopar (USA/HUN) 264D 01H 38M
Fifth: Tapio Lehtinen (FIN): McIntyre Adventure Spirit of GGR Trophy
Susie Goodall (GBR): Kay Kottee Trophy for First Woman entrant in 2018 GGR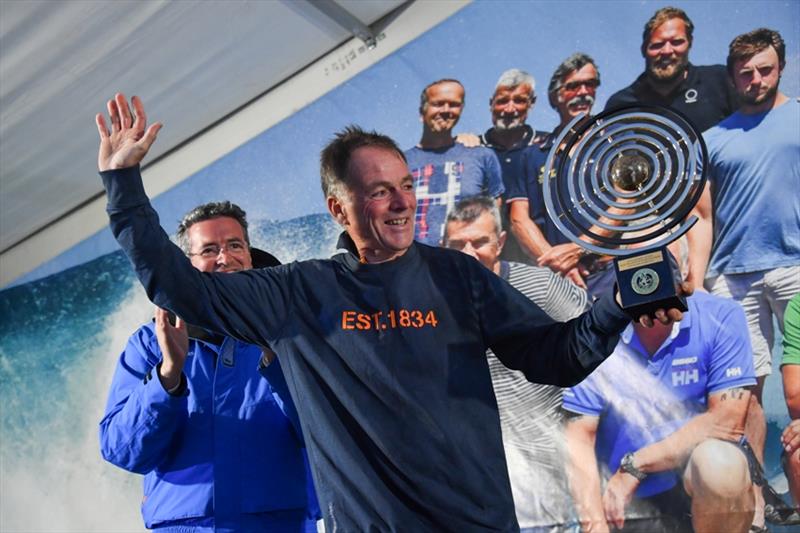 Tapio Lehtinen receives the McIntyre Adventure Spirit of the GGR trophy – photo © Christophe Favreau / PPL / GGR
Lessons learned from sailing small yachts in extreme conditions
Sir Robin Knox-Johnston also published his long awaited Report considering the lessons learned from sailing small yachts in extreme conditions including the 5 dismastings suffered during the 2018 GGR.
Click here to download the report
Other competitors:
Chichester Class:
1. Igor Zaretskiy (RUS) Endurance 35 Esmeralda – stopped in Albany, W Australia
Retired:
Ertan Beskardes (GBR) Rustler 36 Lazy Otter
Kevin Farebrother (AUS) Tradewind 35 Sagarmatha
Nabil Amra (PAL) Biscay 36 Liberty II
Philippe Péché (FRA) Rustler 36 PRB
Antoine Cousot (FRA) Biscay 36 Métier Intérim
Are Wiig (NOR) OE32 Olleanna
Abhilash Tomy (IND) Suhaili replica Thuriya
Gregor McGuckin (IRE) Biscay 36 Hanley Energy Endurance
Francesco Cappelletti (ITA) Endurance 35 007
Loïc Lepage (FRA) Nicholson 32 Laaland
Susie Goodall (GBR) Rustler 36 DHL Starlight
Mark Sinclair (AUS) Lello 34 Coconut
2022 GGR
Already, 20 sailors from 10 Countries have signed up to compete in the next Golden Globe Race slated to start on 4th September 2022, and many more have expressed an interest to compete.
2022 GGR entrants to date:
1 John Clarke (47) GBR – Nicholson 32 MKX
2 Ian Herbert Jones (49) GBR – Tradewind 35
3 Guy Waites (52) GBR
4 Ertan Beskardes (57) GBR – Rustler 36
5 Simon Curwen (60) GBR – Biscay 36
6 Robin Davie (67) GBR – Rustler 36
7 Confidenial GBR
8 Arnaud Gaist (47) FRA Barbican 33 MKII (long keel version)
9 Confidential FRA
10 Guy deBoer (63) USA
11 Doug Dean JOHNSON (53) USA – Rustler 36
12 Matthew Wright (49) AUS
13 Michael Date (57) AUS Aries 32
14 Confidential AUS
15 Michael Guggenberger (41) AUT – Endurance 35
16 Gaurav Shinde (32) CAN
17 Pat Lawless (62) IRE Saga 36
18 Guido Cantini (50) ITA Vancouver 34
19 Confidential NZL – Rustler 36
20 Confidential NOR
Total: 10 Countries, seven British, three Australian, two France, two American, one Austria, one Canada, one Irish, one Italy, one New Zealand, one Norway. 12 with boats already.
by Barry Pickthall, Golden Globe Race