Day two at Hamilton Island Race Week was the classic calm before the storm, another picturesque light-air outing and procession of coloured kites setting off for their designated island marks of the course belying the approaching weather change.
Trade winds lightened throughout the afternoon of Monday August 19, the morning 10 knot sou'easter fading to 6-7 knots for the some of the Hamilton Island Class cruiser-racers which struggled to the finish line.
Tuesday's forecast of 25-30 knots, potentially gusting higher, will shake things up for Race Week's near 2,000 sailors from every Australian state and the ACT, plus internationals.
Day two sailing highlights thanks to Broadkast
IRC divisions
David Griffith's JV72 Chinese Whisper is finding it difficult to get the better of the TP52s in IRC division 1 – both in terms of today's results and series scores – though second overall to Hooligan in that fleet demonstrates they are close to matching strength. The high-calibre team, which includes Matt Pearce, Murray Spence, Tom Braidwood and Michael Coxon, has big plans looming, namely this year's 75th anniversary Rolex Sydney Hobart Yacht Race. Boat tour of Chinese Whisper and chat.
Gordon Ketelbey's TP52 Zen beat Marcus Blackmore's Hooligan by 50 seconds on corrected time over a 2 hour 50 minute race which began from the eastern side of Hamilton Island and took the fleet around Baynham Island before finishing in Dent Passage, off the Bommie Deck of Hamilton Island Yacht Club.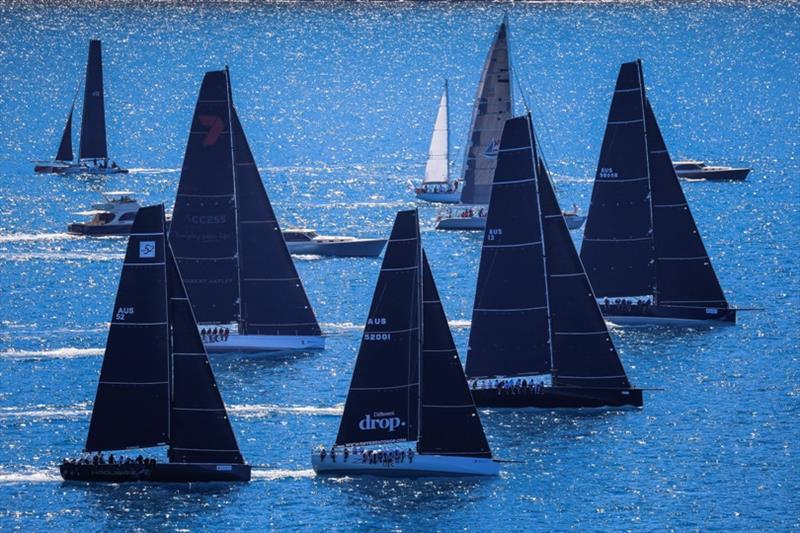 IRC division 1 start on day 2 – Hamilton Island Race Week 2019 – photo © Salty Dingo
The rest of IRC division 2 are finding it tough to rein in Ray Roberts' Botin 40 Team Hollywood. The slippery 40-footer is stacked with talent, Roberts commenting after racing: "We probably won that race in the first hour, going around Pentecost. It was actually a typical Hamilton Island day – very challenging coming off the start line in a stable breeze then the pressure fluctuated and became shifty. It's hard to get it right, and you can easily get it wrong." On tomorrow's gear change he commented, "We are excited about tomorrow, if it's manageable. Thirty knots is probably on the edge for most of the boats here."
Hamilton Island divisions
It's already tight at the top in Hamilton Island class's Yellow division, with Robert Robertson's Bavaria C45 Ambition, It's Time, Craig Watson's Jeanneau 53 Coopers and Peter Byford's Jeanneau 469 L'Esprit all on five points. For the L'Esprit team it's very much a family affair. "We've been to Race Week around eight times, but this this the first time with three generations of the Byford family, my two sons and grandson. My youngest son is doing bow with his wife as 'bow assist', and my grandson is learning the ropes," Byford said. "With a first and second across the line and a second and third on handicap we're probably in the handicapper's sights a little early. But we should be alright in the heavier airs tomorrow. We've got all the right sails."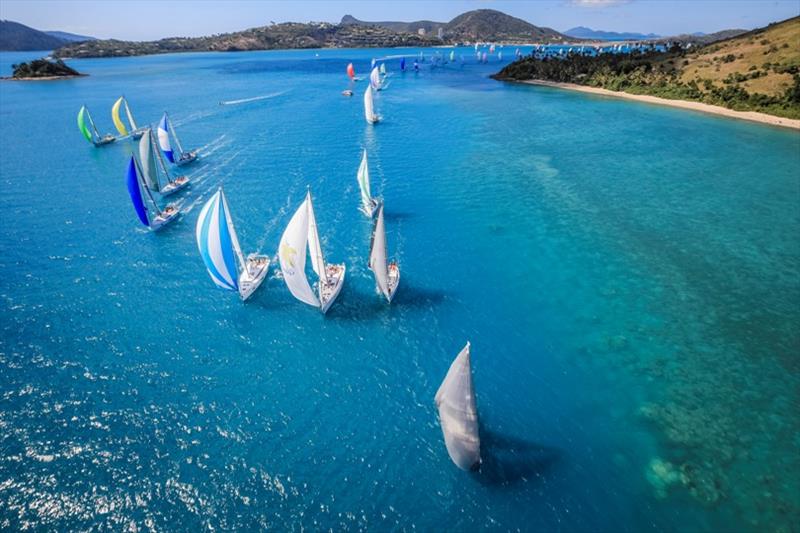 Fleet rounding Dent Island on day 2 of Hamilton Island Race Week – photo © Salty Dingo
Multihull Hamilton Island Class
Gavin Webb's Queensland Leopard 39 Living Life shares the pointscore at the top of the Black division with Gerald Carroll's Lagoon 500 Flyaway. The battle for second and third is equally close for two Lightwave 38s, with Ian Johnson's Salacia sharing points with Ken Plowman's intriguingly named Red Undies. "In brief, frustrating" said Ian Johnson when asked about Monday's race. "We had a really good look at Pentecost, after falling in a big hole, and there were about 50 boats all floating around in different directions when the current started up. We don't like the light stuff, so tomorrow's forecast will suit us just fine" said Johnson, who lives on Magnetic Island, where he'll be returning for Magnetic Island Race Week immediately following Hamilton Island Race "if the body can hold up".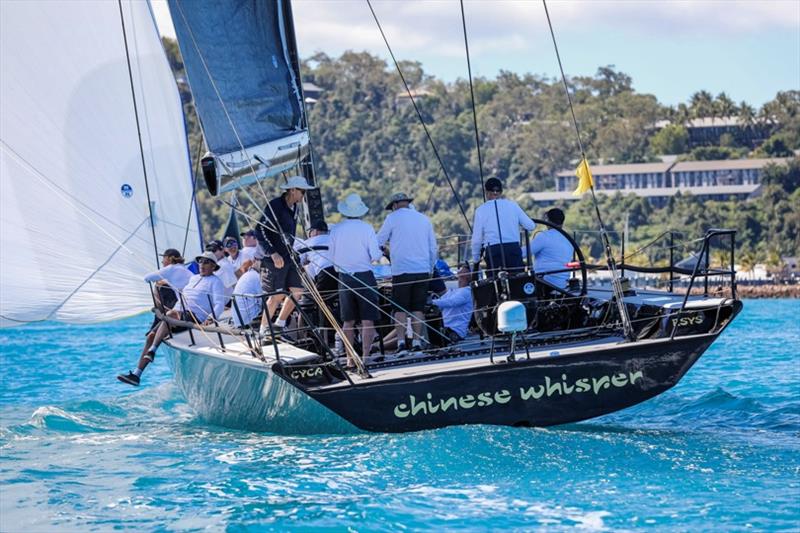 Chinese Whisper, day 2 – Hamilton Island Race Week 2019 – photo © Salty Dingo
Regatta director Denis Thompson will be monitoring the front's arrival Tuesday morning and has contingencies that may include delaying racing across the fleet or sending only some divisions out. The race committee will communicate with competitors via the usual channels, and they will be standing-by for the green go or red stop signal.
by Lisa Ratcliff