Internationaux de France de Match Racing 2019 – Match Race Super League event no. 4
A true legend. Accepted last minute on the 2019 Match-Racing French Open, due to a withdrawal and a request for an invitation that he did not even send (it was Eric Le Joliff, his teammate without warning beforehand!), Pierre-Antoine Morvan (SR Vannes) competed in Pornichet for the fourth time on the biggest challenge of Match-Racing in France, and at the same time becomes Champion of the Internationaux de France de Match-Racing 2019.
The morbihannais had set sails in different areas of sailing in recent years and did not really intend to make a comeback on the circuit. But for him Match-Racing is a little bit like riding the bike, it is not forgotten! Simon Bertheau (APCC Nantes) has learned a bit to his expense, losing 3-0 in Final after having eliminated the defending champion Maxime Mesnil (YC Cherbourg) in the semifinals. The latter still took 3rd place in the final ranking by defeating Eric Monnin and his Capvis Swiss Match Race Team (2 times Match Race Super League champion).
Finals day delivered perfect sailing conditions to start the semifinals of the 18th edition of the Match-Racing Internationals of France, with great teams and people on and off the line! Plenty of spectators already present were able to observe match racing at it's best. Yet still outsiders Pierre-Antoine Morvan and Simon Bertheau were strong in the first two matches before their opponents stroke back in the third match.
After two absolutely exceptional fourth matches the roads stopped for defending Champion Mesnil when Simon Bertheau finally took his revenge against the one who had beaten him last year in the Final, while Monnin offered himself a reprieve in the grip of an exceptional maneuver in the last few meters of his match no.4. A short comeback, because in the next match, "PAM" (Morvan) managed to inflictint two penalties on a Swiss who struggled to keep calm in the pre-start of this decisive match. The all french finals was set between a legendary Match-Racer, former world number three and triple winner of the IFMR and a crew of young hopefuls promised a great future in this particular race format.
Pierre-Antoine Morvan who went back in time to offer the public Pornichetin a real demonstration of Match Racing. After a 3-0 victory, the Vannetais secured the French Match Racing title on a 100% tricolor podium, completed by Maxime Mesnil, solid winner over Eric Monnin in the petit final.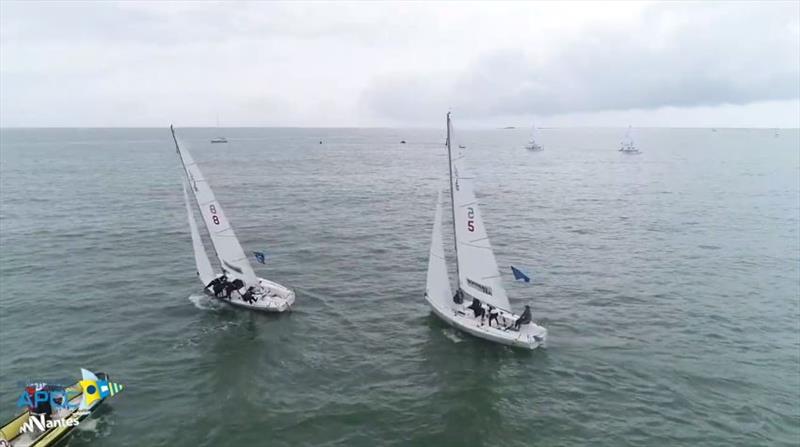 Internationaux de France de Match Racing 2019 – photo © APCC Voile Sportive
Statements of the finalists
Pierre-Antoine MORVAN, winner of the IFMR 2019: "It was tough in the semifinals but also in the quarter-finals where we get out after very contested matches with a lot of hot situations. In the Final, on the contrary everything went well, we had great speed which made the game a lot easier for us. I'm happy to win for the 4th time here, it's a great event, very well organized, we had perfect conditions and the boats are impeccably prepared. Especially since 15 days ago I was not invited! We took advantage of a last minute cancellation and it saved us from having the pressure! "
Simon BERTHEAU, Finalist of the 2019 IFMR: "The day started rather well, we knew we were outsider compared to the other three teams, who are still sacred champions of the discipline. We lose only one match against Maxime (Mesnil), which for us is a great performance ', we were super comfortable in speed, had good manouvers, so it was great! In Final it was the opposite, it was difficult to get the bot up to speed, and we did not find the right solutions and we could not reverse the situation. The final result is still satisfactory, especially since we just come out of the Tour de Voile and we did a little less Match-Raceing this season compared to last year."
by Match Race Super League