With over 30 entries confirmed for our race to Alderney, the JOG Secretary made a wise decision to send the large fleet out of the Needles on an amended course.
This allowed for the light airs at the start and for a building breeze on the Alderney side of the course which was forecast to build on the Saturday Morning.
With around 3 hrs of tide against left for most of the fleet, this made for some early decision making as to go into the tide on the mainland or Island Shore in the Solent. The wise move appeared to be to go down the mainland shore in the Solent against the still strong tidal flow and the first signs that this appeared to have paid was when the boats converged at Hurst Narrows.
With the English Channel looming, many boats headed West on the now building tide with some heading South and then tacking back across. The expected gap in the wind mid-channel never really appeared which meant that watching of our onboard tracking systems (AIS) saw that a large group of the fleet were largely converged 25 miles north of Alderney on the Saturday morning with a building breeze and a tide that was about to turn to push the fleet East. Many boats now canvassed down and recalled already tired crews to the rails for the long upwind beat in a building breeze across to Alderney.
The fine margins in JOG and the high standard of racing meant a win for Stuart Lawrence's J120 Scream 2 in class 3 by a mere 2 seconds from Rob Hillman's X41 Exuberant on corrected time. David and Will McGough continued their fine form in their J109 Just So with a first place in class 4. Xara (Swan 38R) raced by Jonathan Rolls and friends won class 5 and George Beevor and Oli Bewes Ugly Duckling (Sagitta 35) won class 6.
Most impressive in the fresh conditions were the double handed class winners won by Paul Aisher in his Arcona 430 who had line honours across the whole fleet.
JOG's tired and thirsty sailors were welcomed to the Alderney Sailing Club, where the Commodore Tess Woodnutt and her wonderful team ensured a fantastic welcome. Tess was very kind to join myself and our Secretary Martin Banfield to hand out prizes and to reaffirm the warm relationship between our 2 clubs. Lastly, none of this would have been possible without the support of our sponsor Osmotech who have supported JOG for many years. Thank you to them for their great support. Thank you also to our race officers in Cowes who started us.
Next up for JOG is our race to Weymouth on July 26. Details on how to enter can be found at www.jog.org.uk.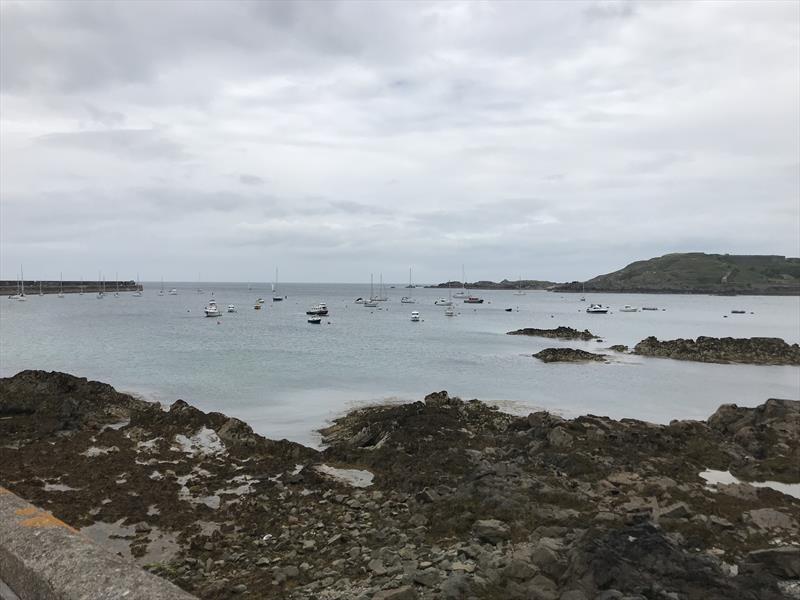 JOG Osmotech Race to Alderney – photo © Dougie Leacy
by Dougie Leacy