You know we had always said that the pool just did not look like being big enough.
Yet that does not change the fact that seeing the first of the second tier of challengers depart, stage left, is a sad moment across so many levels. For sure the Royal Malta Yacht Club did the right thing by announcing it, rather than merely wandering off, but the support for a pinnacle event in any sport is crucial to its ongoing success.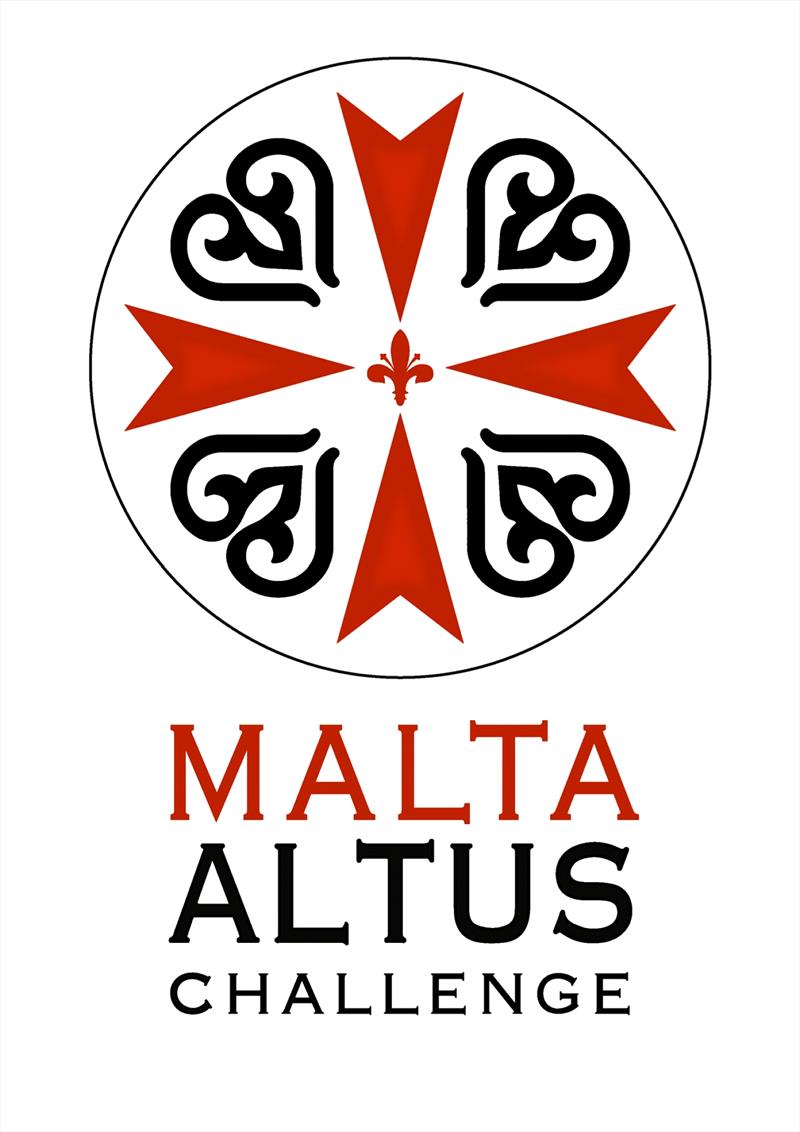 Malta Altus Challenge – photo © Malta Altus Challenge
Winning something like the America's Cup at your first go is akin to statistical anomaly, so what you are talking about here is continued plan. A dedication to the cause, if you like… Certainly seeing them back for AC37 would be a great plan. Now whilst the sport has a hefty bill requirement to operate at this level, the unprecedented levels of cooperation thus far should make for a great Prada Cup ahead of the main gig. BTW, long may that all continue to reign…
The theory is that there will be one more to depart the stage, and the thinking is that the Californians are the ones with the best chance to get through the screen tests. Alas, that was before their own significant structural changes. We will see about all of that, but as July 1st looms, and the Kiwis will be getting their first boat out of wraps in the same time zone, the next part of the AC cycle is going to be very interesting.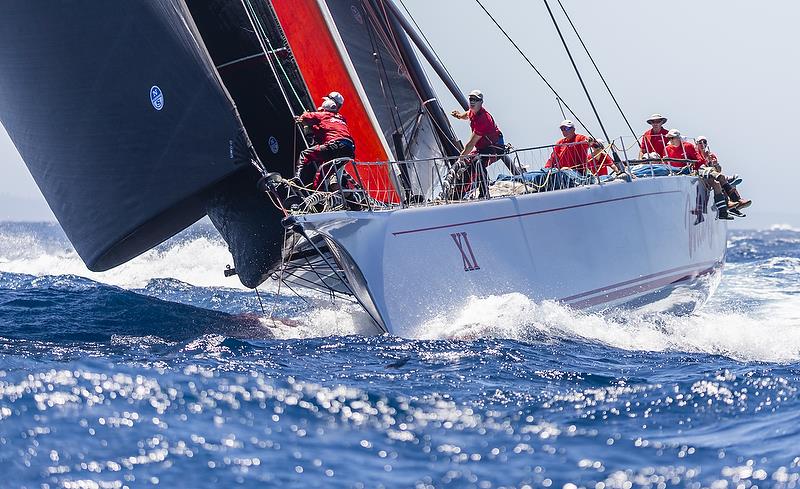 WILD OATS XI, Bow: XI, Sail n: AUS10001, Owner: The Oatley Family, State / Nation: NSW, Design: Reichel Pugh 30m – photo © Rolex / Studio Borlenghi
Gybe Oh! Also looming, of sorts, is the annual smash South. The Oatley family's celebrated silver arrow, Wild Oats XI, is all set to make another run, and no doubt they'll be aiming to add to her more than impressive collection of trophies, titles, and records. Catching up with her Skipper, Mark Richards, we learn that constantly improved vessel is undergoing more tweaks in readiness for that race, and also Hamilton Island Race Week. Incidentally, Whitsunday holidays have a couple of accommodation options still available, so if you're looking, they are the ones to talk with.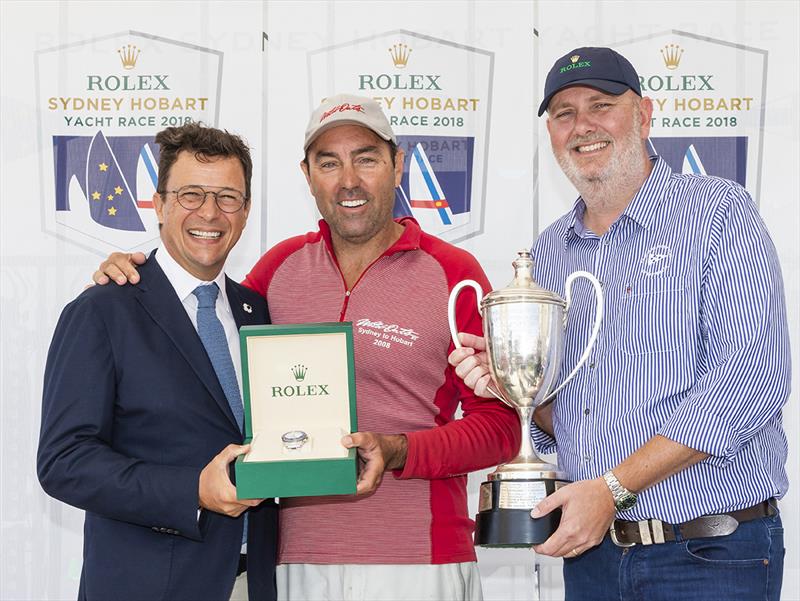 Patrick Boutellier (L), General Manager of Rolex Australia, and Paul Billingham (R), Commodore of the CYCA, Present Line Honours Winner Mark Richards, Skipper of Wild Oats XI, with a Rolex Timepiece and the John H Illingworth Challenge Cup – RSHYR 2018 – photo © Rolex / Studio Borlenghi
Richards said, "We've got a few things we're doing to Wild Oats before Boxing Day. We're looking forward to the Sydney Southport Race to start getting us up North, and then Hamilton Island, so that will be fun. We'll then get her back to Sydney for a few more mods, and then get all set for the big day. We're doing minor changes and tweaks here and there, so nothing drastic."
"Obviously Black Jack is in the shed right now for some significant changes, which is exciting for them, and I think you're going to see another awesome race this year." The all-conquering craft proudly wears a wardrobe by North Sails, to which Richards added, "You know, you cannot beat North Sails, and we're very happy with our sails. You saw last year that the new wardrobe took us to the front of the fleet again, so that's pretty cool."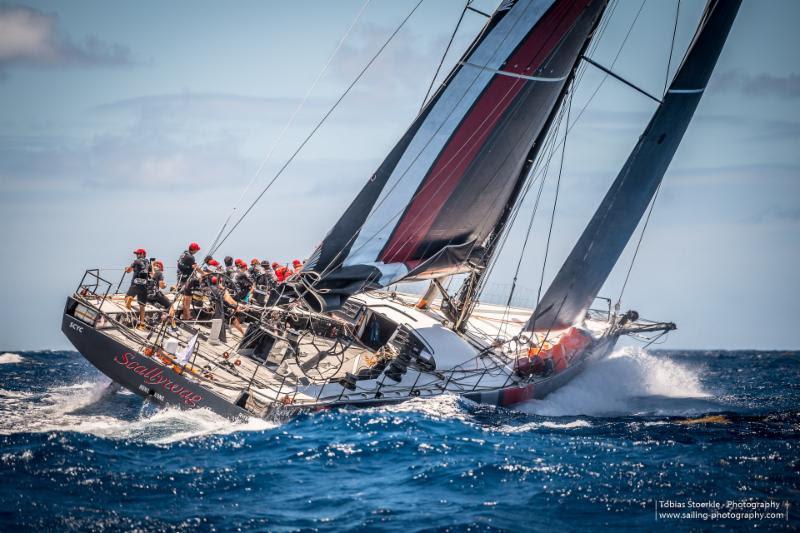 Line Honours for SHK Scallywag in the Antigua Bermuda Race – photo © Tobias Stoerkle / www.sailing-photography.com
As for whether he sees their impressive history as dominance, Richards says, "I am not sure it is that, but we keep going there and do enjoy it, which is what it is all about." We did not see much of Scallywag last year unfortunately, and so it is hard to compare and contrast the vessels. This year she has done a lot of racing, and Richards offered this in closing, "If they come back, and I am sure they will, then we are fully aware of what a great boat she is. Like anything, if you put the effort in, then you will get the results. I never, ever write any of those boats off, and we are looking forward to it all. Bring it on!"
One and in – Just love a good participation story, and with thanks to Al Copley, here is one from the Middle Harbour Yacht Club. As you can see, Zara Marks got the two bullets in their Centreboard Winter Series that started on the weekend, and wasn't she thrilled! Racing was described as challenging, with the breeze moving from a Southerly to a Nor'Easter during the second race around the trapezoid course.
MHYC also held a presentation and forum afterwards, to detail training and racing from Tackers to Teens Start Sailing, as well as Race Squad. During the Winter, the 29er Association is also holding a Skiff Skills program, and that kicks off in July. Well done to all for getting into it during the cooler months, and good luck with your racing next week on the picturesque Georges River.
Right oh here today there are some gems for you to review, like the teams heading into the Olympic Test Event, My Song leaving the ship, Dragons, intel from North Sails, traveller maintenance with Callum from Harken, OKs, RC44s, Superyachts in the Med, gear by Henri Lloyd, Women's match racing, Moths, Five-Ohs, GC32s, Port Douglas Race Week, and certainly there is much, much more.
Remember, if your class or association is generating material, make sure we help you spread your word, and you can do that by emailing us. Should you have been forwarded this email by a friend, and want to get your very own copy in your inbox moving forward, then simply follow the instructions on our newsletter page, where you can also register for different editions.
Finally, keep a weather eye on Sail-World. We are here to bring you the whole story from all over the world…
by John Curnow, Editor, Sail-World AUS