The GC32 Racing Tour will be a playground for the best of the best in 2019, and Hagara and Steinacher's experience makes Red Bull Sailing one of the favorites even before the five-stop season gets under way in Sardinia at the end of this month.
Besides their Olympic success in Sydney and Athens, the pair have competed in the America's Cup World Series and have won an intimidating number of world, European and national championships. So anticipation is high for Austria's sailing stars to face off with the other big names announced for the tour so far.
"It will be an interesting season this year. We have two circuits combined now, the Extreme Sailing Series and the GC32 Racing Tour, so we will have really strong teams from both. There will be more boats on the start line in the first event," says Hagara. "Alinghi, the winner of last year's Extreme Sailing Series, will be competing, and then from the GC32 Tour, the French America's Cup team NORAUTO will be in the lineup, plus Ben Ainslie's America's Cup team INEOS is coming. A lot of teams are also going to be especially keen to race because there are no America's Cup World Series races in 2019, so altogether we're looking for great competition from the new circuit."
Red Bull Sailing are confident they can take them on. The team has a strong crew in Australia's Rhys Mara (trimmer), fellow Aussie Mark Spaermann (board trimmer), and Swedish sailor Julius Hallström (bowman). Plus, after spending much time off the boat in 2018 to coach the next generation, both Hagara and Steinacher will be on board, fully hands-on in the thick of it.
Hagara explains, "Hans Peter and I sailed the last two Extreme Sailing Series events in 2018 and were quite successful, including second place at the season finale in Mexico. We will try to continue that momentum this year, and together with our crew, who already know the boat, I think we can really perform well from the first events."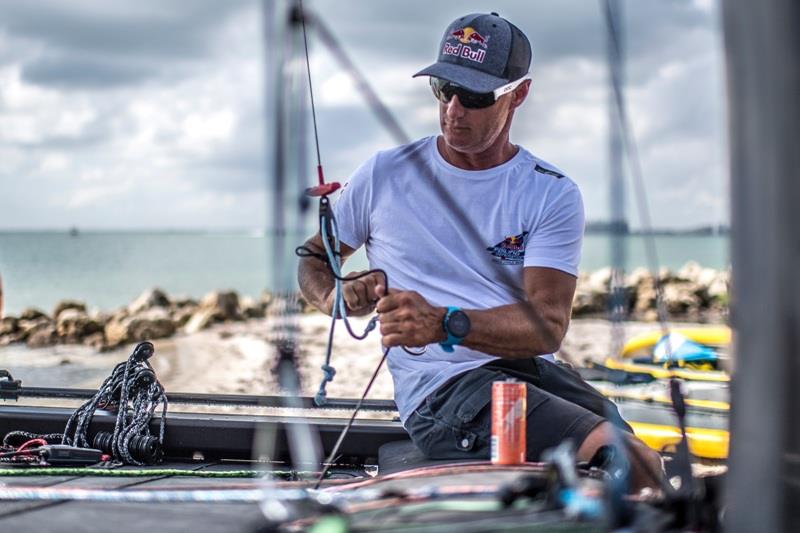 Hans-Peter Steinacher – photo © Dean Treml / Red Bull Content Pool
Having 10 teams or more at each stop will guarantee fierce action. The season opens at Villasimius, Sardinia in Italy, followed by the World Championship at Lagos, Portugal, and stops at Palma de Mallorca, Spain where King Felipe VI will present trophies and Riva del Garda, Italy. Then, for the first time, the series will hold a finale outside Europe at a location still under wraps.
"I think my favorite is Riva del Garda," Hagara confides. "It's well known for its winds, and we anticipate probably sailing the GC32 speed record if we have really good conditions there."
The meticulous task of setting up the Red Bull Sailing GC32 is complete. The team has had one training camp a mid-April session at their base in Villasimius where they were tested by strong rain and winds, but managed to successfully fine-tune the cutting-edge craft. Now the boat is stationed on shore, where it will be craned into the water for two critical training days prior to the season kickoff.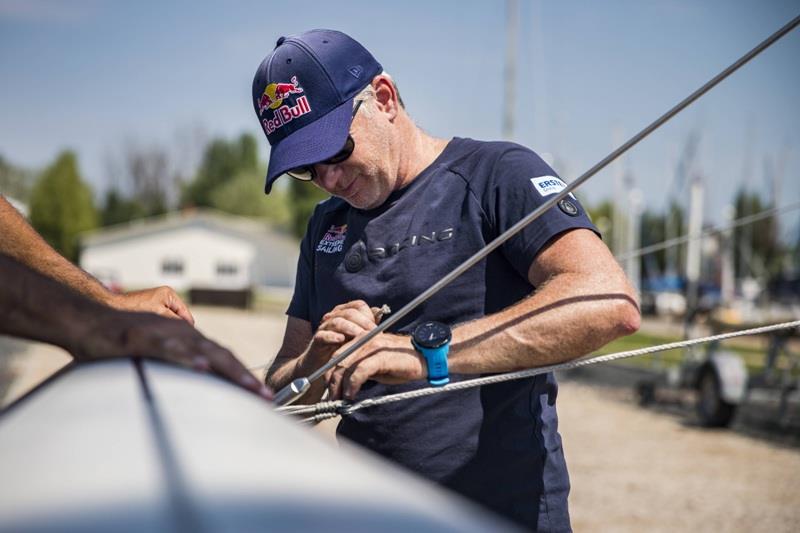 Roman Hagara – photo © Dean Treml / Red Bull Content Pool
While they eagerly await getting started at Villasimius, Hagara and Steinacher are additionally looking forward to a visit from two-time America's Cup winner Jimmy Spithill, who is also based in Italy as a member of the Luna Rossa team.
When Red Bull Sailing's maiden campaign in the GC32 Racing Tour kicks off in Villasimius on 22-26 May, conditions are predicted to be intense, with significant waves and wind. But Red Bull Sailing tends to shine in tough conditions, and Hagara declares: "As I said, we'll have really strong competition. We definitely want to beat them and finish on the podium."
by Fabian Ress