The IC37 by Melges sailboat may be new to them, but the breezy and lumpy conditions on Rhode Island Sound for Day 3 of the Rolex New York Yacht Club Invitational Cup were old hat for the teams from Australia's Royal Sydney Yacht Club, Ireland's Royal Cork Yacht Club and the Royal Canadian Yacht Club.
Those three teams shined brightest on a gloomy, overcast day that saw many crews struggle to keep their feet and their keels under them. Among those licking their wounds this evening at the mid-regatta Lobster Bake were Day 2 leader San Diego Yacht Club, which blew apart their spinnaker on the first downwind leg of the day's second race and struggled to 16th place without the crucial downwind horsepower. As a result, what was a developing blowout yesterday is now a very competitive regatta. San Diego still leads, but by just four points, while only eight points separates first from fourth.
The Rolex New York Yacht Club Invitational Cup is a biennial regatta hosted by the New York Yacht Club Harbour Court in Newport, R.I. Since the event was first run in 2009, it has attracted top amateur sailors from 43 of the world's most prestigious yacht clubs from 21 countries. After five editions in the Swan 42 class, the 2019 event will be sailed in the IC37 by Melges, designed by Mark Mills and built by Westerly Marine in Santa Ana, Calif., and FIBRE Mechanics in the United Kingdom. The strict one-design nature of this new, purpose-built class combined with the fact that all 20 boats are owned and maintained by the New York Yacht Club, will ensure a level playing field never before seen in amateur big-boat sailing. The regatta will run through September 14. A broadcast on Facebook Live and YouTube will allow fellow club members, friends, family and sailing fans from around the world follow the action as it happens. Twenty teams from 14 countries and five continents will compete in the 2019 Rolex New York Yacht Club Invitational Cup.
Anthony O'Leary represented the Royal Cork Yacht Club at the first Invitational Cup in 2009, winning two of the first three races sailed in this event. He's been a fixture ever since, bringing along one or more of his three sons to each edition. For the sixth Rolex New York Yacht Club Invitational Cup, Anthony O'Leary has sons Robert and Nicholas with him and the familial dynamic in heavy air was apparent as they were one of the fastest boats on the water all day.
"It was very enjoyable, plenty of breeze," said the elder O'Leary. "It was a bit like our season at home: dull, the odd bit of rain and plenty of wind. We had a poor start to the first race because there was a lot going on and we were a bit late to get to the line. We didn't do too badly overall, we pulled ourselves back very well to get to fifth because I think we were worse than 10th at the top mark. Second race, we had a very good start and things just went right for us. We were able to sail our own race for most of it."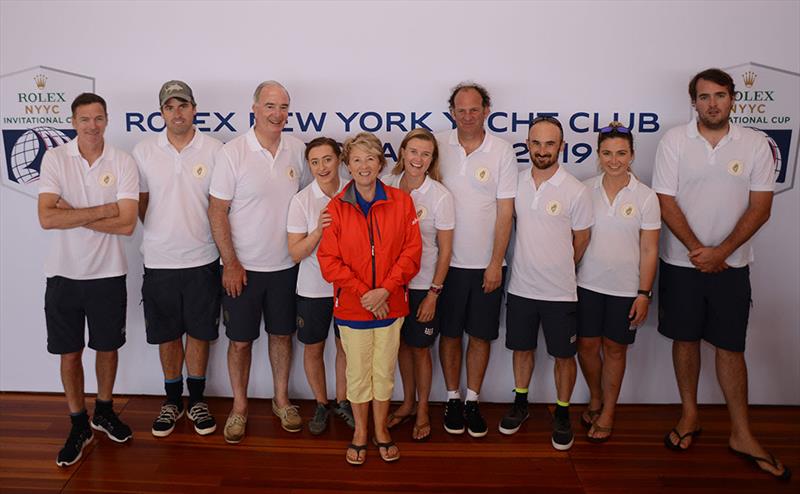 2019 Rolex New York Yacht Club Invitational Cup – photo © Stuart Streuli / New York Yacht Club
On the final run of the day, the Royal Cork team (at left, with team mom Sally O'Leary in red) put on an impressive display of downwind power, turning a solid lead at the final mark into an overwhelming one by the finish. Unfortunately for the Royal Cork crew, there are no bonus points for the margin of victory in sailing. But the speed the team showed today, says O'Leary, is a good sign for the final two days.
"We're getting used to the boat a bit more every day," he said. "We've sailed similar boats, but we've not sailed the 37, other than one day at home. We're getting the knack of it. There's plenty of races left in this competition."
Guido Belgiorno-Nettis' team representing the Royal Sydney Yacht Squadron (below right, bow No. 8) didn't have an emphatic win today, but the Squadron's 3-2 scoreline won the day and significantly strengthened the team's second-place position in the overall standings. Belgiorno-Nettis finished fourth in his first Invitational Cup in 2015 and second in 2017. His rather average start to this regatta—an 11th and ninth—seemed a bit out of character. Since then it's been nothing but top-three finishes for the Aussie crew, and they can now see a clear path to the first overall victory in the regatta for a Southern Hemisphere club.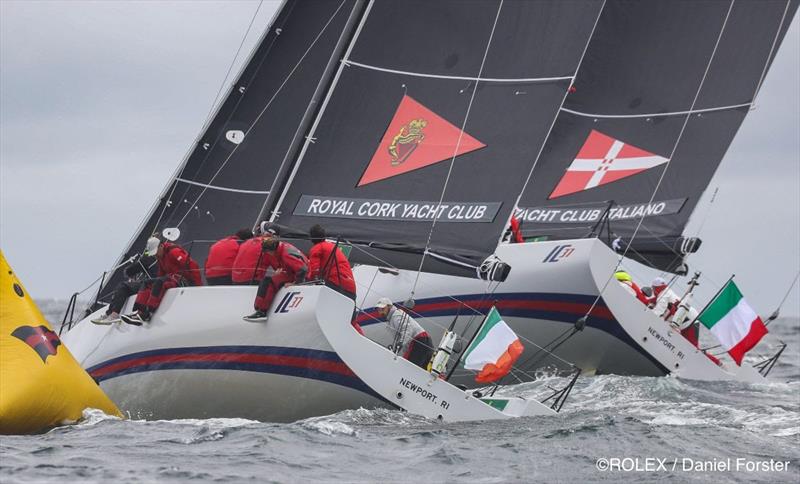 2019 Rolex New York Yacht Club Invitational Cup © Daniel Forster / Rolex
"This boat is quite an easy boat to handle in heavy air," said Belgiorno-Nettis. "We're comfortable with that and we just keep fiddling around with what makes the boat go faster. We have a great dynamic between the trimmers, main sheet and even our tactician who is working the runners, just trying to figure out what is the mode that the boat is going to go best in as the breeze builds. And we've just been able to find it. Our scoreline in the last few races in this heavier air indicates we've at least been as fast as the other teams and been able to get around the course."
The third star of the day was the Royal Canadian Yacht Club, a two-time winner of the Rolex New York Yacht Club Invitational Cup, which won the first race by a strong margin. In Race 2, the Canadian crew ground back to fifth after a tangle at the pin end of the starting line left skipper Terry McLaughlin and his team staring at a lot of transoms on the first beat. The Canadians are currently third, four points behind the Royal Sydney Yacht Squadron and one point in front of the team from Royal Cork. Rounding out the top five is Japan Sailing Federation, with 40 points.
Former champion Royal Thames Yacht Club, in sixth with 50.4 points, leads a knot of five teams within five points of one another, each with designs on cracking the top five or even making the podium.
Racing for the 2019 Rolex New York Yacht Club Invitational Cup will continue through Saturday, September 14, with a live broadcast of each race via Facebook and YouTube. Racing is scheduled to start at 11 am each day.
Results after Day 3:
1. San Diego (Calif.) Yacht Club, 2, 1, 3, 1, 2, 16; 25pts
2. Royal Sydney Yacht Squadron (AUS), 11, 9, 1, 3, 3, 2; 29pts
3. Royal Canadian Yacht Club, 7, 3, 12, 5, 1, 5; 33pts
4. Royal Cork Yacht Club (IRL), 6, 6, 14, 2, 5, 1; 34pts
5. Japan Sailing Federation, 1, 4, 9, 11, 6, 9; 40pts
6. Royal Thames Yacht Club (GBR), 5, 5, 6, 19, RDG/8.4, 7; 50.4pts
7. Southern Yacht Club (New Orleans, La.), 14, 19, 2, 4, 4, 8; 51pts
8. Yacht Club Costa Smeralda (ITA), 3, 7, 13, 9, 17, 3; 52pts
9. Yacht Club Italiano , 4, 12, 5, 8, 11, 13; 53pts
10. Royal Swedish Yacht Club, 9, 2, 8, 18, 13, 4; 54pts
11. New York Yacht Club, 8, 14, 7, 7, 8, 14; 58pts
12. Royal New Zealand Yacht Club, 12, 11, 11, 17, 10, 6; 67pts
13. Yacht Club Argentino, 13, 15, 4, 16, 8, DSQ/21; 77pts
14. Royal Hong Kong Yacht Club, 19, 8, 15, 6, 9, DSQ/21; 78pts
15. Itchenor Sailing Club (GBR), 16, 13, 10, 10, 15, 15; 79pts
16. Real Club Náutico de Barcelona (ESP), 15, 10, 17, 13, 18, 12; 85pts
17. Norddeutscher Regatta Verein (GER), 10, 18, 18, 15, 14, 10; 85pts
18. Royal Freshwater Bay Yacht Club (AUS), 18, 17, 16, 14, 16, 11; 92pts
19. Royal Yacht Squadron (GBR), 17, 16, 19, 12, 19, 17; 100pts
20. Yacht Club de France, 20, 20, 20, 20, RET/21, 18; 119pts
by Stuart Streuli