Saturday, November 23, the third day of competition saw the 60 duos in the 12th edition of the St.Barth Cata Cup facing a first race in the bay of Saint Jean, then a tour around the island with a coefficient of two, and the possibility to topple the reigning hierarchy after the first three races.
Which is exactly what happened. The biggest names impacted were certainly Cruz Gonzalez Smith and Mariano Heuser (Architectonik).
Sixth in the last race of the day, the Argentineans lost the first place position they held since the first day, ceding it to Jean-Christophe Mourniac and Antoine Rucard (Eden Rock Villa Rental). And even more dramatic, they fell to third place overall behind Gurvan Bontemps and Benjamin Amiot (Eden Rock) who actually jumped from seventh to second place after a remarkable double victory. This perfect day of sailing allowed them to win the St Barth Assurances – Allianz Prize.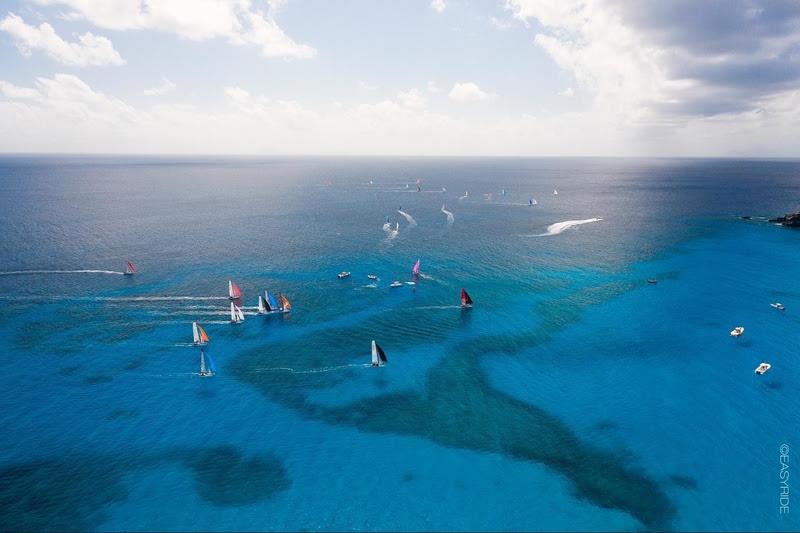 With two races on the schedule, included the legendary tour around the island of Saint Barth, which counted double and not removable from the ratings, Saturday was sure to be an interesting day liable to upset the standings after Thursday and Friday, including the top spots. The day did not disappoint much to the delight of some and disappointment of others. Those who had the best day by far are Gurvan Bontemps and Benjamin Amiot from Brittany. As winners of both races on Saturday, they are now in an ideal position to stand on the final podium.
"Yesterday, we were not very happy with ourselves. We finished one race in 11th place and things were not great aboard the boat. So we played around with things on the boat when we got back on shore to try and improve the situation, and today we flew like an airplane," commented Benjamin. If their speed was a definite advantage for them today, the two Eden Rock co-skippers also perfectly navigated all of the possible traps along the course and had two excellent starts.
Infinitesimal Differences
"During the two races, we started with a port-side tack, which allowed us to pass the first mark in just about one tack, and give us a good position at the front. After that, it all became a little easier as we were free to do what we wanted to do," added Benjamin, who led the first race from start to finish, but had more of a battle in the second race, especially in terms of Jean-Christophe Mourniac and Antoine Rucard. "Out by Gouverneur, we started to catch them and we started a nice battle of jibes. We had to play on little differences and keep up the pressure and eventually in this little game we were a little more successful than they were. In addition, we frequently took a shorter route, which paid off at the finish. It's cool and we are very happy," says Benjamin. He and his teammate certainly have the right to be satisfied, as they not only won the ST BARTH ASSURANCES – ALLIANZ Prize, but they are also now in second place in the prov isional standings, with a two point advance over Argentineans Cruz Gonzalez Smith and Mariano Heuser.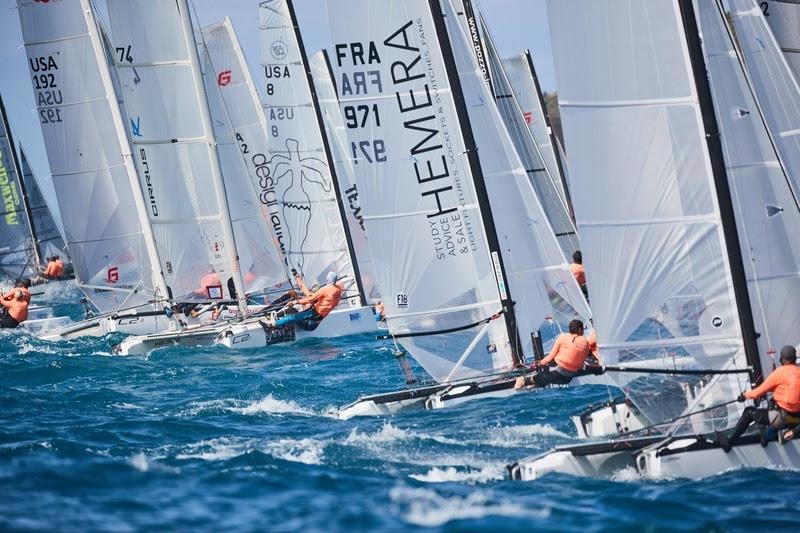 St. Barth Cata-Cup – Day 3 – photo © Michael Gramm
A Decisive Final Day
"Honestly, it was a great day with superb conditions, but athletically speaking we were a little disappointed. We did very well in the first race (2nd) but performed less well in the second race. We had a bad start and were obliged to tack twice in order to catch the wind. We must have passed the clearance buoy in 15th or 20th position and then had to really fight to get back in position and limit our losses. We managed to finish in sixth place. That is not a bad performance in and of itself, but terrible for our overall regatta. We lost a lot of points in this race that counted double, and we paid for it in the overall ratings," notes Cruz Gonzalez Smith, who hoped to confirm his place as leader on Saturday, but who eventually lost two places and now has the duo of Orion and Antoine Martin (Mext Cardios) snapping at their heels by just one point. "The final battle will be incredible," anticipates the bronze medal winner from the most recent Formula 18 world championship. "Everything will play out tomorrow," confirms Antoine Rucard, the new leader, who, in spite of his six-point advantage over his closest competitor, does not have much room for error on Sunday, if he wants to take home the trophy for the St.Barth Cata Cup. Stay tuned…
For more information visit race website: stbarthcatacup.com/gbr.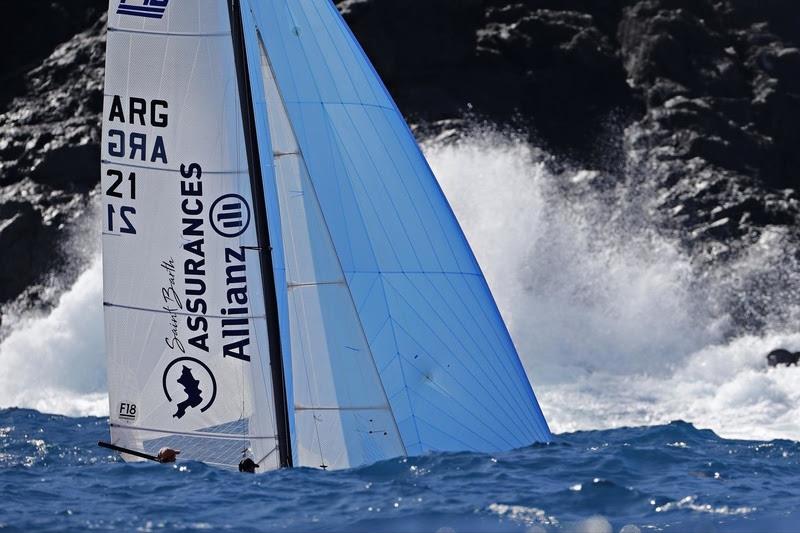 St. Barth Cata-Cup – Day 3 – photo © Pascal Alemany
by Alexandra Lemarchand-Guibout