When the subject swings to racing keelboats in the Caribbean, it's hard to get more classic than the St. Maarten Heineken Regatta, which, as its name implies, takes place on the sun-kissed waters off of beautiful St. Maarten each spring.
This year marks the 39th annual running of this storied event, which began in 1980 with just 12 boats. Heineken came along three years later with a modest sponsorship that included a beer boat that would pass out cold ones to passing racers.
Not surprisingly, a legend was born, and by 2008 the regatta hit a high-water mark of 284 entrants.
While attendance had returned to more sober levels in recent years (143 boats in 2017 and 96 in 2018 following 2017's catastrophic hurricane season), the numbers are still solidly in the triple digits, and the event has been taking steps to keep the racing format fun and interesting.
For example, this year's regatta will unfurl over four days and will include a combination (or "cocktail", in the event's parlance) of windward-leewards and longer-course races that will test each crew's ability to sail fast at all angles.
And that's to say nothing of the onshore evening entertainment, which has historically attracted big-name acts including the Black Eyed Peas, and which has a long track record of not running out of green-labeled beer.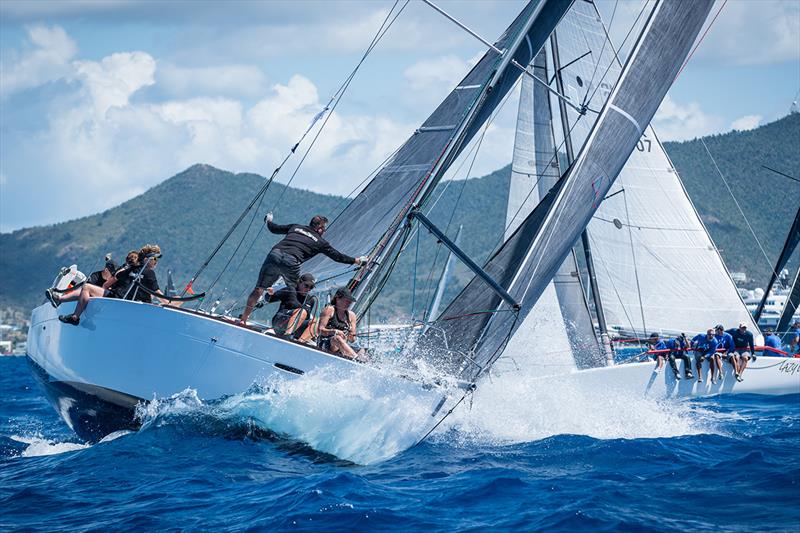 Competitors racing in the 38th St. Maarten Heineken Regatta – photo © Laurens Morel / www.saltycolours.com
I checked in with Michele Korteweg, general manager of the St. Maarten Yacht Club, via email, ahead of the 39th annual St. Maarten Heineken Regatta (February 28-March 3, 2019) to learn more about this classic Caribbean regatta.
It's fair to say that the St. Maarten Heineken Regatta has earned legendary status amongst sailors when it comes to fantastic Caribbean racing, so is the job now one of trying to improve the regatta, year on year, or to ensure that it continues to deliver the same time-tested formula?
We would like to maintain our 'Serious Fun' status, but continue to offer world-class racing. We take into consideration the feedback from our participants to keep improving our product.
How are your registration numbers looking this year, compared to other recent years?
Hurricane Irma affected our numbers, especially from a bareboat charter perspective. Last year we were amazed at the support and 100 entries.
This year it looks as if the number is growing again, currently we have over 90 entries.
What kind of racing can first-time competitors expect? Mostly Windward-Leewards or will the Race Committee also send the fleet out on some longer courses?
The St Maarten Heineken Regatta is famous for its around-the-island race, but we offer a good variety of racing over the course of four days: Windward-Leewards, distance racing as well as shorter courses.
We also offer lots of flexibility in courses taking into consideration weather conditions and the class allocations (e.g. monohull vs multihull)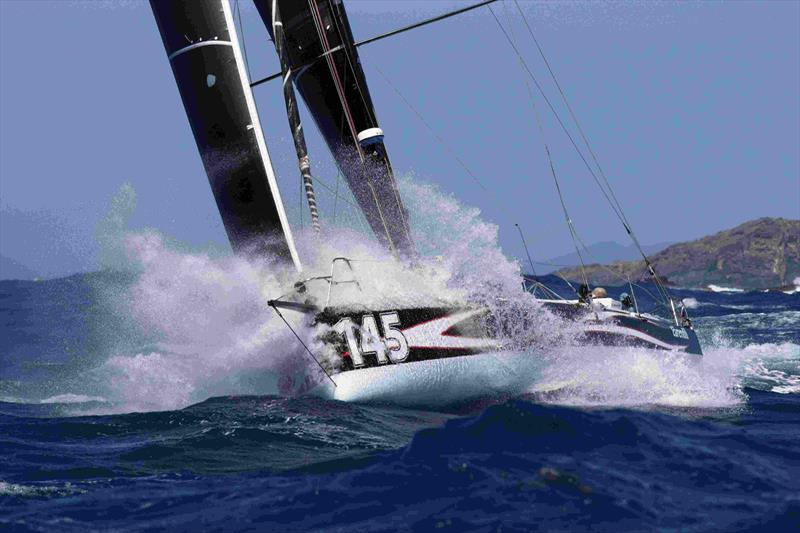 New two-handed class for the St. Maarten Heineken Regatta – photo © SMHR
I notice that you are offering a doublehanded division—is this new or has it been around for a while? Also, can you tell us about the impetus for a doublehanded division at a fully crewed regatta?
It is new this year, keeping in mind 2018 was a Route du Rhum Year, we figured it would be a great moment to include this class.
Of course we also received some requests from boats that don't have the opportunity to sail fully crewed, but would compete in such a class.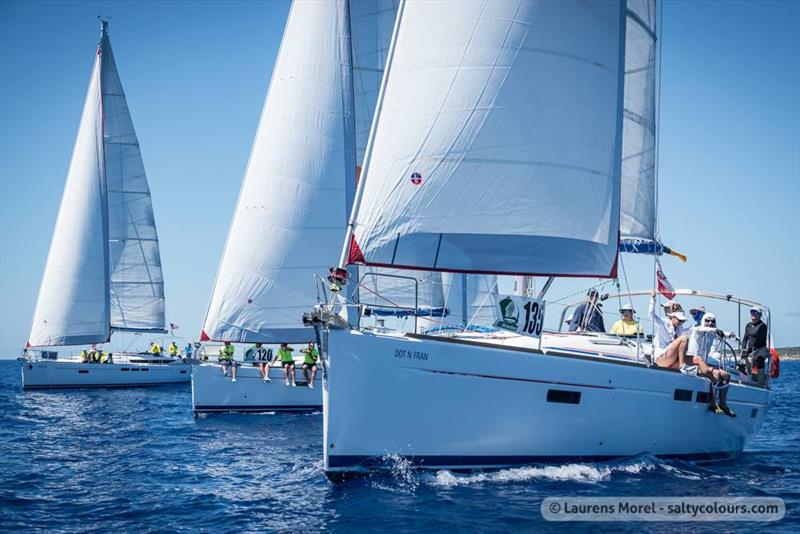 38th St. Maarten Heineken Regatta 2018 – photo © Laurens Morel / www.saltycolours.com
While Grand Prix yachts attract the eyeballs and camera lens, I've heard that the bareboat fleets actually offer some of the regatta's most best racing—can you tell us about this class and what makes it so competitive?
Some of the bareboat teams have been returning to the St Maarten Heineken Regatta for many years. It almost becomes a personal competition between the teams. Of course they sail similar boats, making it competitive from a rating perspective.
These sailors have as much fun as they are competitive. Let's not forget about the 'head boats' these charter boats really get the competition going. Travelling to a number of Caribbean regattas, the skippers know they have a reputation to keep.
It is also a brilliant way for passionate sailors to sail in one of the hottest regattas without having to find a whole group of friends to join them.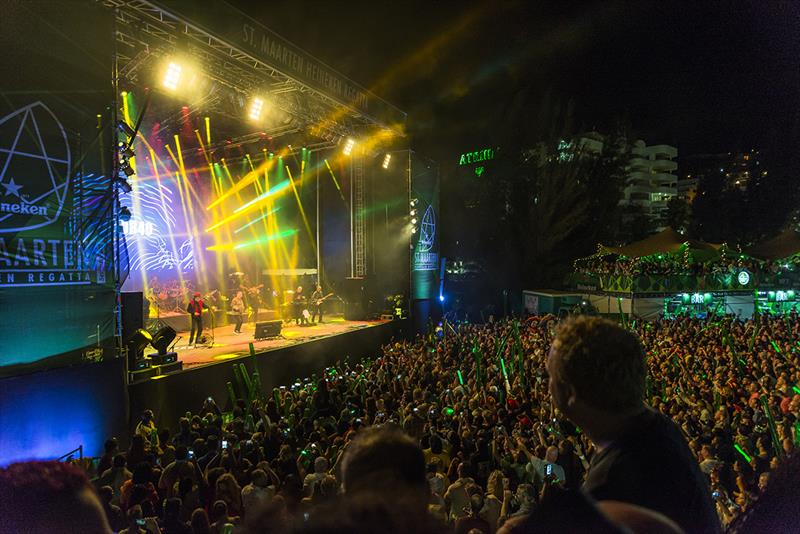 UB40 performing last year at the St. Maarten Heineken Regatta – photo © Carib Web Services
Sailing aside, the St. Maarten Heineken Regatta has become legendary for hosting some of the best onshore entertainment and parties anywhere—can you give an overview of what's in store for visiting sailors this year?
This year the Legendary Party is really holding true to its name with a performance of The Jacksons. The four nights of world-renowned concerts are a perfect mix of Caribbean, local and international acts. Alison Hinds is the Soca Queen who will bring the party to St Maarten on Friday night. Sailors and visitors won't be disappointed.
Can you tell us about any steps that you and the other event organizers have taken in the last couple years to help green-up the regatta or otherwise lower its environmental wake?
The St Maarten Heineken Regatta has always pushed our 'Green' reputation. This year our focus is even more so on sustainability. The Regatta village will host an EcoPark, showcasing all St Maarten's green initiatives, we have a car raffle that supports the purchase of a beach cleaner, and we are all about recycling.
As one of the largest events on the island we have to set an example and show what we are capable of.
by David Schmidt