It was another tough day physically and mentally for the sailors at the Star Sailor's League Breeze Grand Slam and Star Europeans, with big scores for many.
Robert Scheidt and Henry Boening (BRA) delivered another masterclass on the second day of racing at the Star Sailors League Grand Slam Breeze and European Championship, leading the field after a big day of racing in Riva del Garda, Italy.
There will be plenty of weary sailors after an epic three-race day in winds that hovered around the high teens. But with variable winds predicted later in the week, the race committee wisely decided to take advantage of today's weather to provide flexibility later in the series.
It was not just the breeze that was taking its toll on the teams, however, as the 1.5 mile beats consistently saw a drag race to the right hand side of the course, making it an effective conveyer belt towards the windward mark and a hiking contest to get there first.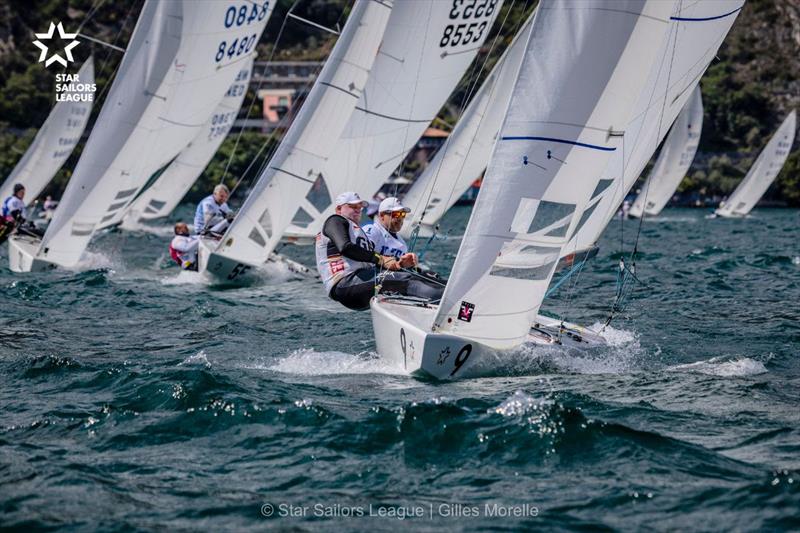 2019 Star European Championships and Star Sailors League Breeze Grand Slam – photo © Gilles Morelle
After day one, where tactics had been much the same as today, the race committee added some port bias to the startline to reduce the crowds at the committee boat end. It certainly saw a spread in the field with many fighting for the pin end and several teams coming unstuck in doing so. Scheidt's day looked as though it would get off to a bad start when a port tacker managed to make a mess of the bunch of boats queuing at the pin in Race 1, of which the five-time Olympic medalist was one.
Scheidt showed his class, however, and by the first mark had miraculously hauled his way up to seventh picking off a few extra positions to finally end up third. Consistently fast, he was always near the front and was usually able to pick off a few spots downwind, showing once again why he is considered by many to be the best downwind sailor in the world. His 3, 5, 2 scoreline across the three races sees him lead the overall results by some six points, but there were plenty of other teams looking dangerous in these testing conditions.
Diego Negri (ITA), sailing with Frithjof Kleen (GER) also had a good day picking up a 1, 10, 3. With another win on their scorecard from day one and a discard in play after four races allowing them to drop a UFD (over the startline) in yesterday's second race they now sit at 2nd overall and, like Scheidt, are looking consistently strong downwind. "I think downwind I have often been quick and I think that comes from sailing a Laser all those years," Negri explained. "It has been a while for me since I sailed a Laser, but the years sailing that boat put you in touch with the waves and that was very important today. But Frithjof was also doing a great job working the boat today."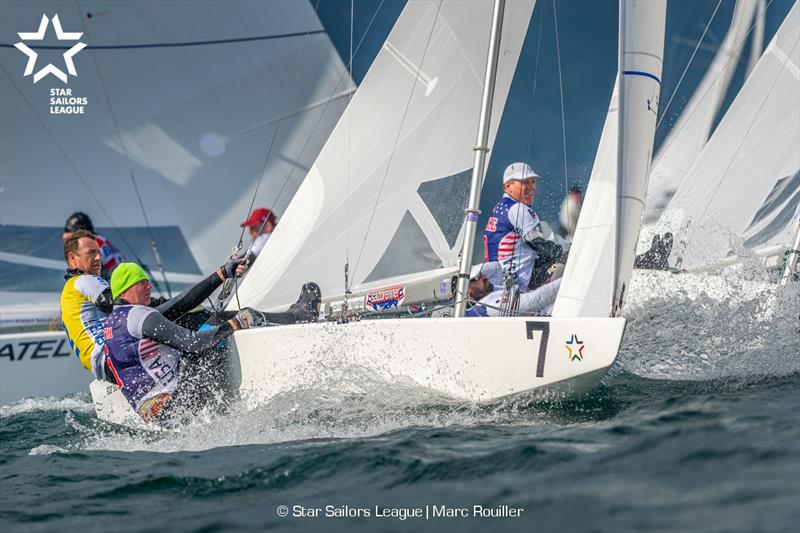 07 SWE 8442 / Skipper: Freedy LÓ§Ó§f / Crew: Brian Fatih; 15 USA 8423 / Skipper: Eric Doyle / Crew: Payson Infelise – 2019 Star European Championships and Star Sailors League Breeze Grand Slam – photo © Marc Rouiller
Another sailor showing their form was 2012 Olympic star gold medalist, Freddie Lööf (SWE), who improved throughout the day to take the win in the final race by a country mile. Lööf was one of those who struggled near the raft of boats at the pin end in race one: "The first race was difficult as the left side of the startline was really biased, so it was hard to get out of that side. Then they changed things later on and it was great for the rest of the day. It was still hard to get off the line and get over to the cliffs in space but that is the same for everyone." Lööf's 11, 3, 1 is particularly impressive as his crew, Brian Fatih (USA), is nursing an injury after being hit in the back by another boat yesterday.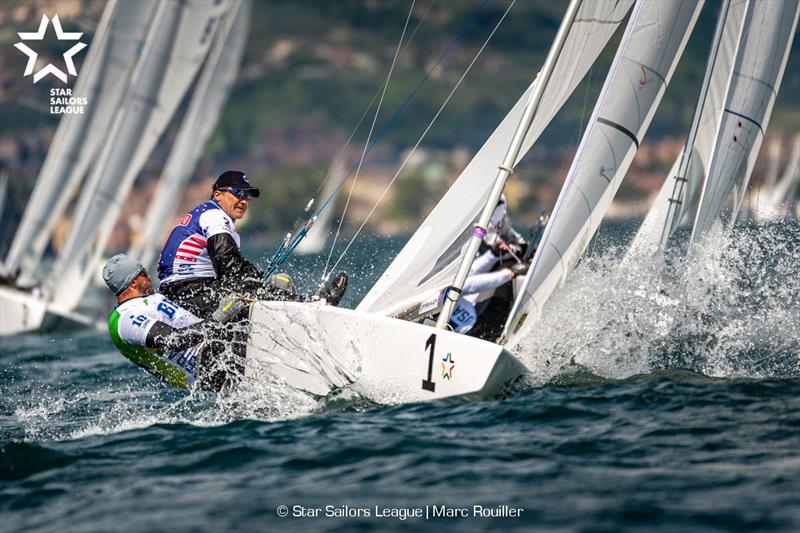 01 USA 8550 / Skipper: Paul Cayard / Crew: Arthur Lopes – 2019 Star European Championships and Star Sailors League Breeze Grand Slam – photo © Marc Rouiller
One of yesterday's top performers, Paul Cayard (USA), looked set to continue his form, taking a second in the first race of the day. But bad starts in the second and third races saw him struggling to break into the very top placings. His 2, 24, 10 over the course of the day is hardly a disaster and he did extremely well to mitigate the damage, but he'll expect better results tomorrow.
If the day cannot be categorized as a disaster for Cayard then the last race of the day will certainly be labelled such by Mateusz Kusznierewicz (POL) and Frederico Melo (POR) who were looking fast all day taking a sixth in race one and victory by a big margin in race two. "For us we have been really enjoying the downwind and I think we have been going really fast," Mateusz said at the end of the second race. But fighting for a podium position on the final run of the day the Pole's mast snapped in two leaving him to drift towards the finish ¬ where he still managed to pick up a 27th for his drifting efforts.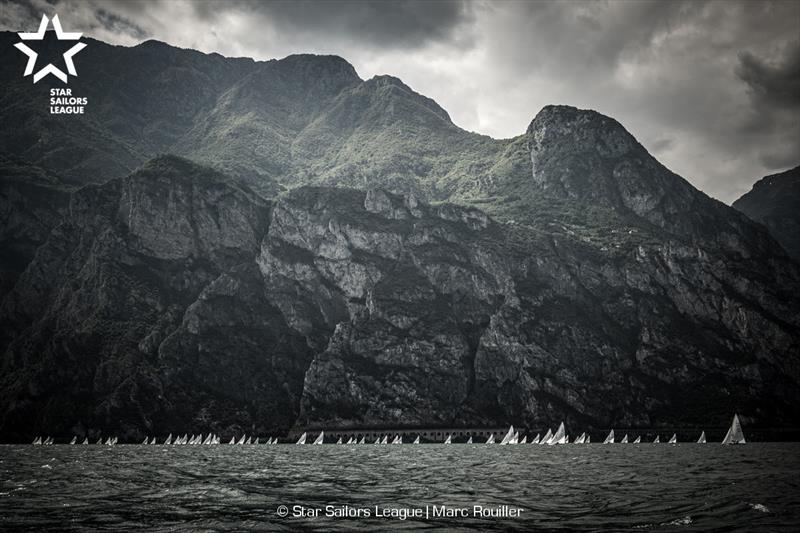 Fleet – 2019 Star European Championships and Star Sailors League Breeze Grand Slam – photo © Marc Rouiller
Tomorrow looks set for more of the same with a 1pm start and two races scheduled, and will be streamed live on internet with expert commentary from double Olympic gold medallist, Shirley Robertson (GBR) and Star Olympic campaigner and coach, Maurice O'Connell (IRL). On the water, the latest in hi-tech camera technology, as well as 3D tracking Graphics, will provide thrilling viewing.
Results after Day 2: (top ten)
1 – BRA – Robert Scheidt – Henry Boening
2 – ITA – Diego Negri – Frithjof Kleen
3 – POL – Mateusz Kusznierewicz – Frederico Melo
4 – USA – Paul Cayard – Arthur Lopes
5 – SWE – Fredrik Lööf – Brian Fatih
6 – USA – Eric Doyle – Payson Infelise
7 – FRA – Xavier Rohart – Pierre-Alexis Ponsot
8 – ITA – Roberto Benamati – Alberto Ambrosini
9 – GER – Ubert Merkelbach – Markus Koy
10 – CRO – Marin Misura – Tonko Barac
For more information visit:
by Rachele Vitello