Ichi Ban, skippered by Matt Allen, has come away with a resounding Division 1 IRC win at this year's Teakle Classic Lincoln Week Regatta, dropping just one less than perfect result to end up carrying a picket fence.
The regatta was made up predominantly of light winds with some challenging Boston Bay conditions providing a few tricks for the 40-plus boat fleet.
The racing was fierce across Divisions 2-4 with some great racing on offer and plenty of lead changes in positions across all the handicap ratings.
It caps off what was the 69th edition of the Adelaide to Port Lincoln Yacht Race and Regatta, which next year will roll into the milestone 70th edition.
Division 1
Matt Allen's Ichi Ban steamed ahead to an overall IRC victory after a bullet in the final race, however the big mover was Andrew Corletto's Shining Sea who swiftly moved into second place overall on IRC, beating Geoff Boettcher's Secret Men's Business on a count back.
Ichi Ban also took out the overall honours on PHS, followed by Shining Sea in second and Chris Dare's Ambition in third.
Division 2
Alan Woodward's Reverie, which has made the trip from the Royal Brighton Yacht Club for many years in a row, once again came away with success, this year taking out the IRC victory for Division 2.
He finished two points clear of Rob Date's Scarlet Runner 11 in second and a further four points clear of Richard Harries' Magic in third.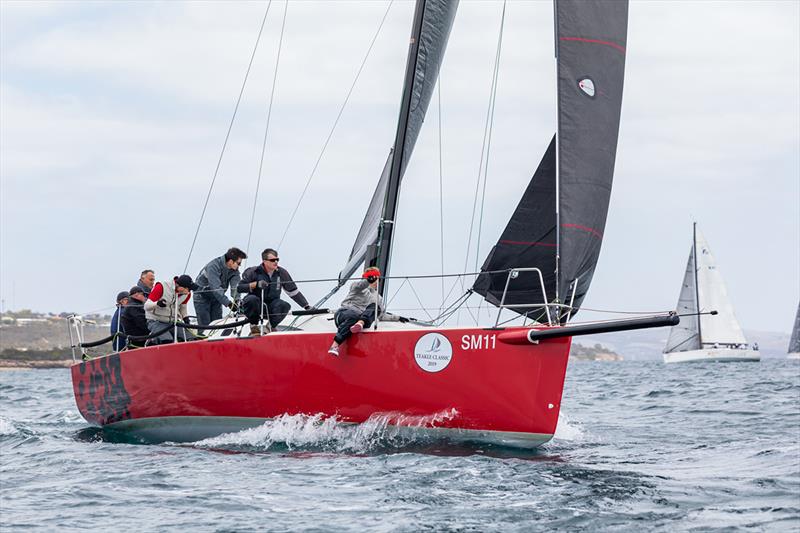 Rob Date's Scarlet Runner 11 – 2019 Teakle Classic Lincoln Week Regatta – photo © Take 2 Photography
On AMS, Scarlet Runner 11 took out the overall win ahead of Magic in second and Jason Coonan's Doctor Feelgood 3 in third.
The PHS results showed a slightly similar story with Scarlet Runner 11 taking out the win ahead of Bob Schahinger's Clockwork in second and Magic in third.
Division 3
After a stellar final day to cap off their Lincoln Week Regatta, visitors from the Sandringham Yacht Club, Murray Mackay's Doesn't Matter, came away with a clean sweep by winning Division 3 across all three handicap ratings.
They came away with the IRC win ahead of a fast-finishing Poco Loco, skippered by Dan Haynes, in second and Adrian Wotton's School's Out in third.
Doesn't Matter also clinched the AMS honours finishing ahead of the two Port Lincoln mentor boats owned by regatta sponsor Peter Teakle, Simon Turvey's Born to Mentor in second and Matt Stephens' Lincoln Mentor in third.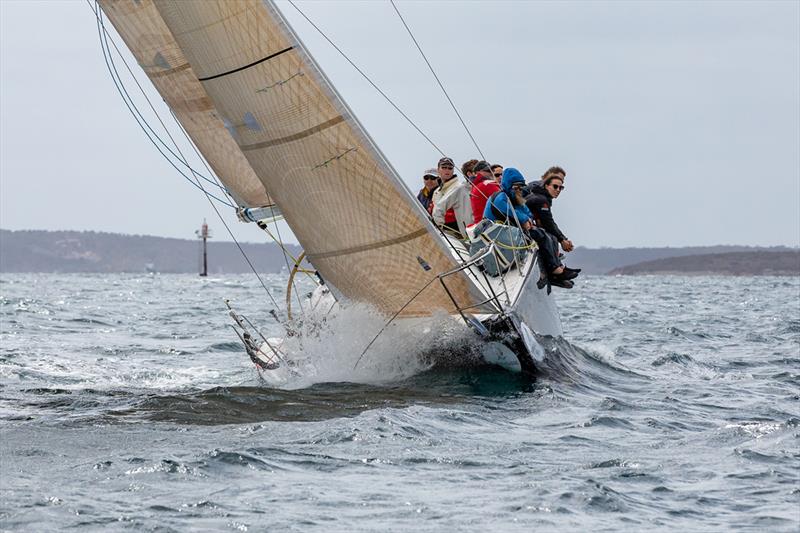 Matt Stephens' Lincoln Mentor – 2019 Teakle Classic Lincoln Week Regatta – photo © Take 2 Photography
And in the PHS standings Doesn't Matter won that again ahead of Born to Mentor in second and School's Out in third.
Divisions 2 and 3 were the most competitive divisions in the regatta with a total of 13 boats in each fleet.
Division 4
The final fourth division, predominantly made up of trailable yachts that did not compete in the race over from Adelaide, had some competitive racing on the PHS handicap system throughout the week.
The division was eventually won by local wind whisperer Phil Kelly, racing on his new Clubman 8 Steeple Jack, who clinched the championship by three points after a less than average final day.
Hugh Longbottom's Academy 1 finished the regatta well to stitch up second place while Bill Van Riet's Mighty Fine Lyons was also competitive on the last day to come in at third overall.
Division 4 also saw two Etchells make the trip over from Adelaide, Caillin Howard's Stretch and Paul Henshall's Mystery Taxi, who both had their moments on PHS but also had the opportunity for one-design match racing within the regatta.
70th event next year
The 70th Teakle Classic Adelaide to Port Lincoln Yacht Race will take place in February next year and is shaping up to be one of the biggest for some time, so get your boat out of the pen and don't miss out on being involved in this incredible week of racing.
To check out all the rolling coverage and videos from the event, head to the Down Under Sail Facebook Page.
Click here for the full results.
by Harry Fisher