Tour Voile 2019 – Golfe du Morbihan Breizh Cola racks up breezy first win
Port Barcarès delivered some superb breeze and brought youth and female teams to the fore in the Coastal Raid of Act 5.
After almost four hours on the water, the youth team of Golfe du Morbihan Breizh Cola (Solune Robert, Louis Flament and Charles Dorange) claimed their first victory of the Tour Voile, just seconds ahead of the all-female team of La Boulangère (Mathilde Géron, Louise Acker and Amélie Riou) – who also celebrated their best result to date. Overall leaders Team Beijaflore, skippered by Valentin Bellet and Guillaume Pirouelle, highlighted their consistency with their fifth third-place finish and retain their position at the top of the general classification.
Today's 40-mile course took the crews on a very long beat along the coast, almost to the border with Spain, before returning to Port Barcarès with a breeze that had filled in considerably, gusting at over 20 knots, and shifted from 90 degrees to 160 degrees.
Illustrating the ever-important skill of choosing the favoured end of the starting line, La Boulangère had a great start on the left side of the course, while classification leaders such as Cheminées Poujoulat and Réseau IXIO – Toulon Provence Méditerranée had to climb their way back up the fleet after choosing the pin end of the line. Golfe du Morbihan Breizh Cola started well towards the middle of the fleet and by the first weather mark had managed to inch ahead of La Boulangère, a position they would hold – only just – for the rest of the race. The two teams battled at the front of the fleet for the entire afternoon and crossed the finish line only a few boat lengths apart.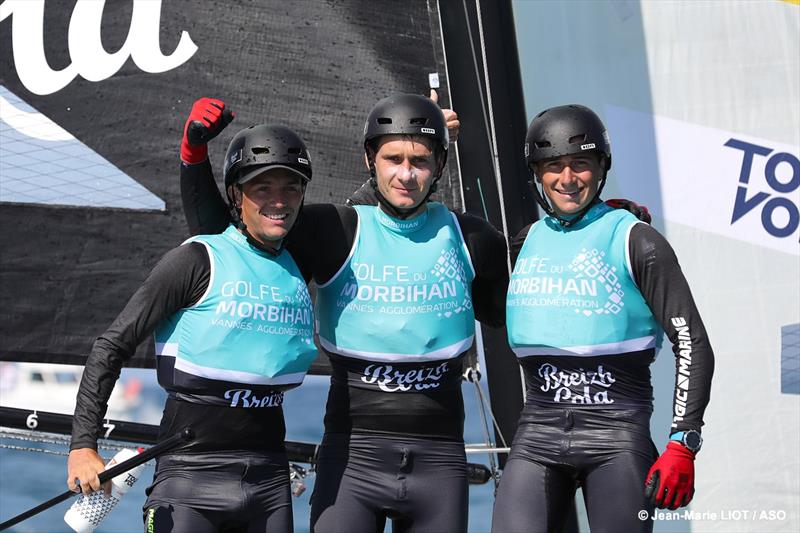 Golfe du Morbihan Breizh Cola racks up breezy first win – 2019 Tour Voile Act 5 – photo © Jean-Marie LIOT / ASO
Speaking about today's result, which was a great comeback from a rough collision on Sunday in Les Sables d'Olonne, Golfe du Morbihan Breizh Cola's skipper Solune Robert commented: "After the difficulties we have had it was great to come back with this win. We had a very long beat right down to the foot of the Pyrenees. It was a tough day but we kept our nerve and managed to stay ahead. Towards the line things got very close and in the end we had a great battle with the girls of La Boulangère."
Mathilde Géron (La Boulangère): We're really happy! We didn't manage to get past Golfe du Morbihan Breizh Cola in the end. We changed the configuration of the team a little for this Raid and it paid off. We've never lost faith, we just missed out on a few successes, particularly in Les Sables d'Olonne. We are aiming for the Top 10 and even higher if possible. So we need to have good days from now on!"
As far as the overall classifications are concerned, Team Beijaflore finished sufficiently ahead of their closest rivals Cheminées Puojoulat (who with an eighth place today registered their poorest performance to date) to extend their lead from two to seven points, with Team Reseau IXIO – Toulon Provence Méditerranée (ninth today) still sitting behind them in third. Today's performance by Golfe du Morbihan Breizh Cola has allowed them to squeeze into fourth place, pushing Oman's Renaissance Services, skippered by Stevie Morrison, back to fifth overall. Still just 16 points separate the top three boats, so any slip-up resulting in failure to qualify for the final of tomorrow's Nautical Stadium leg could have serious consequences.
Golfe du Morbihan has also considerably shortened the gap between them and the leader of the Youth classification, Cheminées Poujoulat. Meanwhile today's second place finish for the ladies of La Boulangère, skippered by former 470 European Champion Mathilde Géron, has allowed them to extend their lead to just shy of 50 points in the Mixed classification, ahead of Helvetia Purple by Normandy Elite Team.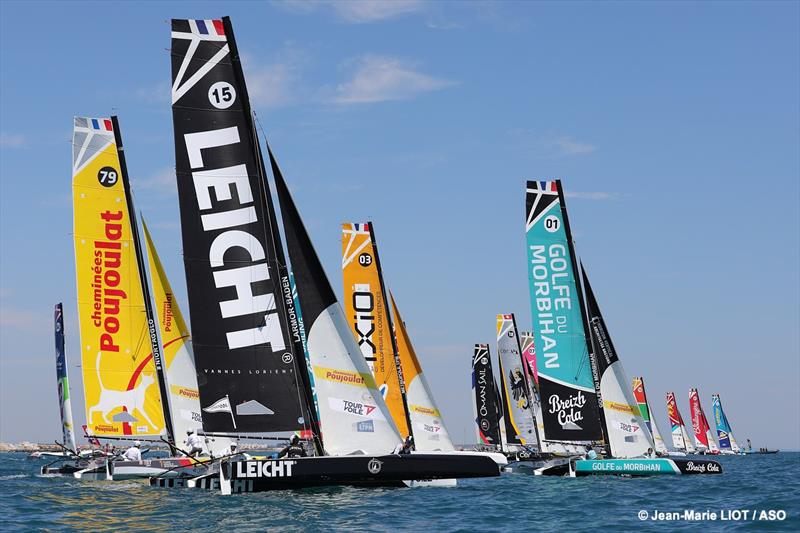 2019 Tour Voile Act 5 – photo © Jean-Marie LIOT / ASO
Things remain tight at the top of the Amateur group with just two points separating leaders Gregory Lemarchal – Les Sables d'Olonne from CER – Ville de Geneve in second.
The starting signal for tomorrow's Nautical Stadium racing is scheduled for 11.30 a.m.
Overall Rankings: (top three)
1. Team Beijaflore – 479 pts
2. Cheminées Poujoulat – 472 pts
3. Team Réseau Ixio – Toulon Provence Méditerranée – 463 pts
Report from Oman Sail's Renaissance Services
Racing at Les Sables d'Olonne on France's rugged Atlantic coast, skipper Stevie Morrison, Abdul-Rahman Al Mashari and Quentin Ponroy battled through the qualifying races to earn a place in Sunday's super-final and then converted an early lead into an outright win.
Their victory can be added to previous stadium final successes in Dunkerque and Fécampand moves Renaissance Services up the overall Tour Voile leaderboard to fourth place, keeping alive Oman Sail's hopes of achieving a top-three podium place finish to mark their 10th anniversary.
After a successful start to the Tour, the team had to bounce back from the disappointment of retiring from the Fécamp coastal race after damaging a rudder.
"We're really happy," said Morrison. "We've had some really bad days, some real ups and downs, and I think we are kind of at a place now where we're just trying to enjoy it."
"With the rudder falling off, and a couple of our coastal races, the overall is not where we want it to be at the moment. It's really frustrating – we're here to win the Tour Voile and we have made that very hard for ourselves."
But he added: "It is not impossible as every race counts towards the finish and we have to keep doing our best, but we can see at least 30 to 35 points we've left on the coastal racecourse, and I guess if it wasn't for that we would be near the top of the leaderboard, so that has to be frustrating but you have to enjoy it when you can."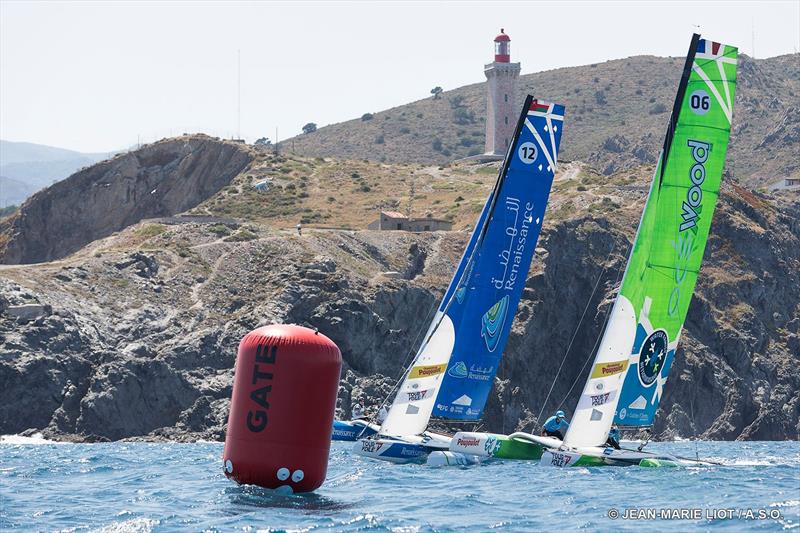 2019 Tour Voile Act 5 – photo © Jean-Marie LIOT / ASO
The second Oman Sail race team, EFG Private Bank Monaco, just missed out on a place in the super-final, but also moved up the overall standings to sixth in the 23-strong fleet – a place secured by skipper Pierre Pennec, Corentin Horeau and Hussein Al Jabri with a strong performance on Saturday's coastal race.
Meanwhile, the all-Omani Team Oman Sail squad of skipper Akram Al Wahaibi, Haitham Al Wahaibi, Raad Al Hadi and Yasser Al Rahbi had their best day result to date coming tenth, also on the Les Sables d'Olonne coastal race.
Skipper Al Wahaibi said: "After more than a week on the Tour I am always happy, but you can have two or three good days and then a bad day, it is the way it is."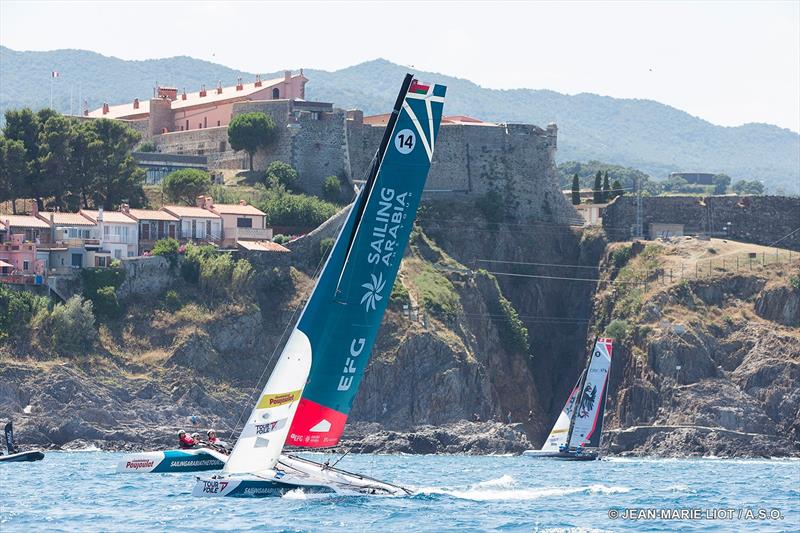 2019 Tour Voile Act 5 – photo © Jean-Marie LIOT / ASO
The all-women team on EFG Sailing Arabia The Tour have been quickly adapting to their first experience of the unique and on-going demands of the Tour Voile and are in 18th place overall.
Experienced crew Ibtisam Al Salmi said: "The Tour Voile is a very hard event and we are up against a lot of very good professional sailors. They have been in these boats for a long time already and we have only just started this year, so it is a big challenge for us."
Racing alongside skipper Audrey Ogereau and crewmates Maelenn Lemaitre, Marwa Al Kaifi and Tami Al Balushi she added: "I think from the first Act we have make a lot of progress and we are happy as a team. It has been great for us to have been in the mix with everyone and it is a big thing for us, for example being mid-fleet in some of the coastal races, so we are making progress for sure and we are happy."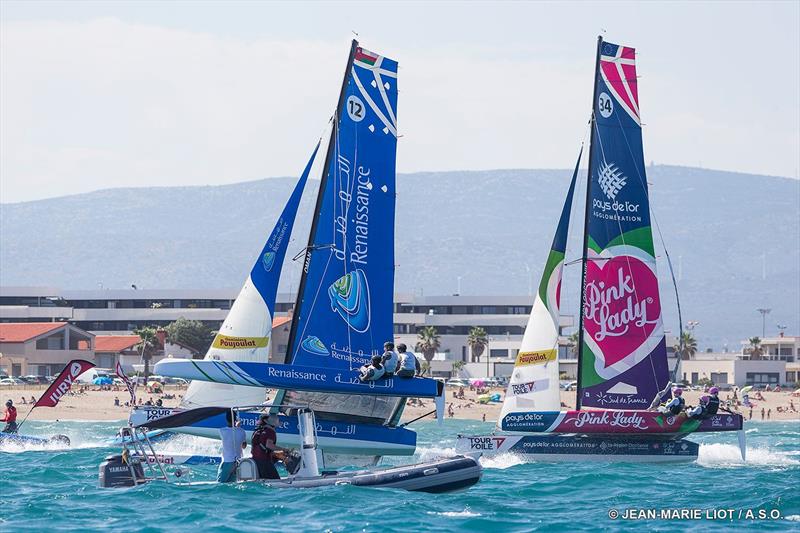 2019 Tour Voile Act 5 – photo © Jean-Marie LIOT / ASO
On Monday the teams make the long 770km trip to Port Barcarès on France's southern Mediterranean coast, the fifth of seven venues on the Tour.
There are seven days of racing left including the finale in Nice on Sunday 21 July, with two coastal races – the first scheduled for Tuesday – and five high-intensity multi-race stadium events.
by Tour Voile