FINALS DAY! It started at host club Royal Freshwater Bay Yacht Club where the teams received a more intimate morning briefing from Regatta Chairman, Andy Fethers.
The skippers then hung around to socialise with the arriving Gala Luncheon guests before the 2020 Warren Jones Gala Luncheon kicked off at 12:30pm inside the beautifully set Roland Smith Ballroom.
After an opening address from MC, Johnson Kitto, and a welcome from Ron Packer, chairman of the Warren Jones Foundation. Andy took to the mic where he spoke about the week the so far and a highlights reel was played. courtesy of Drew Malcolm Photography and a number of media assistants.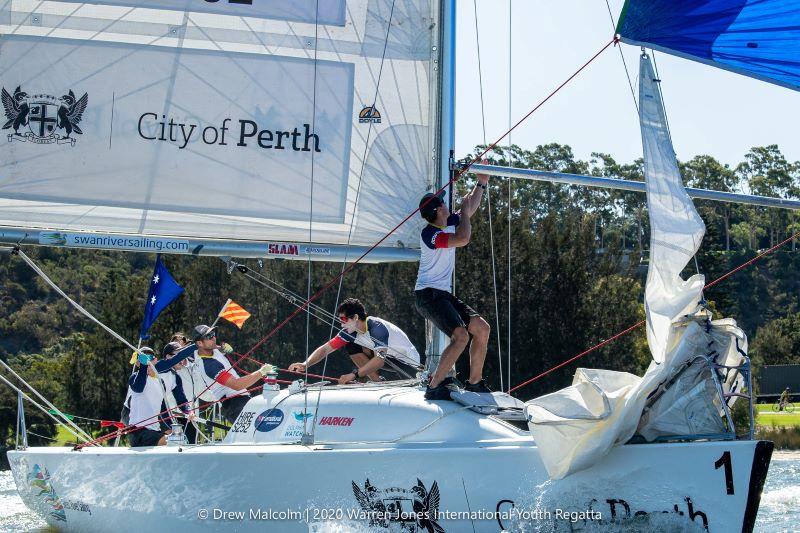 Final day – 2020 Warren Jones International Youth Regatta – photo © Drew Malcolm
The four skippers were brought up front to say a few words, and, also, Harry Price, sitting in the top position, to choose his opponent. Price selected his stable mate, Tom Grimes as his opponent in the semi finals, ensuring that there will be a Cruising Yacht Club of Australia team in the final. That then left Nick Egnot-Johnson and Will Boulden as the other match up for the semis which would kick off at 3:00pm Western Standard Time.
Whilst the competitors and onwater team prepared for the final racing session, over 180 guests enjoyed a delicious three-course meal and bottomless drinks courtesy of Royal Freshwater Bay Yacht Club, Leeuwin Estate and Gage Roads Brewing Company.
Robert 'Dipper' DiPierdomenico entertained guests over lunch with a roar of laughter to be heard from the Roland Smith Ballroom for the duration of his address – Dipper was given rave reviews and hailed as 'the best ever' by many luncheon guests. Guests then made their way onto the water to enjoy some extended hospitality whilst viewing the finals of the 2020 Warren Jones Regatta.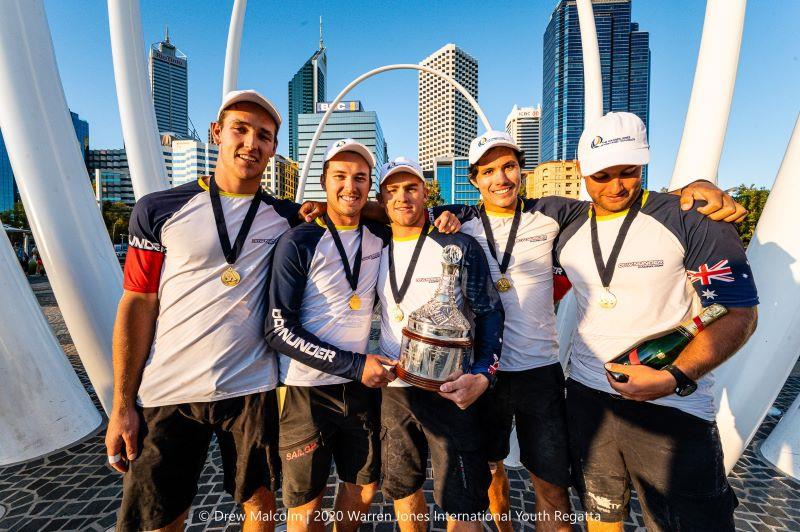 First place, champions – (left to right) Harry Hall, Harry Price (skipper), Taylor Balogh, Josh Wijohn and Niall Morrow – photo © Drew Malcolm
The semi finals was a strong, one for one battle for both matches. Harry Price took the win over fellow Cruising Yacht Club of Australia teammate, Tom Grimes, whilst Nick Egnot-Johnson managed to steal the second spot in the final from Will Boulden.
An intense, high energy battle was showcased in the final in front of several hundred spectators in the stadium venue that Perth Waters provides. Harry Price continued his dominance, taking the final 3-0 over Nick Egnot-Johnson and secured his second Warren Jones title!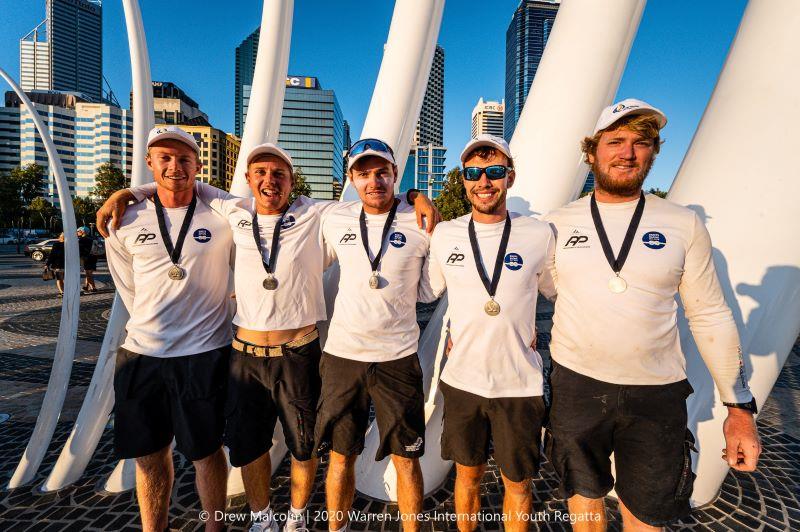 Second place – (left to right) Nick Egnot-Johnson (skipper), Zak Merton, Bradley McLaughlin, Sam Barnett and Tim Snedden – photo © Drew Malcolm
Harry Price won the Warren Jones Regatta back in 2018. In 2019, he returned to Perth to defend his title, but finished in third behind Jelmer van Beek, Team Dutch Wave, from the Netherlands and Will Boulden, Alpha Racing Team, Western Australia.
In 2020, Price showed up early, put some time in on the Foundations and executed a skillful, strong and consistent campaign which left him dominating for the majority of the regatta. With an entirely different crew than when he won two years prior, Harry claimed the title as Warren Jones Regatta Champion one last time as he ages out in the next 12 months ahead of future Warren Jones Regattas.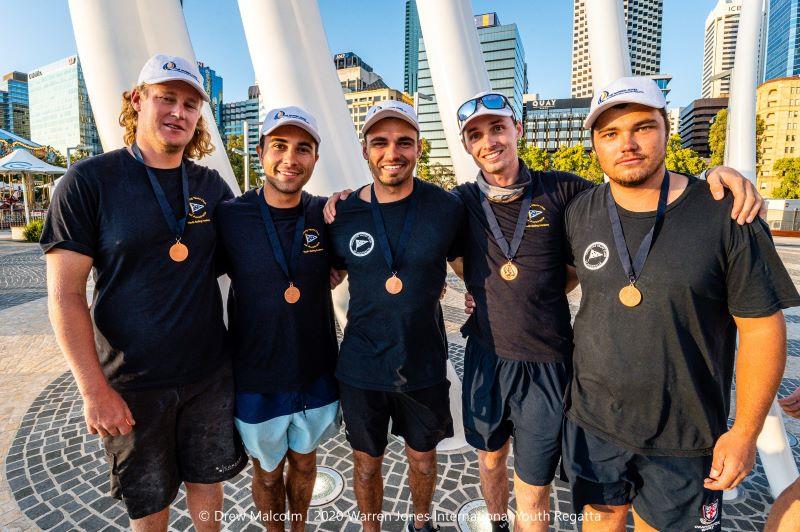 Third place – (left to right) Charlie Gundy, Louis Schofield, Ryan Wilmot, Tom Grimes (skipper) and James Hodgson – photo © Drew Malcolm
Overall Results: (top three)
1st Harry Price – Downunder Racing – Cruising Yacht Club of Australia, AUS
2nd Nick Egnot-Johnson – Knots Racing – Royal New Zealand Yacht Squadron, NZL
3rd Tom Grimes – CYCA Youth Sailing Academy – Cruising Yacht Club of Australia, AUS
View the final overall standings here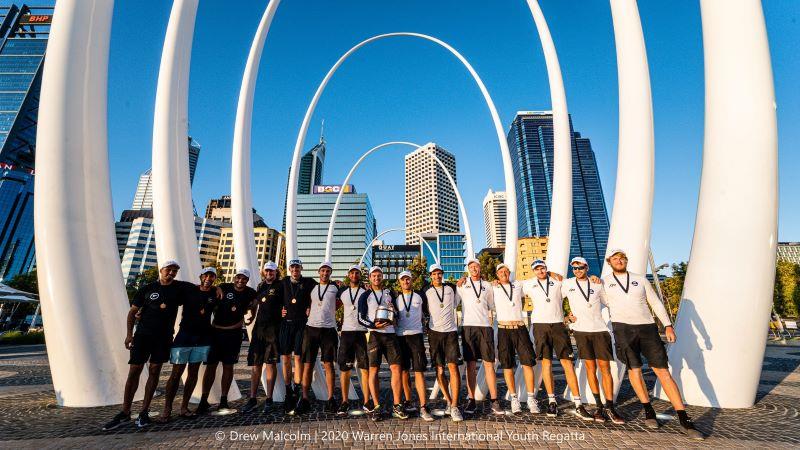 Final day – 2020 Warren Jones International Youth Regatta – photo © Drew Malcolm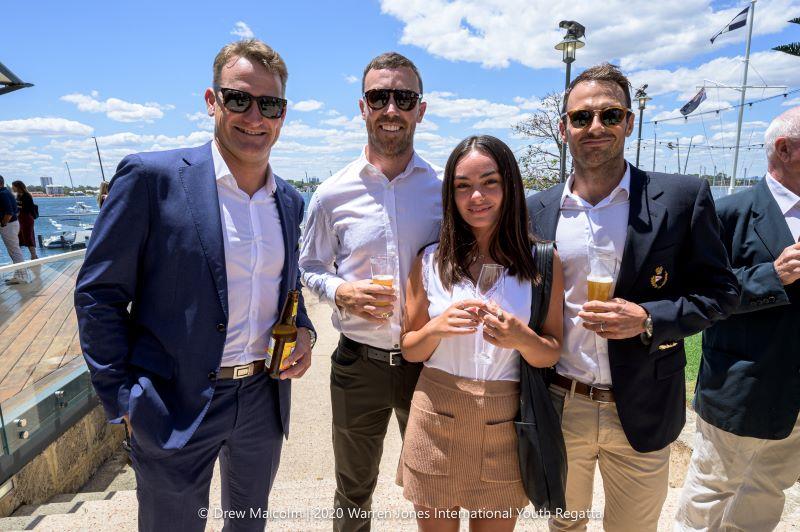 Final day – 2020 Warren Jones International Youth Regatta – photo © Drew Malcolm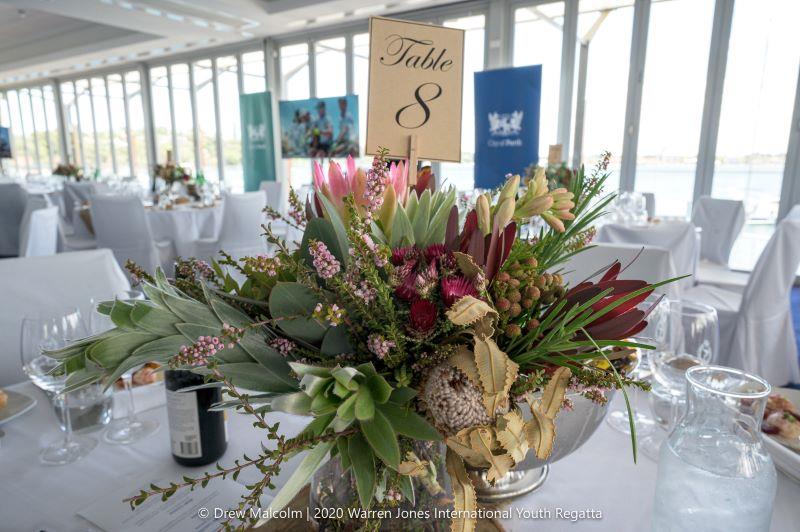 Final day – 2020 Warren Jones International Youth Regatta – photo © Drew Malcolm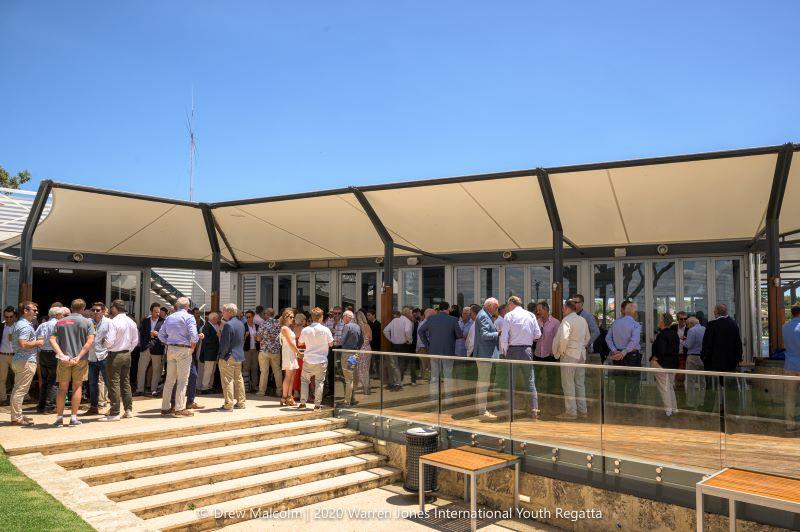 Final day – 2020 Warren Jones International Youth Regatta – photo © Drew Malcolm
by Georgia Bivens