The conventional wisdom says the sailing season in the Northeastern United States ends with Labor Day, celebrated the first Monday in September. But the locals will tell you that September and October are the best months of the year Southern New England and ideal for top-level sailing.
Regattas held in Newport around the fall solstice usually bring a testing variety of wind and weather conditions coupled with cool evenings perfect for post-race socializing. The absence of the summer crowds make this historic resort town that much more accessible and welcoming.
The 2020 ORC/IRC World Championship will bring top sailing teams from around the globe to battle on Rhode Island Sound and Narragansett Bay for one of three coveted world titles. It's the first time in two decades this regatta, which will be held at New York Yacht Club Harbour Court from September 25 to October 3, 2020, has been held in North America. Entries will open Friday October 25.
"We're extremely excited for next year's ORC/IRC World Championship," said Patricia Young, the event chair and a passionate sailor who is often round racing on her Tripp 41 Entropy. "We recognize that it's a big commitment to ship a boat from Europe, or further abroad, for this regatta. But Newport and the New York Yacht Club will reward anyone who puts in the effort with one of the best regatta experiences of their lives."
Because each of the three divisions is limited to 50 boats, there is a strong incentive to sign up early. The first 30 boats that register for each class will be guaranteed a spot in the regatta. Beyond that initial group, a selection process may be required if there are more than 50 total entries for any class. Divisions of classes is determined by CDL (Class Division Length) limits defined in the Notice of Race.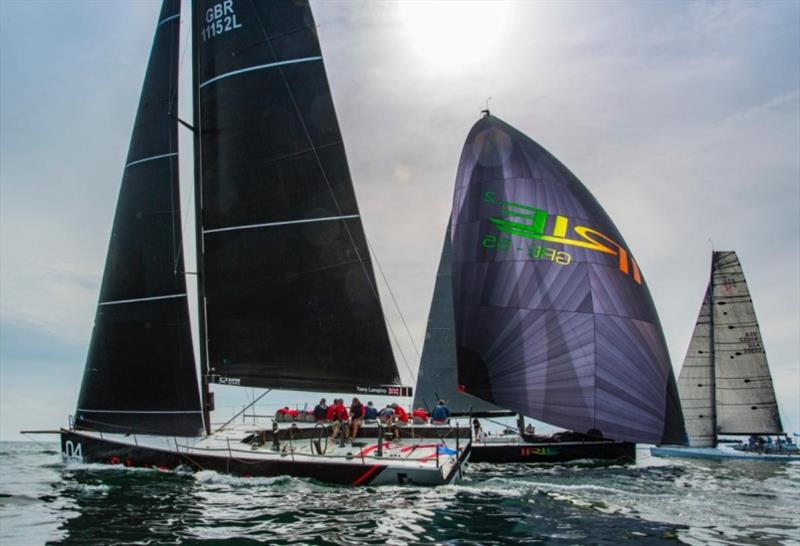 Class A-eligible boats racing in Newport – photo © Stu Streuli / NYYC
Class A will have the fastest boats in the fleet, from about 45 to 55 feet in length, with TP52's being the fastest boat type allowed to enter. Already there are preparation plans amongst boats in this fleet to optimize for the 2020 Worlds, and at least one new boat is being built now to compete in this class.
Class B is typically composed of mid-sized boats from 39 to 44 feet in length. A Club Swan 42, a class created at the New York Yacht Club in 2006, won Class B at the D-Marin ORC World Championship in Croatia in June.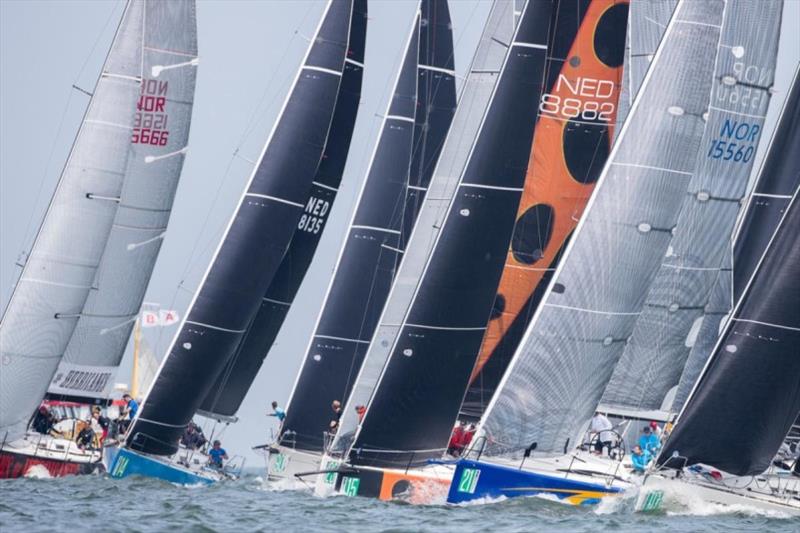 Close racing in Class B at the 2018 Hague Offshore Worlds – photo © Sander van der Borch
Class C has been the most popular and competitive class at World Championship events held in Europe the past few years. Boat types that compete in this class are typically production racer/cruisers, such as the J/112E from the Netherlands that won Class B at the 2018 ORC/IRC Offshore Worlds in The Hague and Class 3 at the IRC Europeans in Cowes, UK. Yet small fast sportboats, such as GP 26's, C&C 30's and other designs, may also enter this class.
Besides 2020 World Champion titles, the event will also award for each class trophies for the top Corinthian team and the top team competing in a boat designed before 2010.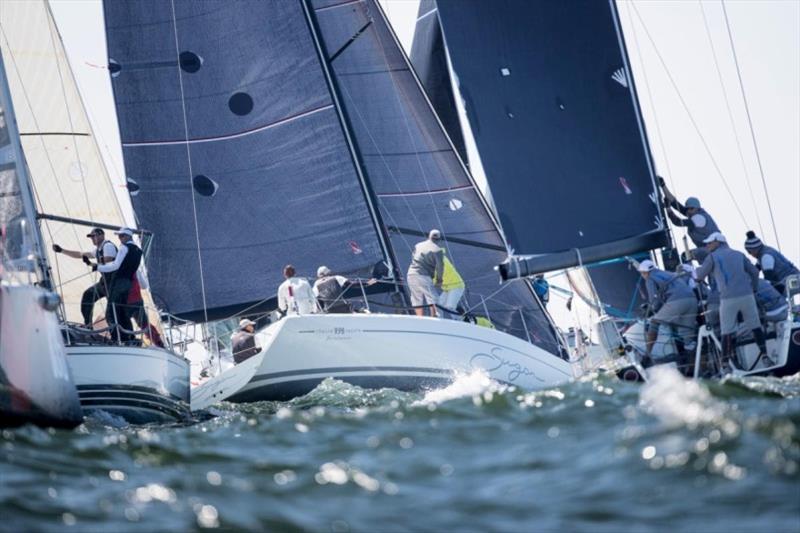 Crowded Class C mark rounding in The Hague – photo © Sander van der Borch
The 2020 ORC/IRC World Championship will include a mix of buoy racing and offshore courses, and use of two of world's most popular systems for rating boats, IRC and ORC. The exact scoring methodology will be confirmed shortly, but both rating systems will play a significant role.
"We're very excited to return to the US with a World Championship after such a long absence," said Bruno Finzi, Chairman of the Offshore Racing Congress (ORC). "Newport and the New York Yacht Club are the perfect venues, and the interest we have had from teams here in Europe who wish to attend has been strong. We look forward to seeing the best of the US and the best of the rest of the world come to race in Newport."
"Newport and the New York Yacht Club will provide a tremendous backdrop for the second combined World Championship of IRC and ORC," said Michael Boyd, IRC Congress Chairman. "Moving the championships around the world, from Europe in 2018 to now USA in 2020, shows the truly international reach of our rating systems and we can't wait to see the broad range of sailing talent from around the world compete for this prestigious event at this esteemed venue.
Purchased by the New York Yacht Club in 1988, Harbour Court has become one of the preeminent regatta hosts in the United States. Recent events hosted by the Club include the historic J Class World Championship in 2017 along with world championship regattas for the Etchells and J/70s and Farr 40s. A 2020 summer schedule that includes the 166th Annual Regatta and the 2020 Race Week at Newport presented by Rolex will provide plenty of opportunity for visiting teams to become familiar with the local conditions and enjoy a full summer of sailing in Newport.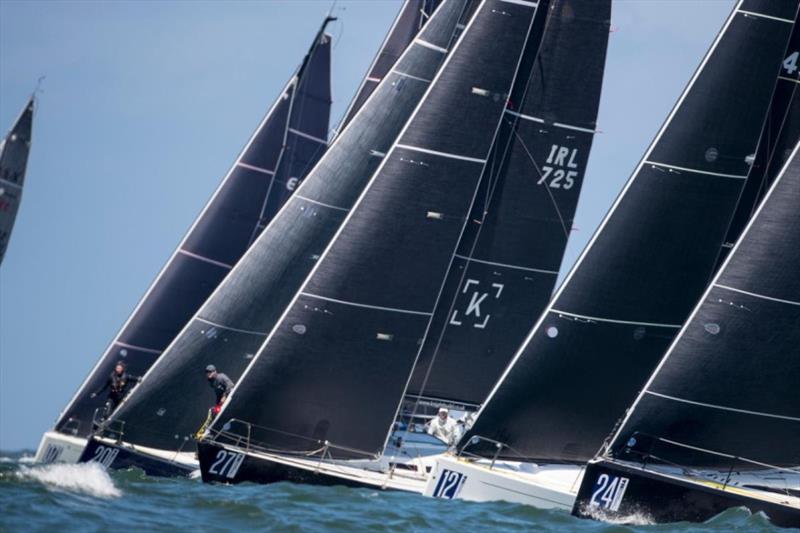 Class C racing – photo © Sander van der Borch
The stunning grounds of this 115-year-old clubhouse are perfect for entertaining regatta guests and VIPs after racing and provide one of the most spectacular views of Newport Harbor. The Club's location in Brenton Cove is in close proximity to a full suite of maritime services and plenty of lodging options and provides sailors with quick access to the racecourse.
The Notice of Race for the 2020 ORC/IRC World Championship can be found on the event website. Click orcirc2020.orc.org for more information.
More on ORC rating systems, ORC certificates and events can be found at orc.org.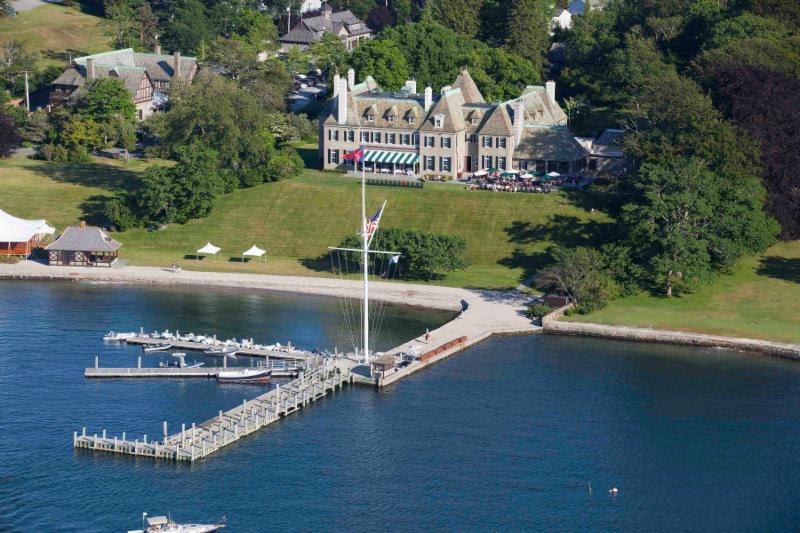 The event venue at New York YC's Harbour Court – photo © ORC Media
by ORC Media 22