The second day of the 11th Bartercard Sail Paradise Regatta was raced today, offshore from Broadbeach from the Southport Yacht Club.
Over thirty yachts are taking part in the regatta this year, which includes the IRC Gold Coast Championship, where the champions will be the most consistently highly ranked yachts in their divisions and classes over a maximum of eight races.
Local Gold Coast boat, Desperado skippered by Graham Sherring have clocked up a perfect scorecard so far in the IRC Gold Coast Championship with four wins from four races, continuing their record from day one in the two races sailed today. Black Diamond, the RP42 had two second places to finish the day on second overall, with David Rose's Kerisma the Kerr 37 finishing fourth in race three and third in race four to move into third overall after day two.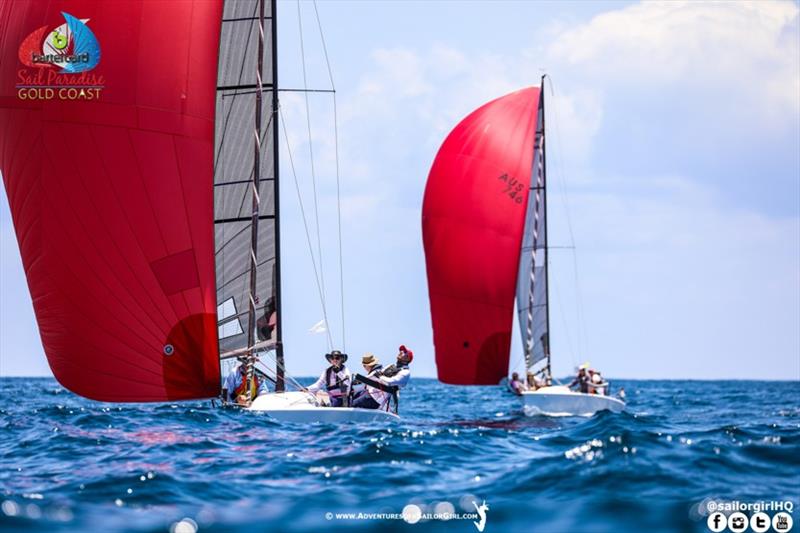 2020 Bartercard Sail Paradise Regatta – Day 2 © Nic Douglass / 
www.AdventuresofaSailorGirl.com
In PHS Division A, Graham Sherring's Desperado holds a firm grasp on the lead after a first and a fourth today to lead from David Chadkirk's German Friers designed Cyclone. In third place overall is Impulse X owned by Andy Lamont who placed twelfth and first today to jump onto the podium.
In PHS Division B, Karlovic's Rumba continues to lead for day two, after a first in race three and a third in race four. Ball's Bad Influence is in second place and Chris Larsen's Wild Spirit is still in third, a replica of overall positions from day one.
Cruising Non-Spinnaker Division leaders are the team from Pole Dancer, the Catalina owned by Carlos Selby and second overall is Too Impetuous. The first multihull continues to be the Privilege 48′ Catamaran Plan B owned by Grant Scurrah.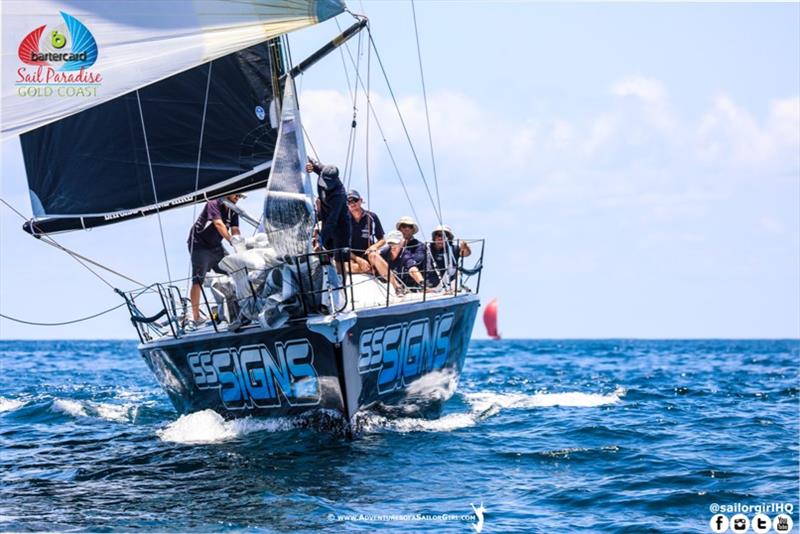 2020 Bartercard Sail Paradise Regatta – Day 2 – photo © Nic Douglass / www.AdventuresofaSailorGirl.com
First in the trailable division is Kamikaze owned by Ben Noonan after a fourth and a first today, second is Wild Goats owned by Ross Manning following a sixth and a second today and third is RTL owned by Neil Rowsthorn following a fifth and a third today. All three of these boats are in the Skud 18 class and part of the Southport Yacht Club's disabled sailing program.
The weather is set to be picture perfect yet again tomorrow, and we will continue to keep you up to date on the progress of Bartercard Sail Paradise, "The People's Regatta".
Live coverage of Race 3
Nic Douglass, the Sailor Girl was live for the start of race three today, you can watch the live coverage below.
Official briefing for day two
Fashion parade and prize-giving from day two
Full results can be found here after today's prize-giving.
Thank you to our sponsors for this regatta, including our naming rights sponsor once again, Bartercard, as well as Mercedes Benz Gold Coast, XXXX Bitter, Club Marine, and Flow Sails.
You can see the boats for yourself racing offshore until Sunday, drop into the Southport Yacht Club, or find out more online at sailparadise.com.au.
by Nic Douglass