Sydney boats Hooligan, Marcus Blackmore's TP52, and Team Hollywood, Ray Roberts' Botin 40, have captured the top divisional prizes at Hamilton Island Race Week on the penultimate day, when the whales came out to play in Whitsunday Passage.
Wind over tide made for some very lumpy seas and there were a small number of casualties. Team Zen was this afternoon working hard to repair the vang on Gordon Ketelbey's TP52 so they can complete the sixth and final day of the annual winter series that has drawn the second largest fleet to the Whitsundays.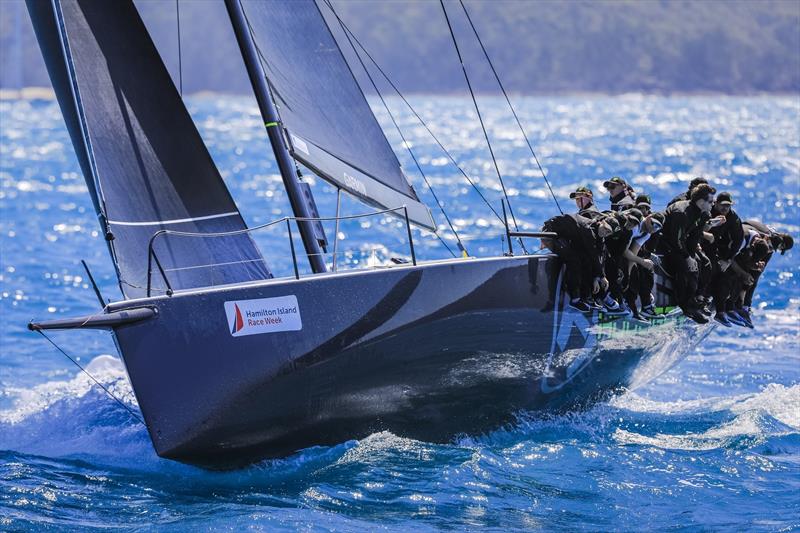 IRC div 1 winner Hooligan – Day 6 – Hamilton Island Race Week © Salty Dingo
A mother Humpback and calf breached in tandem for the media, away from the race fleet which was doing a variety of courses in the trade winds that have blown all week and were once again in fine form. For Friday August 23, 18-22 knots of SE breeze was on the dial for the starts in Dent Passage and on the Eastern course, and this time the pressure bucked the trend and held until the race finish.
Multihull Racing & Cruising
The best of the day's aerial images came from the Multihull Racing division with two Extreme 40s finishing the islands race, Michel Van Der Zwaard's Back in Black and The Boat Works, skippered by Julian Griffiths.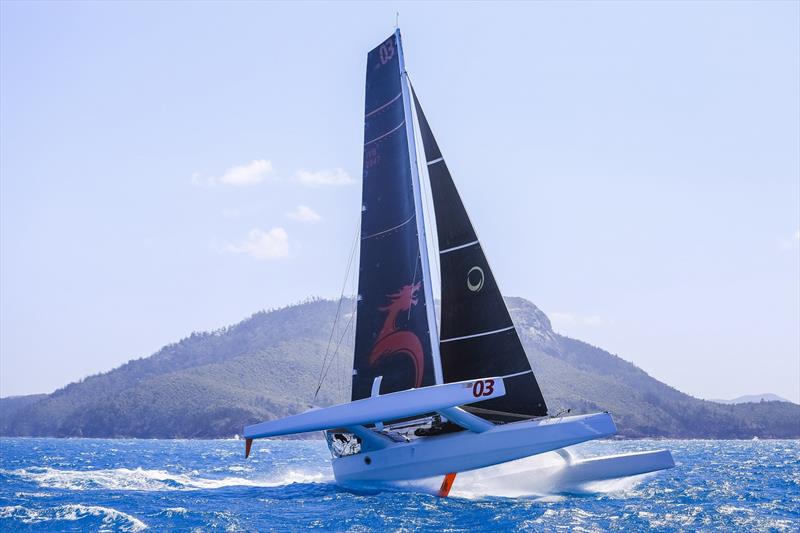 Beau Geste – Day 6 – Hamilton Island Race Week – photo © Salty Dingo
Karl Kwok's MOD70 Beau Geste tearing around the island paradise over two short races made a spectacular sight, the record-setting trimaran not able to make a dent on corrected time in the division, but having a blast.
"It's tough getting this boat around those islands given it's designed for long ocean races, so you just have to pick your times to reef and then make the most of the downwind to try and get away from the 40-footers.
"We're really just getting back into spending more time on the boat before we head back to New Zealand for the Coastal Classic, so it's mostly about recalibrating. This boat is very wet therefore we are enjoying sailing in the tropics. We've decided it's a warm water boat!"
Aboard Back in Black was Olympian Carrie Smith, at Race Week to launch Hamilton Island's partnership with Australian Sailing's SheSails initiative. She stepped off the Extreme still buzzing, and saturated from the high-speed saltwater hosing.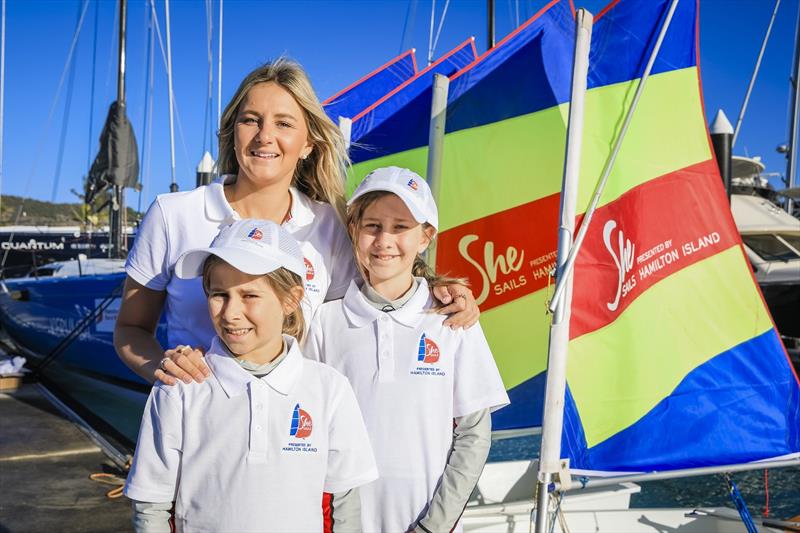 Carrie Smith launches SheSails – Day 6 – Hamilton Island Race Week – photo © Salty Dingo
It's tight at the top in Multihull Racing Purple division with Glenn Rutherford's Young 57 Earthling leading on a countback, sharing the same points as Andrew Graham's Lightwave design, called Heatwave.
"We had a great day today" said Rutherford adding, "the highlight was powering downwind at 25 knots and overtaking all the other fleets that started before us. It's very close with Heatwave, so we've got to stay two places ahead of them tomorrow, if we're going to win our division."
IRC division
Top results in two of the three IRC divisions are settled without the final race being sailed.
Marcus Blackmore's TP52 Hooligan is now a five-time winner at Race Week, and though they don't need to sail on Saturday, the team has decided they'll be on the IRC division 1 start line.
"The message is that if you want to win Hamilton Island Race Week you need a good boat and a good crew, and I'm lucky enough to have both. It's a very satisfying win," Blackmore said. "These guys really get on well together and it's the old adage 'a team of champions will never beat a championship team', and I've got a champion team."
Wild Oats X, the Oatley family's RP66, picked up its first handicap win in Friday's around-the-islands race.
Six wins from six starts gives Ray Roberts' Team Hollywood the 'white picket fence' set of scores and a divisional victory in IRC division 2. Like Blackmore, Roberts is a repeat Race Week trophy winner.
Gordon Ketelbey met the waiting media back at the marina and provided details of Zen's disappointing forced retirement. "It was windy and bouncy, and the vang broke in a big way. We jury rigged it then we heard another bang. It's a reasonably easy fix; we have a trailer here with spare parts and we'll be doing some carbon work this afternoon."
by Lisa Ratcliff