My name is Justin Edelman and I am a filmmaker who grew up sailing. I never imagined I would get the opportunity to combine these two passions when I went to school for film.
The typical route for most filmmakers is to move to LA or NYC where you slowly work your way up; I didn't go the typical route.
Over the years I have worked on weddings, corporate films, documentaries, web-series and short narratives, but always looked for ways to share stories from the sailing world.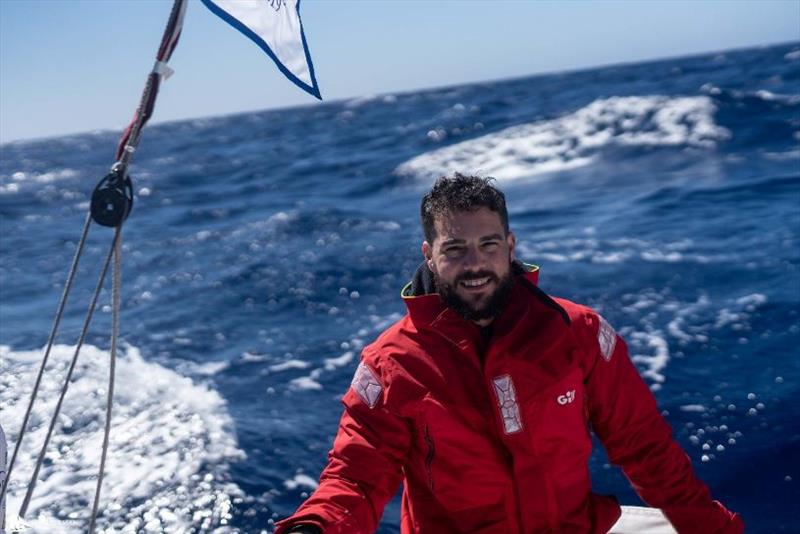 Transpac race aboard Schock 40 Gamble © Justin Edelman
I often work with "Animus Studios" based out of Rhode Island, who typically do corporate films. They were contacted by the Abu Dhabi team to do some coverage and profile videos during the 2014-2015 Volvo Ocean Race (VOR) in-port races in Newport Rhode Island. Animus was very aware of my experience on sailboats and typically hired me for my speciality camera work. During the in-port races that year I met Matt Knighton, the Onboard Reporter (OBR) for Abu Dhabi. We did a profile video on him and suddenly the stars aligned and I knew this was my calling in life.
In 2016 the VOR was accepting applications for Onboard Reporters for the next around the world race. I worked with San Diego Yacht Club to build on my portfolio of sailing content and applied to the VOR. To my delight I made it into the top 30 out of 10k applicants. After about a year of hard work they flew me to Portugal for a 24 hour test sail with the VOR. My session with the VOR was a success, but there were still a lot of questions as to whether I would receive one of the OBR spots on the race. Meanwhile I had another opportunity arise that involved worldwide travel filming and producing a documentary and web series. I had a tough decision to make as it was my dream to work with the VOR.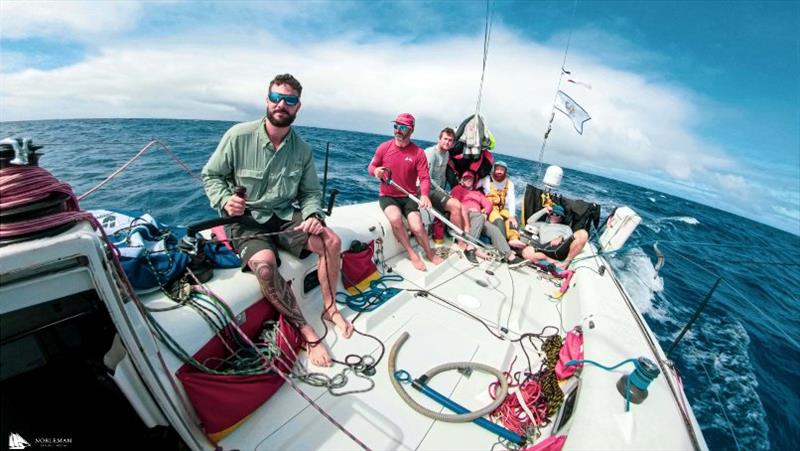 Transpac race aboard Schock 40 Gamble – photo © Justin Edelman
I decided to take on the other documentary project which was a sure thing for me and my family, and for two years I worked on it, growing as a filmmaker and working on my business. I never let go of the dream though, and I continued to sail and learn more about racing.
As my project was wrapping up in 2019, the 50th running of the Transpac Race was just around the corner. As a last minute effort my team and I put together a short application style video asking the 100 boat fleet to consider bringing me as an Onboard Reporter.
I had several intriguing inquiries, and I was looking for a good story to tell. I was contacted by John Sangmeister, owner of the Santa Cruz 70 OEX out of Long Beach, CA. I met with him and his skipper and thought I had a pretty solid story as well as a competitive boat to film on. Unfortunately or fortunately, depending on how you look at it, I was voted off the boat by the crew as they didn't want the extra weight. This left little time to find another boat to race with, and right as I was about to give up I got a call from a local sailmaker at UK Sails. He knew a couple from Texas registered for the Transpac Race who was interested in having an OBR join the team. They were racing a Schock 40 which I knew nothing about.
As I entertained the idea and started looking at the storylines it seemed as if this might be a case of David and Goliath. The Schock 40 was assigned to the Transpac Race's Division 1, lined up with the biggest boats like the 100′ course record-holder Comanche. I asked some of my closest friends what they knew about the Schock 40 and everyone told me "do not go on that boat, it will kill you".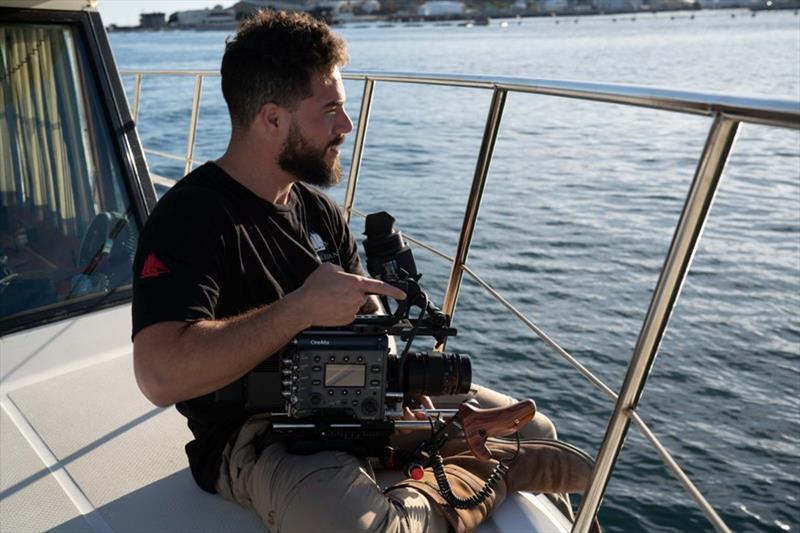 Transpac race aboard Schock 40 Gamble – photo © Justin Edelman
At this point I had to make a tough choice; give up on the Transpac Race or take a chance on something that might kill me. Against my friends wishes I chose the latter. Fittingly, the boat's name was "Gamble".
I didn't know the crew or the owner but came to the conclusion that even if the Schock 40 wasn't competitive at least making it to Hawaii after its speckled past would be a good story. After doing some research, I learned that this particular boat had addressed its infamous keel issues.
My film team came up with the idea to tell the story from the boat's perspective. In the end this was a very important decision for us. The race did not go well and there were a handful of issues aboard the boat that I felt I could not share on film. This opportunity to tell a unique story on one of the longest standing offshore races in the world would mark the next steps to breaking down the barriers and stigmas of racing teams working with an Onboard Reporter. My goal was not just to show the race in a unique way but to also show the value of sharing the experience from on board the boat.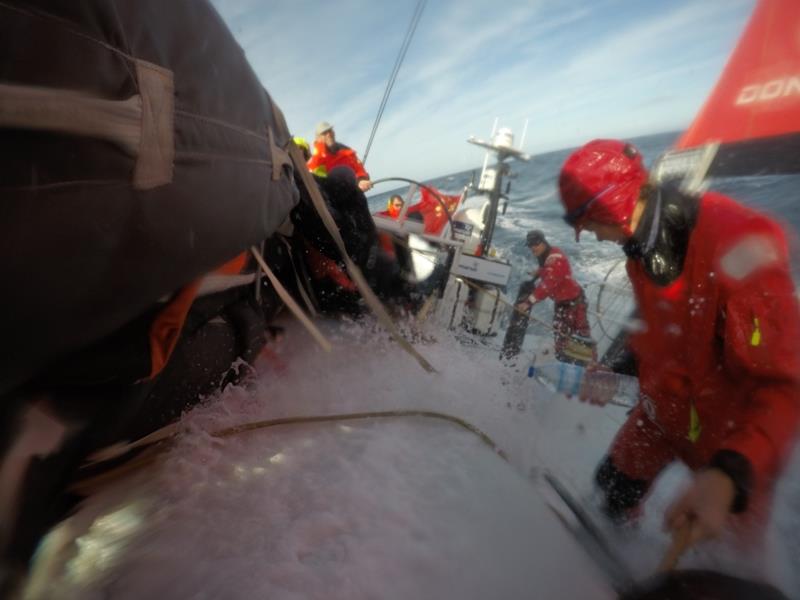 Transpac race aboard Schock 40 Gamble – photo © Justin Edelman
Leading up to the race I grew our Facebook page from about 20 people to 600. During the race I posted videos, photos and write ups on what was happening on the boat. This gave people on shore something more than a delayed race tracking dot on the map to follow. When we hit the shore in Hawaii to our amazement we had a fan club. People who didn't know us personally and in most respects would not have cared anything about the last boat to finish the race were rooting us on and following our journey.
Thank you to Transpacific Yacht Club for facilitating the opportunity to share the story of their 50th race. I believe that the sailing industry needs more content and more stories from the boats and sailors of these types of races. This will open up the industry to a wider audience. Moving forward I have every intention of making sailing interesting to a larger audience and continue to create opportunities as an OBR.
I have a presentation that accompanies the showing of this film. If you or your yacht club is interested in hosting the presentation please contact me through my website noblemanproductions.com or email me at sir@noblemanproductions.com
by Justin Edelman