For day two of inshore racing for the maxi boats at Rolex Capri Sailing Week it was extremely hard to decide one's wardrobe; both sails and clothes.
The day started with an unfamiliar chilly 20 knot offshore northeasterly that kicked up a lumpy sea just off Capri's Marina Grande. Then the wind shut down completely. It then re-established, the day finishing with the sun out, the overdue summer finally reaching Capri.
The conditions made for some unusual results. After a start in mid-Gulf of Napoli and a weather mark positioned deep into the bay beyond Sorrento, the next mark took the maxis to the 'Victor' mark in off the tip of the Sorrento Peninsula. The course was then supposed to continue on past the famous Faraglioni rocks on a clockwise lap of Capri finishing back off Marina Grande. However the breeze shut-down firmly at Victor where the race committee was forced to finish the racer-cruiser and cruiser-race divisions, leaving the racer maxis to wallow before completing the course.
At one point Sir Peter Ogden's 77ft long Jethou, yesterday's winner had performed a 'horizon job', leading around Victor and well on her way to the Faraglioni before the wind shut down. Sadly for her the wind when it returned, did so from astern and Alex Schaerer's Caol Ila R, on which Francesco de Angelis is calling tactics, did a great job catching up going inshore. This tactic was also applied to great effect by Jim Swartz's maxZ86 Vesper and Peter Dubens' Frers 60 Spectre along the south side of the island, until the wind vanished again causing another restart off Capri's western shore. Given the repeated catch-ups it was little surprise the race favoured the small boats under IRC corrected time with Roberto Lacorte's multiple Maxi Yacht Rolex Cup winning Mills Vismara 62 SuperNikka claiming the top spot today ahead of Spectre.
"The weather is a bit topsy turvy at present," explained Dutch navigator, Wouter Verbraak, part of the Spectre's afterguard alongside double Olympic 470 silver medallist Nick Rogers. "The northeasterly was due to a small low pressure system. The course here is always challenging there are big hills that are almost mountains, certainly for a Dutchman! You have to go through their lees and all the different breezes. At the second mark [Victor] there was neither one breeze nor another and there was a big compression." There were moments during the race when boats were more or less sailing alongside each other on different tacks…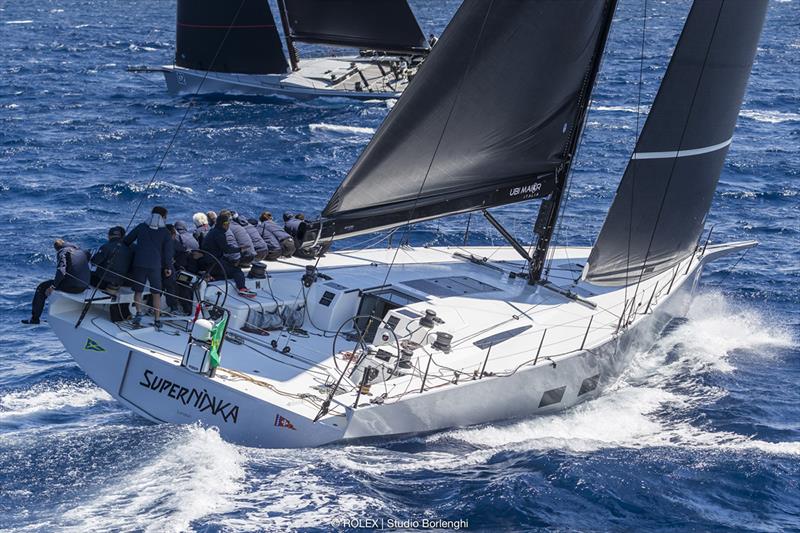 SuperNikka – Roberto Lacorte's Mills Vismara 62 comfortably won today's race and leading the Maxi Racer division – Rolex Capri Sailing Week – photo © Rolex / Studio Borlenghi
SuperNikka got ahead of Spectre by going slightly offshore off Capri's western, her time correcting out to 2 minute 30 ahead, and almost 24 minutes ahead of fourth placed Caol Ila R. The coastal race coming with a 1.25x weighting, Lacorte's silver streak now leads the Maxi Racer division by two points.
On the shortened course for the Maxi Racer-Cruisers it was the turn of the Swan 601 Lorina 1895 to come out on top. "It was a great day because after the start we were not in a good position and for one hour we were a long way behind," admitted her owner Jean-Pierre Barjon. "Then coming back [along the Sorrento coast] we took a good strategy and arrived at [Victor at] the same time as the biggest boats. So it was perfect for us! I congratulate the race committee!" During their shortened race Barjon said the most wind they saw was 23 knots, the least just three.
Lorina 1895 now leads the Racer-Cruiser division ahead of International Maxi Association President Benoît de Froidmont and his Wally 60 Wallyño.
While women are sadly few and far between in the Maxi fleet, improving the statistics here greatly is Spirit of Europe, the Swan 601 campaign set up by Cristiana Monina and the boat's skipper Claudia Addezio whose crew comprise 16 women. Among them are American two time Volvo Ocean Race sailor and Olympian Sally Barkow and Italian former 49erFX European and World champion Giulia Conti. The campaign is supported by Rossana; a luxury brand of Italian kitchens.
"We did a couple of days training in Argentario before coming here and another here but we are lucky to have Sally Barlow and Francesca Clapcich with us," said Conti. "We are not really fast yet, but we are still learning The loads on this boat are a lot more than we're used to!" Conti who calls tactics on board admitted not making the best calls today arriving in the wind hole at Victor too far offshore. Also: "It is the first time for all of us sailing here in Capri."
While in the Racer Cruiser division the small boats prevailed, among the Cruiser-Racers it was the larger boats. Riccardo de Michele's immaculate H20 showed some of the same form that won her her class at the Maxi Yacht Rolex Cup last year with straight bullets. His Vallicelli 78 corrected out under IRC 13 minutes ahead of Vicente Garcia Torres' Swan 80 Plis Play.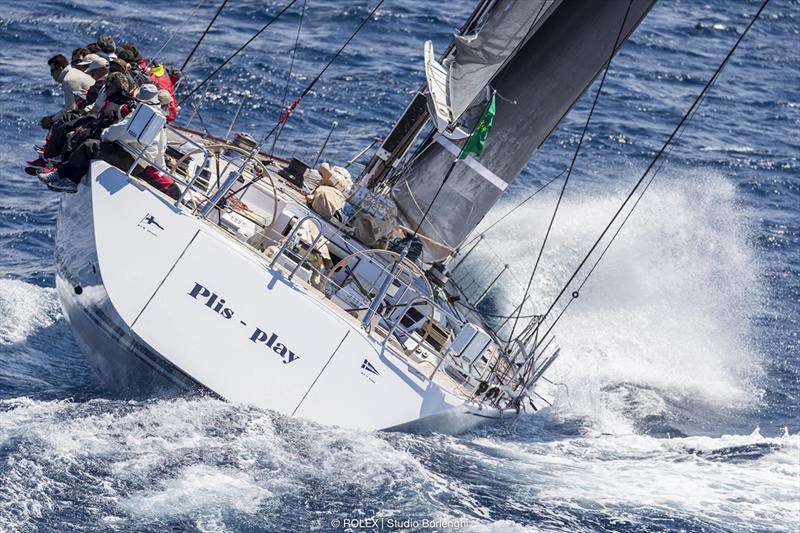 The Spanish Swan 80 Plis Play leads the Maxi Cruiser-Racer division – Rolex Capri Sailing Week – photo © Rolex / Studio Borlenghi
However overall Plis Play is leading: "Initially we thought we'd done worse because all the small boats caught us up," said Plis Play's boat captain Jose Luis. Plis Play's crew includes many of Spain's top sailors including tactician Laureano Wizner and multiple Volvo Ocean Race bowman Antonio Cuervas-Mons. "We decided to go close to the shore: Another boat was 50m away on starboard and stopped and we were 30m from the shore and found a small current. We had all the sails flapping, but we were still moving!"
Organised by the Circolo del Remo e della Vela Italia, Yacht Club Italiano and Yacht Club Capri, in co-operation with the International Maxi Association, racing for the maxis at Rolex Capri Sailing Week continues tomorrow.
For more information on the International Maxi Association visit www.internationalmaxiassociation.com
For more information and full results from Rolex Capri Sailing Week visit www.rolexcaprisailingweek.com
by James Boyd