It was another late day of sailing on the penultimate day of Sail Melbourne International (13-16 December 2018) with only the Finn, Nacra 17/15, Opti and BicTechno classes getting some racing in.
Melbourne's current weather system made for another challenging day with race delays, storm fronts passing through and causing fleets to rush ashore and with the morning's fleets cancelled for the day subsequently.
The afternoon racing session was a bit luckier and managed to get a couple of races in. But extended waits, course changes and abandoned races with the breeze dropping in and out, competing in direction and posing made for extra challenges for race management and sailors alike.
"The breeze was the frustrating part of the day, we sent the first set of classes out to the race track with a good seven knots after this morning's initial postponement thinking we will get some good racing for the day, but unfortunately there was nothing out there so we brought all the boats back in. We then had to cancel the whole morning fleet, because of the weather forecast with strong wind and thunder storm warning. The afternoon continued to be challenging, but in the end, we managed to get some races in," Ross Wilson, Principal Race Officer (PRO) of the event explained.
It was a long day for everyone, but especially for the Finn, who were the last ones out to get two races in, making for some world-class twilight sailing on Port Phillip of the high-calibre fleet.
Australian Sailing Team's Rio 2016 Olympian Jake Lilley (QLD) moved into overall second place, after winning the first race of the day and finished second in the other, which was won by Rio 2016 Olympic champion Giles Scott (GBR).
"It was a pretty classic Melbourne day. We had not a lot of wind, then a huge squall, and then not much wind again. Eventually we got to race pretty late, it's now eight o'clock in the evening and we just got in after we got two races in, two quickies," Lilley said.
"But I had a good day, so really happy to come away with a first and second in this fleet and to take it to the big dogs so it's all to play for tomorrow. I mean we are pretty lucky in this fleet here, we have an Olympic champion with Giles Scott, and Nick Heiner, who is a former Laser world champion, two Kiwis, world champion in the Finn Ed Wright and two Americas Cup winners. We've got so many legends in this fleet, so just to be anywhere near the front, is great."
World #1 and current leader Nicholas Heiner from the Netherlands finished third in both races. After a series of five races Sail Sydney winner Heiner goes into the final day with six points lead.
The Nacra17 and Nacra 15 classes are the only classes that have been able to get seven races in and Victorians Tayla Rietman and Lachlan White continue their lead after posting a third and second in the two races of today. One race win each went to Jake Liddell (NSW) and Emma Jones (NSW) as well as to Queenslanders James Fraser and Olivia Jozefowski, who moved into overall second.
"Today was tricky, we went out and there was a nice breeze, that then fizzled out. Then we had nothing, we were floating around for a while and then we got a little bit of the southerly but then that died out. Then we got a nice northerly, so this all made for a pretty tricky day," Tayla Rietman explained.
Looking ahead skipper Lachlan White added, "Tomorrow is another mixed bag, we are pretty fortunate considering we got seven races in so far, so fingers crossed we get a couple more in tomorrow. But we would also like to see the 49ers and a few of the other fleets to get some races in as well."
Will Cooley and Bec Hancock (NSW) lead the Nacra 15 ahead of Western Australians Shannon Dalton and Will Drew in second and Tom Dawson and Sarah Hoffman (NSW) in third.
The men's and women's 470, all Laser fleets (standard, radial, 4.7), all para-sailing classes as well as the skiff-classes did not get any racing and will only have tomorrow (Sunday, 16 December) to add to their scorecard.
Going into the final day of racing Australian Sailing Team'[s Rio 2016 Olympic silver medallists Mat Belcher (QLD) and Will Ryan (QLD) are leading the 470's fleet with a series of four straight wins ahead of Japan's Daichi Takayama and Kimihiko Imamura.
In the 470's women Germans Frederike Loewe and Anna Markfort have two points up on Australian Sailing Squad's Nia Jerwood (WA) and Monique Devries.
The Laser only have three races on record so far with Australian Sailing Team's Matt Wearn (WA) going into the last day ranked second. New Zealander Sam Meech (NZL) leads the fleet.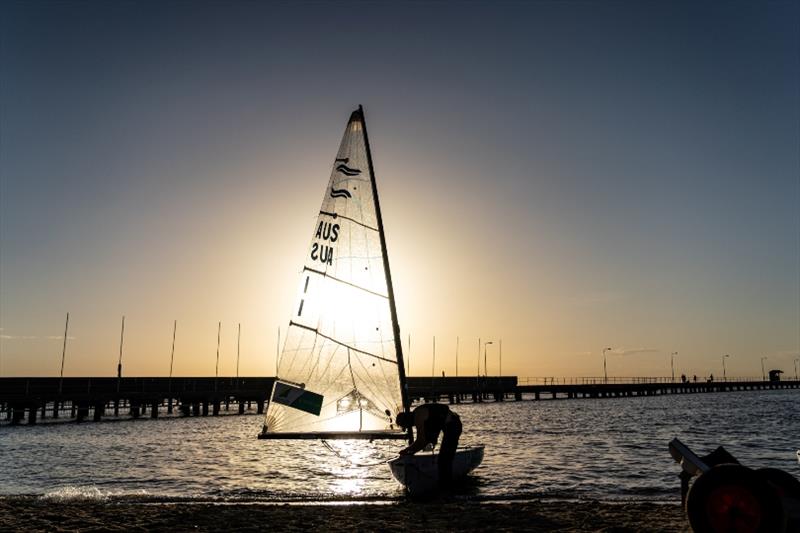 Dutch Laser sailor Yuri Hummel is competing in Melbourne for the first time and despite the disrupted racing he was complimentary on sailing on Port Phillip.
"This is day three, and we have only done three races, but hopefully we get to do another three tomorrow. It's still been nice to be here though. I was in Sydney before and this completely different, but also great sailing. It's my first time in Melbourne and it's fantastic," Hummerl said, who is currently ranked eighth.
"It is a great bay to sail in and it actually reminds me a little bit of Medemblik with similar sailing. It's two of us here from the Netherlands and we are battling it out at this regatta. I think we are in seventh (Niels Brokehuizen) and eight, so we'll see how it finishes up tomorrow. We're using this to escape winter and also to do some extra races with the Aussie team because they are one of the strongest Laser teams in the world, and escaping winter is always a good thing."
And with the 2020 Laser World Championships hosted on Port Phillip out of Sandringham Yacht Club he added, "I am very excited to come back for the Laser worlds in just over a year (February 2020) with more racing in good weather, nice wind and a big fleet then."
Jake Lilley (QLD) – 2018 Sail Melbourne International, Day 3 – photo © Beau Outteridge
In the Invited classes the Optimist Open got two races in and the Optimist Intermediate one. Daniel Links (NSW) as well as Will Nobes (QLD) go into the final day as the leaders of each fleet.
Jarrod Jones is the leader of the Bic Techno 293 fleet after a total of six races, while fellow Queenslander Hamish Swain leads the Bic Techno Plus.
Victorian Roger Blasse is leading the OK Dinghy after two races today. Fellow Black Rock Yacht Club sailor Mark Jackson is ranked second with Tim Davies (NSW) in third after a total of three races.
Sunday, 16 December will see the final day of Sail Melbourne, including the wrap of the inaugural Australian Para-sailing nationals.
"For tomorrow we've organised the whole group of boats that are still looking for extra races to complete the series to start at ten o'clock. Those who already have got their series will follow at 1300 hours. They will try to complete their schedule, but we only have until five o'clock in the afternoon to do it." PRO Ross Wilson said about the plans for the final day.
Racing at Sail Melbourne International runs from Thursday, 13 December to Sunday, 16 December 2018 with 375 competitors from 18 countries contesting the event.
470 Men
Mat Belcher/Will Ryan – (1), 1, 1, 1 – 1st
Chris Charlwood/Josh Dawson – 3, 5, (6), 2 – 3rd
470 Women
Nia Jerwood/Monique de Vries – (2), 1, 2, 2 – 2nd
Dana Tavener/Katherine Shannon – 3, (5), 3, 4 – 3rd
49er
David Gilmour/Lach Gilmour – 3, 1, 2 – 2nd
Tom Needham/Joel Turner – 4, 2, 5 – 3rd
Kurt Hansen/Simon Hoffman – 5, 3, 3 – 4th
49erFX
Tess Lloyd/Jaime Ryan – 1, 7, 3 – 3rd
Amelia Stabback/Caitlin Elks – 6, 4, 1 – 4th
Natasha Bryant/Annie Wilmot – 3, 5, 4 – 5th
Finn
Jake Lilley – 3, 5, (9), 1, 2– 1st
Oliver Tweddell – (26), 7, 8, 14, 11 – 11th
Lewis Brake – 15, (19), 16, 9, 9 – 16th
Jock Calvert – 11, (18), 2, 16, 16 – 13th
Laser
Matt Wearn – 3, 3, 1 – 2nd
Luke Elliott – 5, 5, 2 – 4th
Mitchell Kennedy – 9, 7, 6 – 6th
Finn Alexander – 13, 11, 5 – 9th
Laser Radial
Mara Stransky – 5, 1 – 1st
Find complete results at: sailingresults.net
by Cora Zillich