The innovative marine apparel brand, Zhik, announce a new partnership as the Official Technical Clothing Supplier to Alex Thomson Racing, as part of the team's 2020 Vendee Globe campaign.
The announcement comes shortly after the British ocean racing team have recently christened 'HUGO BOSS', their radical new IMOCA 60 race yacht in London.
Zhik has changed the face of sailing clothing design since breaking into the market with their game changing wetsuits for athletes in the Beijing Olympics. Never afraid to challenge conventions, Zhik continues to push the boundaries and merge innovative design with new fabric technologies. Recent innovations include the radical Isotak X ocean racing foul weather gear, with a range of detachable hoods for different conditions, developed for Dongfeng Race Team, the winners of the Volvo Ocean Race 2017/18.
Piet Poelmann, Zhik CEO says, "We are thrilled to be supporting Alex Thomson Racing and their bid to win the 2020 Vendee Globe. The Zhik team is passionate about sailing, and dedicated to continuously innovating, redefining and creating the ultimate technical gear, enabling sailors to perform at their best day in, day out. We feel a great synergy with Alex Thomson Racing, with our shared ambition to be the best and our relentless pursuit of excellence."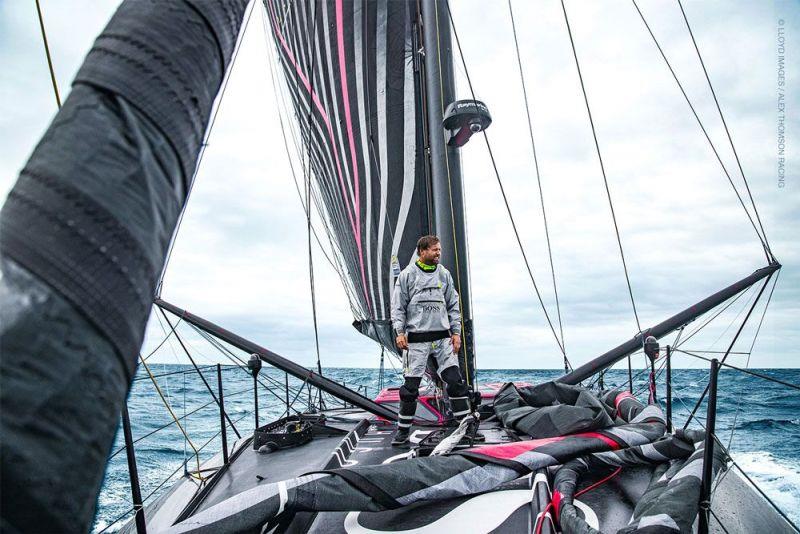 Alex Thomson – photo © Lloyd Images / Alex Thomson Racing
Upon announcing the partnership, Skipper Thomson said: "As we train and race offshore, we're exposed to incredibly extreme weather conditions. For myself and the team it's crucial that we stay warm and dry in colder environments, and cool when the conditions are hot and humid onboard. Having access to reliable, lightweight technical clothing, which fits well and is comfortable to wear for long periods, is key to our performance.
"We chose to work with Zhik because, like us, they focus on innovation and precision, and have a solid reputation for supporting sailing teams competing at the highest level. We're delighted to join that line up".
www.zhik.com
#MadeForWater
by Liz Rushall