New York Yacht Club entry in the 2020 America's Cup, American Magic will be the first Challenger to arrive in New Zealand.
The team confirmed to Sail-World Tuesday morning, NZT, that the team had packed their boat AC75 Defiant onto a ship bound for New Zealand, presumably with chase boats and a base.
The team says their arrival time in New Zealand is "early June".
Currently, construction on their base on Auckland's Wynyard Point has not yet started. They are expected to build a base with container walls and a flexible roof the same as Emirates Team New Zealand used in Bermuda.
Writing in an early digital June edition, of the prestigious Seahorse magazine, published at 2.00am NZT, skipper Terry Hutchinson said: "By the time this is on your kitchen counter we will have executed on a pivotal decision for our programme. All our gear will have been loaded and will be on its way to New Zealand. It is a nervous time as we have no guarantee at this very moment when non-New Zealand citizens will be allowed into the country. We do know our future is in Auckland and we can only "hope", a great value but not necessarily a great strategy, that by the time Defiant and the gear land in early June the New Zealand government has set up a smart, safe process to allow us to execute our planning."
The move has been triggered by the cancellation of two America's Cup World Series Regattas in Cagliari, Sardinia and Portsmouth, UK and the team, unlike Emirates Team New Zealand, was able to stop the shipment of the boat and base to Italy. Their slip was due to leave on March 16, and the decision to cancel the regattas was made just a few days earlier. Rather than unpack and set up at their Rhode Island or Pensacola bases the team has taken the bold move to ship directly to New Zealand and see what unfolds on the immigration side for Cup teams.
Some of the America's Cup team challenger members, who are holders of New Zealand passports, and therefore eligible to enter New Zealand despite the in-bound visitor blanket ban imposed two days after New Zealand first went into a COVID-19 triggered lockdown in late March. This group is expected to include helmsman Dean Barker. At least six of the team have NZ Passports and are expected to be in, or have already completed quarantine.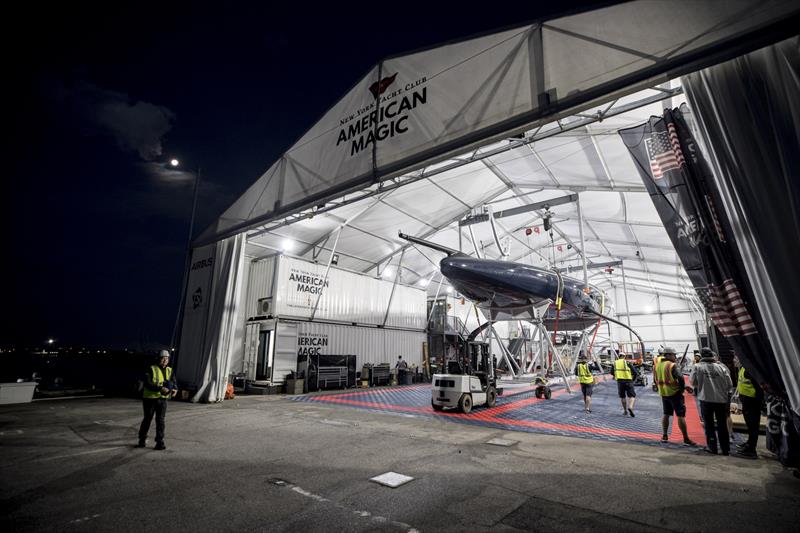 American Magic is expected to operate out of a flexible structure during the America's Cup in Auckland – Pensacola, January 2020 – photo © Will Ricketson
The rest of the team are in the hands of the New Zealand Government as to their ability and conditions around being allowed into New Zealand to set up base and train ahead of the first America's Cup event due to take place in Auckland in mid-December.
Already another America's Cup team principal spoken to by Sail-World said they would be comfortable with undergoing a 14 day supervised quarantine period. That proposal for Cup teams is similar to that used by the NZ Warriors rugby league team to enter Australia, yesterday ahead of the restart of the NRL season in late May.
American Magic's hopes rest on an easing of visa restrictions to allow the handling of exceptional cases and being able to locate a suitable facility in Auckland for the team to live and quarantine, while maintaining the ability to do physical training, running a simulator and keeping the design effort going.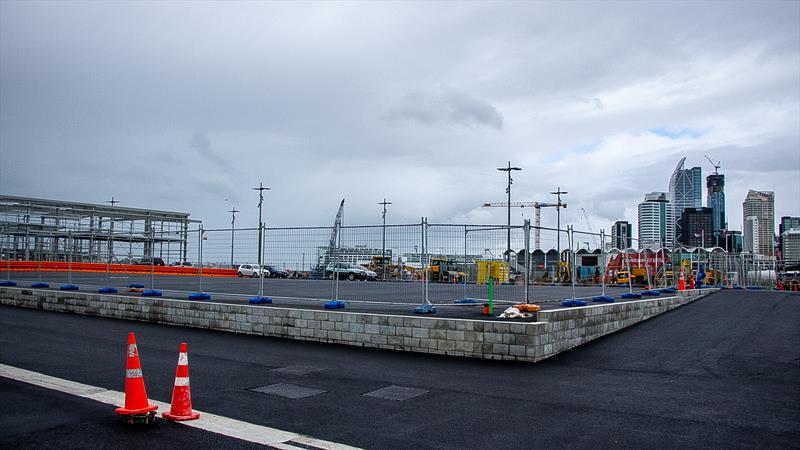 Empty American Magic base site with INEOS Team UK behind – America's Cup bases – Wynyard Point – March 24, 2020 – Auckland – photo © Richard Gladwell / Sail-World.com
If that immigration process is not complete by the time the AC75 and gear arrives, then the boat will go into storage until such time as the immigration arrangements are complete.
Currently, New Zealand is in an Alert Level 3 lockdown in response to the COVID19 virus. The team have previously told Sail-World that they follow the daily Prime Ministerial updates broadcast daily in New Zealand and were appreciative of their openness as to the changing situation and government messaging and expectations.
Other America's Cup teams are expected to do the same as American Magic if they are not already in process. Previously INEOS Team UK said they were intending to arrive in September and Italian Luna Rossa Prada Pirelli in late October.
For an earlier story and Terry Hutchinson interview click here
by Richard Gladwell/Sail-World.com/nz