Ideal conditions for the Hobie 16 class today as Perth delivered its well known strong sea breeze to challenge the teams at the Australian Nationals.
Two races were sailed in the morning session in 18 to 20 knots and another two in the afternoon session in a solid 20 to 26 knot sea breeze.
Making good progress on the leaderboard today was Jason Spencer and Colleen Lutz moving up from seventh position up to 4th place overall. Matt Faulkner and Ben Raven move in to the top 10, coming from 11th position up to 8th overall after eight races. The two teams scoring a second and a third in the final race of the day.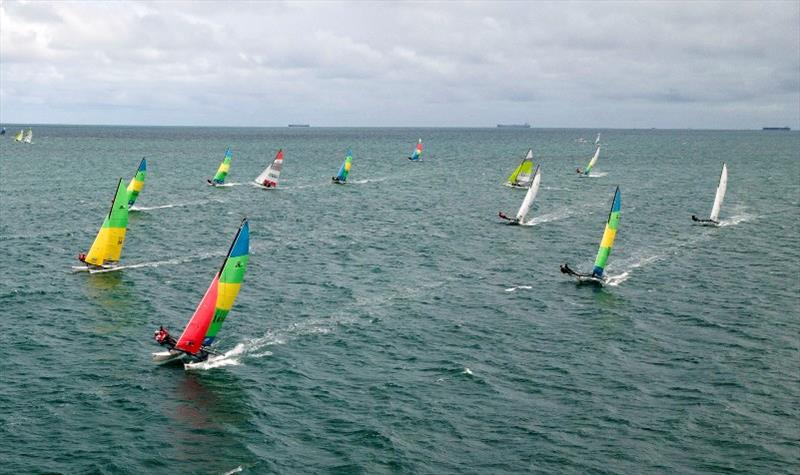 At half way point in the event now, the podium places remain tight with each of the top teams having a capsize through the day. Darren Smith / Claire Bisgood rolled over during a tack in race six after making a quick boat positioning decision below Cam Owen / Susan Ghent as they fought for the lead. They managed to race back to 9th place in that race. Phil and Caitlyn Epps did the same in race eight after a tack for the windward mark which let Owen and Smith get away, Epps placed fifth.
Leading on the last beat in to the finish line, Owen and Ghent were washed off the boat by a large wave and capsized, letting Smith through to take the closely challenged win. Owen recovered quickly to a 4th place in that race.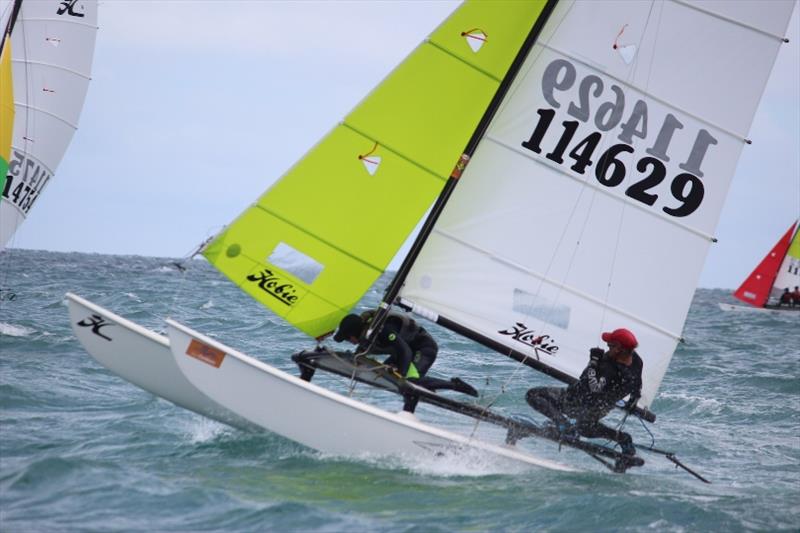 114629 Murray and Dee – 2019-20 Australian Hobie Cat Nationals day 2 – photo © SailsOnSwan
Several teams decided to sit out the final race of the day. With a similar forecast for tomorrow, Race Officer John McKechnie has brought the start forward by one hour hoping to get in four races early.
At this stage Saturday is forecast to be light to moderate to finish off the series of sixteen races.
More information at hobiecatnationals.com.au
by Suzzi Ghent