Recent years have seen a surge in the popularity of multihull sailing, ranging from ocean-capable, production and semi-custom cruising builds such as Gunboats and HH Catamarans, to smaller-but-plenty-capable catamarans and trimarans, to the envy-worthy ORMA 60s and MOD70s trimarans (and other racing-specific designs).
While this newfound traction has afforded some multihulls their own starts at some regattas, the Caribbean Multihull Challenge (CMC; established in 2019), which is hosted by the Sint Maarten Yacht Club, was created to serve as a multihull-friendly addition to the annual Caribbean circuit, which is predominantly a monohull affair.
Unlike monohull-centric regattas, which commonly employ windward-leeward racing and square-to-the-breeze starting lines, the CMC will employ a variety of multihull-friendly courses, angles and starts.
While some racing-focused teams will use the 2020 CMC as a warm-up for the Caribbean 600 (February 23-28, 2020), for more cruising-oriented crews the CMC could prove to be a rare foray into racing. Irrespective, two things remain constant: A warm and welcoming atmosphere, and a requirement that one's steed has more than one hull.
I checked in with Steve Burzon, event organizer of the 2020 CMC (February 14-16, 2020), via email, to learn more about this exciting, warm-water multihull event.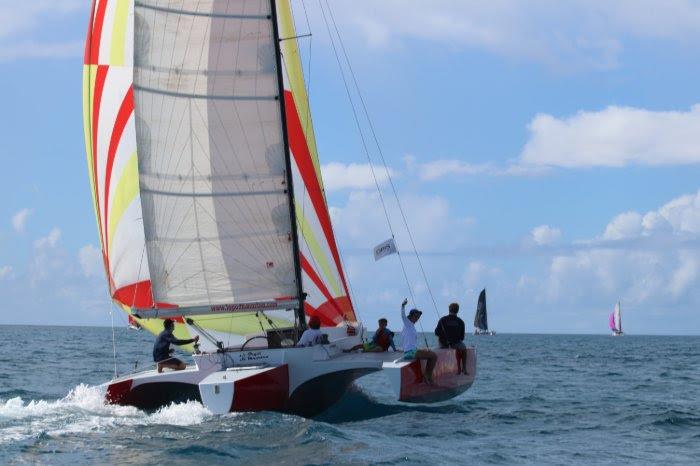 Tryst Caribbean Multihull Challenge 2019 – photo © Herb McCormick
Can you tell us about the culture of the Caribbean Multihull Challenge?
Last year's event—CMC 1—was like a big family party. We had 14 boats and all had a good time.
Some raced with us for the first time ever. At the Sint Maarten Yacht Club, we manage this event with a very small staff — only one person from the office and three volunteers. Robbie Ferron is Race Chairman; Petro Jonker is Chair of our three-person Steering Committee; and I handle marketing and many of the operations. Leonde is with us on all aspects.
What kinds of multihulls are eligible to compete at the CMC? Are we talking about racer/cruiser designs, or more pure racing boats?
All manner of multihulls are registered and welcome. We've had production and custom designs. We have a 50-year-old trimaran and brand-new carbon racer/cruisers. This year we will have two Mod 70's as well.
How many boats do you hope to see on the starting line of this year's regatta, once the starting guns begin sounding? Also, how many classes do you think will be competing?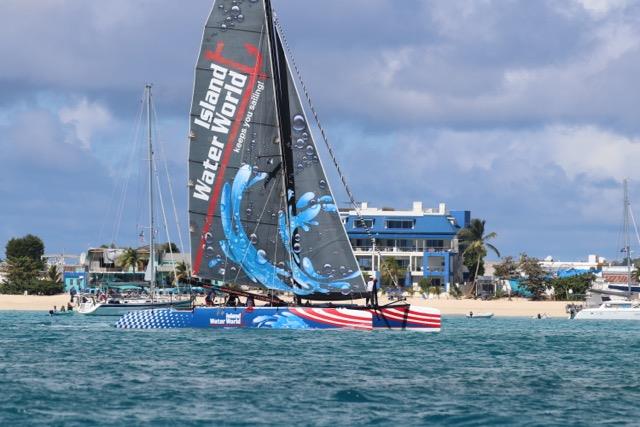 Multihull racing in the 2019 Caribbean Multihull Challenge – photo © Image courtesy of Caribbean Multihull Challenge
We have 20 boats registered and we hope all will start. We have five classes.
What kinds of course shapes will the regatta employ? Also, will these be mostly short-course affairs, or will the fleet be sent out on longer courses that use nearby islands or other geographic features as turning marks?
We have short courses planned and will use them based on weather. Light air [will see] short course. Or a short course needed for a fast race at any time during the day; or to end a day.
But, by and large, the courses for the CMC are built for multihulls which are normally fast — so the courses used can be longer.
What kind of competition levels can visiting sailors expect to encounter? (Or, in other words, is this event aimed at crews comprised of families and friends or Grand Prix sailors?)
We will have all kinds. Some are using this event to tune up for the Caribbean 600. Some are in a fun class.
What kinds of evening and onshore entertainment can sailors expect?
Lots. Prize-giving's and after parties at two Dutch-side locations; and one on the French side in Grand Case.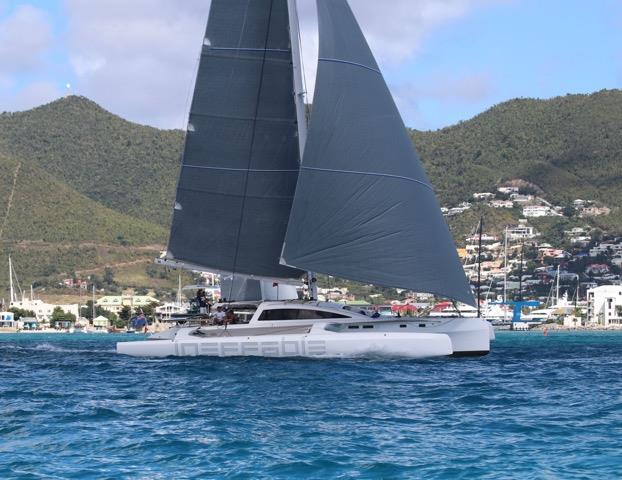 Ineffable racing in the 2019 Caribbean Multihull Challenge – photo © Image courtesy of Caribbean Multihull Challenge
Can you tell us about any steps that you and the other event organizers have taken in the last couple years to help green-up the regatta or otherwise reduce its environmental footprint?
We work with our event venues to encourage their efforts to green-up. We do not print a lot of paper. We design our courses to not impact sea creatures such as turtles and whales. We work with the French government on this effort. They are great environmental partners.
Anything else that you'd like to add, for the record?
We are expecting a good turnout and good fun. We have 40% more entries than last year. We have 20% more sponsorship dollars. We are going from one journalist covering last year to five covering this year, and one is from France.
by David Schmidt