Entries are flowing in fast for the 36th running of the East Coast classic race. Originally starting the day after the Rolex Sydney to Hobart Race, crews would gather on Pittwater for the very tactical 230nm race to the popular holiday city of Coffs Harbour.
In the heyday of offshore racing on the East Coast of Australia, the RPAYC Pittwater to Coffs Harbour Yacht Race attracted over a hundred boats.
In 2020 it was time to review the east coast racing calendar and find a suitable place for the race to prosper; it was decided upon a date one week before Good Friday so as to link boats with Sail Port Stephens Race Week & the Brisbane to Gladstone Race, as well as to not overlap with the iconic Rolex Sydney to Hobart Race, allowing competitors to compete in two of Australia's most popular Ocean Races. COVID had other plans for the event in 2020, so we fast forward to 2021 with the date scheduled for the resurgence of this classic race to Friday 26th March 2021.
The 18-year monohull record is currently held by the Oatley's Wild Oats IX, set in 2003 in a time of 18 hours 29 minutes and 14 seconds and remains one of the toughest Australian ocean race records to crack. The current multihull record was set in 2014 in a time of 17hrs 3mins 5secs by Sean Langman's Orma 60 Team Australia.
The largest and almost certainly most luxurious entry for the 2021 race is Marcus Blackmore's brand-new Southern Wind '96 superyacht Ammonite. The 29 metre racer-cruiser has a lightweight carbon fibre hull and rig, a lifting keel, twin rudders, and a fixed bowsprit. Ammonite certainly has all the credentials of a race winner but, as Blackmore points out, "you never really know until you get on the racetrack so we'll see what happens."
Blackmore's original plan was to be in Auckland for the Mastercard Superyacht Regatta and to claim back the Millennium Cup in 2021 after winning this enormously prestigious regatta in New Zealand back in 2018. The new plan is to compete in the Club Marine Pittwater to Coffs Harbour Race and continue north to the Brisbane to Gladstone Race.
In the multihulls; Darren Drew with his well-known and sailed Crowther 50 Catamaran, Top Gun, will hope that conditions favour him and give him the opportunity to take on the multihull race record requiring the team to maintain a very achievable average speed of 13.5 knots.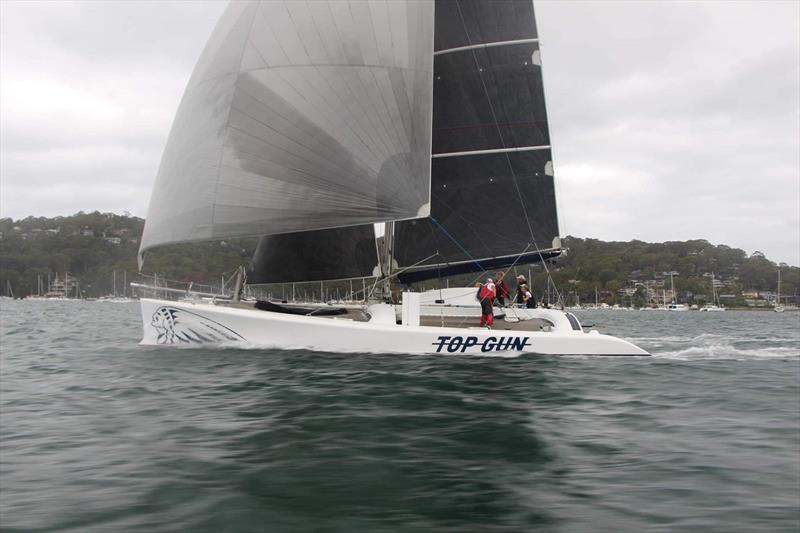 Top Gun – Club Marine Pittwater to Coffs Harbour Yacht Race – photo © Rob McClelland
The race starts off Barrenjoey Headland at 1300hrs on Friday 26th March, 2021. Spectators are welcome, with a great view affordable from Barrenjoey Lighthouse or come out and cheer the boats from the water.
The start will be streamed live on Facebook (RPAYC Facebook) for those wishing to follow friends and families as well as continuous position updates throughout the race here.
The Club Marine Pittwater to Coffs Harbour Yacht Race is open to all suitably rated yachts, monohull, multihull and both fully and short-handed crews. Entries close 14 March.
For more information visit the regatta website, www.pittwatertofoffs.com.au or rpayc.com.au/sailing/club-marine-pittwater-to-coffs-harbour-yacht-race. You can view regatta entries here.
by Royal Prince Alfred Yacht Club