After a short delay, race day number 3 of the 2019 Fireball World Championship got under way. A new wind direction and new challenges tested the crews with the same sunny skies and warm water.
Large shifts were the order of the day with an unstable 6-12knts, not dissimilar to the UK nationals at Torbay. To this end Dobbo and Waggers punched out from the middle of the line and on to the first shift to take control of the race. They led from Swiss team Haerdi/Landerer.
The ever solid French team of Collin/Thuillier rounded out the top 3 with Aussies Macfarlane/Payne recovering well to finish 4th.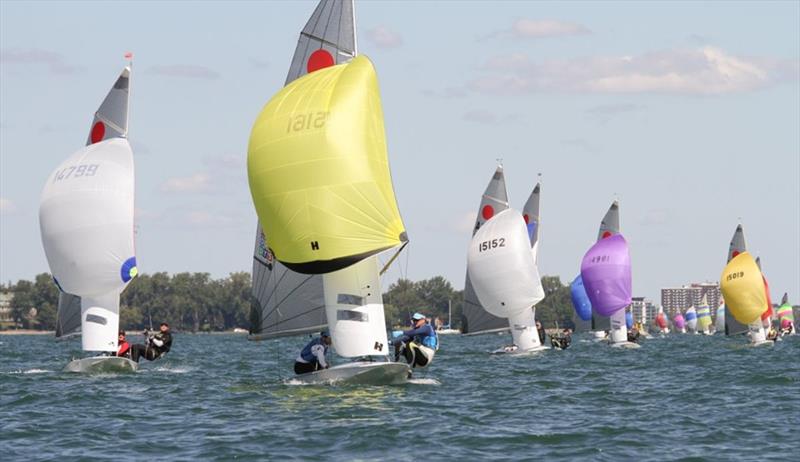 Fireball World Championship at Pointe Claire YC – photo © Urs Haerdi
A similar flavour to race number 6 unfolded when an early left shift kept moving left to reward GBR's Derian and Andy Scott with a well earned lead which they held for nearly all of the race… Dobbo and Waggers consolidated into 3rd behind Canadians Debbie Kirkby/Greg Ferguson. The French team once again punched in to the top five with other top runners (Aussies and Swiss team Claude/Ruedi) deeper in the pack. So on to the final beat when the front six boats wallowed in the centre of the course chasing large left and right shits before the hard right came good and allowed boats further down to capitalise. It was none other than the Aussies and Swiss who popped round and held on to the finish in front of Dobbo and Waggers and the Scotts.
It's worth a mention the the only all female team of Mianne and Manuela from Switzerland rounded the first mark of race 6 first!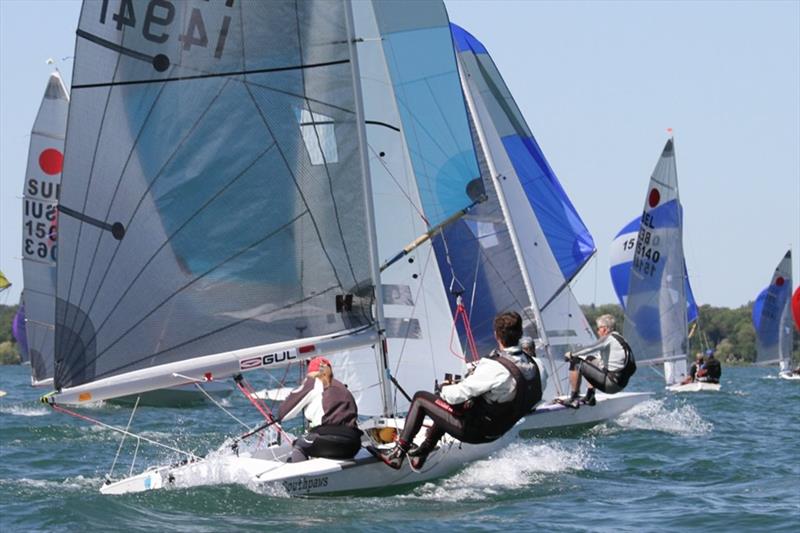 Fireball World Championship at Pointe Claire YC – photo © Urs Haerdi
It's now all tight at the front of the pack and the Ashes firmly in the balance (slender advantage AUS) with 4 more races to go and more breeze anticipated. Not before some pre-layday beers in downtown Montreal however.
Tune in for the final test starting Thursday…
Results after Day 3:
| Pos | Nat | Sail No | Helm | Crew | Boat Name | R1 | R2 | R3 | R4 | R5 | R6 | Pts |
| --- | --- | --- | --- | --- | --- | --- | --- | --- | --- | --- | --- | --- |
| 1st | AUS | 15152 | Heather Macfarlane | Chris Payne | RLO | ‑4 | 3 | 3 | 1 | 4 | 1 | 12 |
| 2nd | GBR | 15161 | Ian Dobson | Richard Wagstaff | Orchitis | 1 | ‑5 | 5 | 3 | 1 | 3 | 13 |
| 3rd | SUI | 14799 | Claude Mermod | Ruedi Moser | ‑ | 5 | 1 | 1 | ‑10 | 9 | 2 | 18 |
| 4th | FRA | 14917 | Ludovic Collin | Remy Thuillier | ‑ | ‑6 | 4 | 2 | 2 | 5 | 5 | 18 |
| 5th | CZE | 15019 | Martin Kubovy | Roman Rocek | Kriplkara | 3 | ‑9 | 7 | 4 | 7 | 7 | 28 |
| 6th | GBR | 15162 | Isaac Marsh | Oliver Davenport | Tinderella | 7 | 8 | 6 | 5 | 3 | ‑14 | 29 |
| 7th | GBR | 14941 | Derian Scott | Andy Scott | Southppaws | ‑16 | 2 | 12 | 16 | 6 | 4 | 40 |
| 8th | SUI | 14859 | Christina Haerdi | Cedric Landerer | Fuchur | 12 | ‑17 | 4 | 13 | 2 | 11 | 42 |
| 9th | CZE | 14981 | Jan Jedlicka | Jiri Gemperle | Pussy Magnet Included | 2 | 12 | ‑17 | 7 | 13 | 13 | 47 |
| 10th | BEL | 15140 | Bart Meynendonckx | Francis De Roeck | Great @venture | 11 | 10 | 10 | 9 | 8 | ‑19 | 48 |
| 11th | CAN | 14911 | Pierre Carpentier | Thomas Bird | Technical Difficulties | ‑15 | 7 | 8 | 15 | 12 | 9 | 51 |
| 12th | CAN | 14766 | Debbie Kirkby | Greg Ferguson | Line Dancer | 13 | 6 | 13 | 12 | ‑14 | 8 | 52 |
| 13th | CAN | 15043 | Robert Levy | Jon Driver | ‑ | 10 | 13 | 11 | 8 | 15 | ‑16 | 57 |
| 14th | GBR | 15157 | Keith Walker | Nicholas Rees | Freya | 14 | 14 | 9 | 6 | 17 | (OCS) | 60 |
| 15th | AUS | 15113 | Ben Schulz | Joel MacKensie | The Wonky Donkey | 9 | 15 | 18 | 17 | 10 | ‑26 | 69 |
| 16th | FRA | 14959 | Patrice Olivier | Jean‑François Nouel | ‑ | 8 | 19 | 14 | ‑26 | 18 | 15 | 74 |
| 17th | CAN | 15134 | Joe Jospe | Tom Egli | ‑ | ‑21 | 21 | 19 | 11 | 19 | 6 | 76 |
| 18th | CAN | 15098 | Robert Thompson | Francis Westlake | Infallible | 17 | 18 | ‑23 | 18 | 16 | 12 | 81 |
| 19th | CAN | 14768 | Bill Strath | Dave Munro | Pontificate | ‑23 | 11 | 21 | 21 | 20 | 17 | 90 |
| 20th | SUI | 15063 | Mianne Erne | Manuela Liechti | Coppalin Ban | 20 | 16 | 16 | 23 | ‑24 | 18 | 93 |
| 21st | GBR | 14964 | David Mason | Chris Oglethorpe | Rumball | 18 | ‑33 | 20 | 24 | 32 | 10 | 104 |
| 22nd | CAN | 14757 | Robert Warren | Gary Bishop | Revenge | 26 | 20 | ‑31 | 30 | 11 | 22 | 109 |
| 23rd | CAN | 15106 | Mark Cummings | Evelyn Chisholm | Eeyore | 22 | 22 | 22 | 22 | 22 | ‑32 | 110 |
| 24th | CAN | 14464 | Laura Malonda | William Kelly | Friarballs | ‑28 | 24 | 26 | 19 | 23 | 25 | 117 |
| 25th | CAN | 14482 | Hamish Ferguson | Fraser Keith | Tutu To Tango | 25 | 23 | ‑29 | 28 | 21 | 21 | 118 |
| 26th | CAN | 14647 | Eric Owston | Peter Kelly | Blanco | 19 | 29 | 15 | 25 | ‑33 | 31 | 119 |
| 27th | RSA | 14877 | David Laing | Mark Dee | ‑ | 24 | 25 | ‑27 | 27 | 26 | 20 | 122 |
| 28th | CAN | 15033 | Ken Tichkowsky | Neil Tichkowsky | URT | 29 | (OCS) | 25 | 14 | 31 | 27 | 126 |
| 29th | CAN | 13946 | Shannon Gallins | Eric Diller | ‑ | ‑32 | 30 | 30 | 20 | 28 | 23 | 131 |
| 30th | IRL | 14713 | Frank Miller | Ed Butler | Blind Squirrel | (BFD) | 27 | 28 | 29 | 29 | 28 | 141 |
| 31st | CAN | 14907 | Liz Brennan | Evan Mah | Loose Cannon | 27 | (OCS) | 33 | 32 | 27 | 24 | 143 |
| 32nd | CAN | 14481 | Richard Quinlan | Liam Quinlan | Concorde | 31 | 28 | 32 | ‑34 | 25 | 29 | 145 |
| 33rd | USA | 15034 | Clay Poulson | Lukas Klier | Queso Suiza | 30 | 26 | 34 | 31 | 30 | ‑35 | 151 |
| 34th | CAN | 14680 | James Cox | Ged McLean | Tangeroo | 33 | (OCS) | 24 | 33 | 34 | 34 | 158 |
| 35th | USA | 11451 | Chandler Owen | Jeremy Kennedy | Benign Lesion | 35 | 35 | 37 | ‑40 | 35 | 30 | 172 |
| 36th | CAN | 14678 | Philip Locker | Thomas Locker | Invisiball | 34 | 31 | ‑38 | 35 | 38 | 37 | 175 |
| 37th | FRA | 14123 | Estébàn Hernandez | Mathias Schlick | Manueba | (DNC) | 32 | 35 | 36 | 40 | 33 | 176 |
| 38th | CAN | 14915 | Thibault de Servigny | John‑Thomas Kelly | Sleeping Beauty | (DNS) | 34 | 39 | 37 | 36 | 36 | 182 |
| 39th | CAN | 14465 | John McGuinness | François Fortier | Knotty Boy | 38 | 36 | ‑41 | 38 | 37 | 38 | 187 |
| 40th | CAN | 1504 | Katherine Walker | Dylan Scott | Men In Black | 36 | 37 | ‑40 | 39 | 39 | 39 | 190 |
| 41st | GBR | 14872 | Barbara Newson | Guy Newson | Magiic | 37 | 38 | 36 | ‑41 | 41 | 40 | 192 |
| 42nd | USA | 12847 | Fred Steward | Sarah Steward | Ecologa | (DNC) | DNC | DNF | DNC | DNC | DNC | 215 |
by Ian Dobson