93-year-old Gordon Ingate back on helm for Great Veteran's Race
Back in 1950, veteran yachtsman Gordon Ingate sailed in his first Sydney Hobart Yacht Race, skippering a little sloop called Jasnar. On Sydney Harbour today, the 93-year-old will again be on the helm of the 29-footer, competing in the Great Veteran's Race.
Ingate, then an upcoming young Sydney helmsman, was invited by Colonel AE Saalfield, the owner of Jasner, to race the boat to Hobart.
There were two provisos: sail the boat safely south, and take his daughter Sally in the crew.
Ostensibly Sally was the cook on board, but in reality she was an excellent crew hand and one of the first women to compete in the Sydney Hobart."
The story goes that after Jasner safely reached Hobart, 10th in the 16-boat fleet, Ingate sent a telegram to Colonel Saafield, saying in part: "Arrived safely…may I marry your daughter?"
To which the Colonel is reported to have replied: "Which one?"
Gordon had, in fact, proposed to Sally as Jasnar was towed into Constitution Dock (they had sailed the Sydney Hobart without an engine).
Gordon and Sally subsequently married and she became his greatest supporter in his many national and international exploits. Sadly, she was passed away several years ago.
Over about 80 years of sailing, starting in Vee Jay dinghies as a teenager to the Admiral's Cup, the Sydney Hobart Yacht Race, the Olympic Games, the America's Cup and to be one of Australia's greatest (and ongoing) helmsmen in the International Dragon class, Campbell reckons Gordon Ingate must be one of the world's older active sportsmen, still winning races on Sydney Harbour in his Dragon, Whimsical.
The Cruising Yacht Club of Australia's Great Veteran's Race is open to yachts built before, or in, 1975 and which have competed the Sydney Hobart Race.
Today is also the CYCA Founders Day, marking 75 years since the club was formed by a small group of yachtsmen keen to mark the end of World War II with a cruise to Hobart. History has seen the 628 nautical mile 'Great Sail South' become one of the world's premier ocean races.
The 75th Rolex Sydney Hobart will start on Boxing Day, December 26, but earlier in the month the club will honour the yachts and crews that helped establish the Sydney Hobart with Sydney Hobart Class Yacht Regatta on 7-8 December.
Most of the yachts entered in today's Great Veterans Race are expected to contest this unique and historic regatta, among them line honours winners Margaret RIntoul (1950 and 1951), Solveig (1953) and Fidelis (1966) and overall handicap winners Solveig (1954), Anitra V (1957) and Love and War (1974, 1978 and 2006).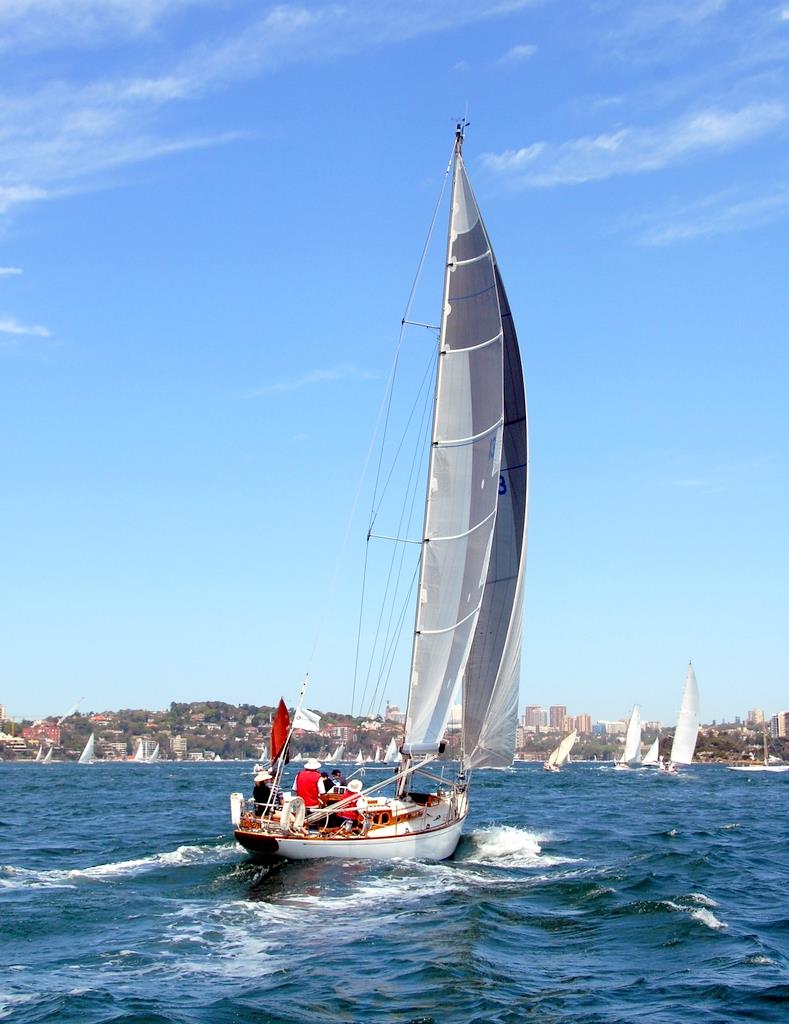 Caprice of Huon, represented Australia in the 1965 and 1967 Admiral's Cup – photo © SASC
Another of Gordon Ingate's past yachts, Caprice of Huon, is also racing today.
Caprice of Huon in 1965 and 1967 represented Australia at the Admiral's Cup at Cowes, England. Gordon Ingate was skipper in 1965. In 1972, again skippered by Ingate, Caprice of Huon finished a close second overall to the US yacht American Eagle in the Sydney Hobart.
Ingate is adamant that a mistake had been made in the US boat's rating and Caprice of Huon should have won the Tattersalls Trophy as overall winner on corrected time.
by Peter Campbell