The Royal Sydney Yacht Squadron is set to host the annual Hardy Cup International Match Racing Regatta, one of the final events of a long Australasian Youth match racing season.
This season has been unsurpassed in terms of attracting elite talent from around the world to compete in Australia – and now they're heading to the Squadron with the Hardy Cup trophy in their sights.
Of the 13 teams tilting at the cup, six are in the top 25 Youth teams in the world. They hail from New Zealand, USA, Denmark, Sweden, New Caledonia and Australia, and will compete in the four-day contest on glorious Sydney Harbour from 2-6 February. Defending Hardy Cup champion and number 2 in the world Nick Egnot-Johnson and his Knots Racing team, representing the Royal New Zealand Yacht Squadron, are the red-hot favourite. They have enjoyed an outstanding year, having achieved top two positions in 10 out of 12 recent events, including the World Youth Match Race Championship in Russia and the Governor's Cup and Oakcliff international Cup in the USA.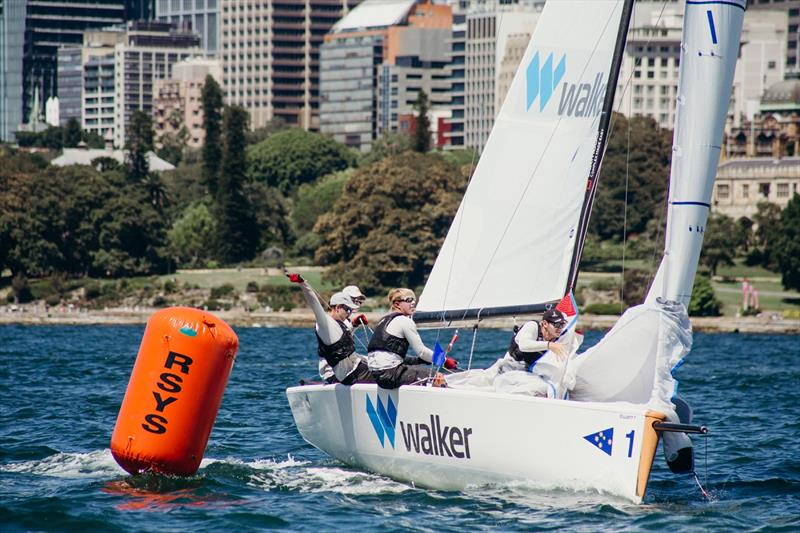 2019 Hardy Cup winners Nick EJ RNZYS on finals day © Darcie Collington PhotographyReady to test EJ's mettle will be the Cruising Yacht Club of Australia's top skipper and current number 5 in the world, Harry Price and crew. This hot team placed second in both the Ficker Cup, USA and the Sopot Match Race in Poland. Price has been sharpening his skills in the highly competitive 16ft Skiff class as fill-in skipper on current National Champion Sutech Musto Racing.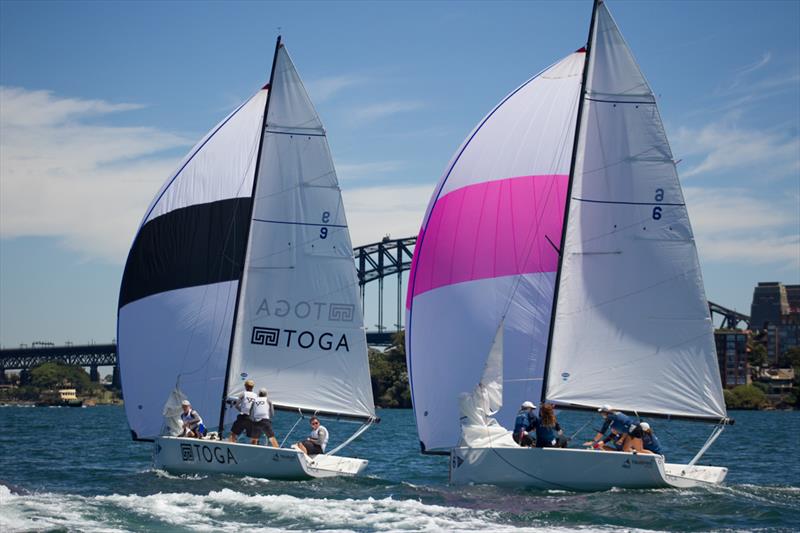 Close racing in the Elliott 7s on stunning Sydney Harbour – Hardy Cup – photo © Darcie Collington Photography
Hardy Cup organiser Angus Stranack is pleased with the quality of the fleet for this year's regatta and in particular its reputation for being welcoming to female skippers and all-female teams.
"I'm delighted that Johanna Bergqvist, the current Women's World number 3, is making the journey from Sweden to Australia to compete in the Hardy Cup," Stranack said. "Squadron member Maddie O'Shea is helming her first match racing event. It's been an exciting transition for her from Lasers in which she twice represented Australia at the ISAF Youth Worlds and was a member of the NSWIS team. I can't wait to see how she goes with her all-female crew," he added.
Racing is due to commence in the waters off the Squadron's clubhouse at Kirribilli at 1020hrs on Monday, 3 February and conclude with a presentation on Thursday, 6 February.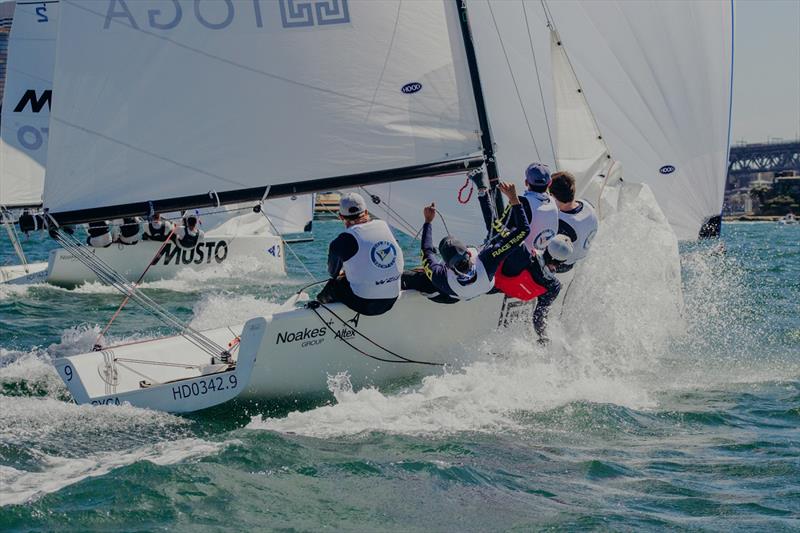 2019 Hardy Cup, duel between Del Ray YC and RNZYS in the background – photo © Darcie Collington Photography
Sir James Hardy luncheon
Event Patron and sailing legend Sir James Hardy OBE will address guests at a special Hardy Cup lunch at the Squadron at 12pm on Tuesday 4 February. Sir James will describe the origins of this Youth event and explain the relevance of honing match racing skills for the aspiring sailing champions of tomorrow.
Competitors' families, friends and members from other clubs are warmly invited to attend. Tickets are priced $115 and may be booked via RSYS Reception on 02 9955 7171. Ticket price includes a $50 tax-deductable donation to support RSYS Youth Sailing.
View Regatta information here: www.rsys.com.au/sailing/hardy-cup.
Follow the action at Facebook/hardycup, Instagram/rsys1862.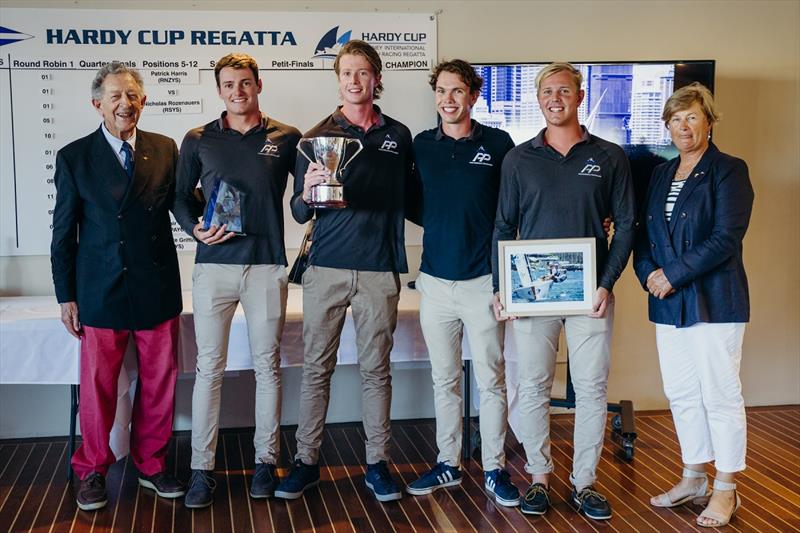 Sir James Hardy left with the 2019 Hardy Cup winners RNZYS and RSYS Captain Karen Gojnich – photo © Darcie Collington Photography
by Isabel Wartho