Peter Duncan's Melges 24 USA 829 took full advantage of a fantastic day on Tampa Bay to solidify his lead in the Melges 24 class on the second day of the Helly Hansen NOOD Regatta St. Petersburg.
Duncan, of Rye, N.Y., and his all-pro crew are the sole team of 193 in the regatta with a perfect scoreline after five races.
"We actually just got back into the boat last week so our strategy this weekend is to keep it simple," said Duncan, who returned to the Melges 24 class after a three-year break and is eyeing a top finish at the upcoming Melges 24 Worlds in May. "Overall, we are looking to keep ourselves out of trouble and get reacquainted with the boat."
Nearly matching Duncan's perfect scoreline is Bruce Mahoney, of La Porte, Texas, in the foiling A-Class Catamaran division. Mahoney, who has four firsts and a third-place finish through five races, relishes the stronger wind conditions like this morning's 15-knot northeasterly. Sailors of these 18-foot high-performance catamarans prefer flatter water, so today's rough conditions took its toll on boats and sailors alike.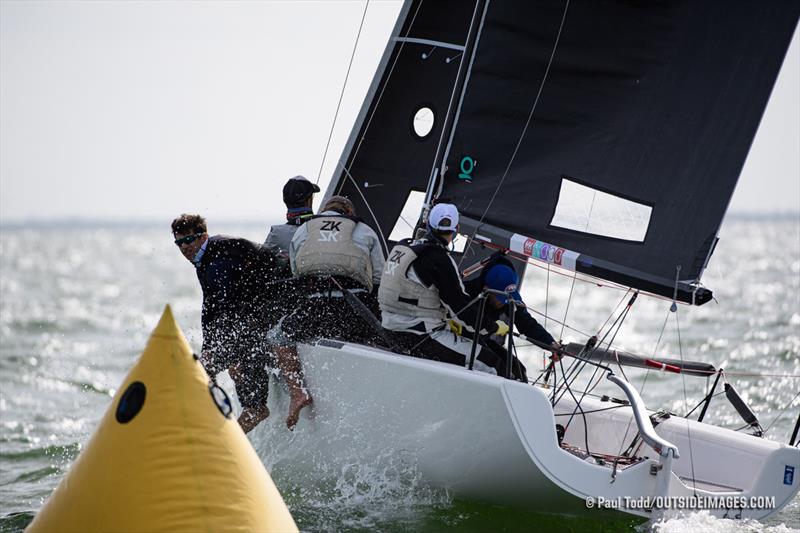 Peter Duncan's Melges 24 829 leading the fleet – 2020 Helly Hansen NOOD Regatta St. Petersburg © Paul Todd / www.outsideimages.com"A-Cats really struggle in waves," Mahoney said. "After race one, the conditions moderated a bit, but that also made foiling marginal for the middle races. Luckily, by the end of the day, the wind picked back up and I was fortunate to put some distance on the fleet."
The 40-boat A-Class fleet is evenly divided between 20 foiling boats and 20 traditional classics. For the Classic division leader, OH Rodgers, this morning's rough conditions contributed to a eventful first race, which, despite the challenges, he managed to win.
"Waves washed me off the boat twice," said Rodgers, of Thonotosassa, Fla., explaining that while he was hanging off the side of the boat, he was still attached via his trapeze harness. "The boat was either going to sail off without me or capsize, and neither scenario is fast. Luckily, I was able to climb back on both times."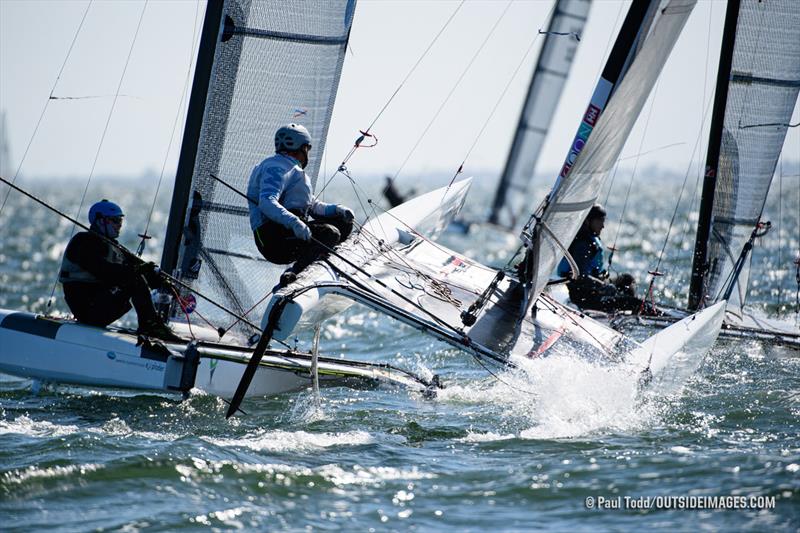 A-Class Catamaran fleet in action – 2020 Helly Hansen NOOD Regatta St. Petersburg – photo © Paul Todd / www.outsideimages.com
David Jannetti, skipper of the J/70 Very Odd moved into the top spot on the J/70 leaderboard, which Jannetti credits entirely to his professional crew of Scott Nixon, Patrick Wilson and Danny Lawless.
"These guys really know what they are doing, and I am learning a ton from them," Jannetti said, of Miami. The Helly Hansen NOOD Regatta St. Petersburg is Jannetti's fourth regatta after returning from an eight-year absence from the sport. "I'm sitting in the back [of the boat] focused on keeping the yarns up front flying evenly, and they are changing gears constantly," Jannetti said. "They're keeping everything tuned perfectly, working the body weight on the boat and helping me minimize mistakes."
He credited Nixon for saving the day's last race after a poor start. "With great tactics and the right windshifts, we still managed to round the top mark in first. I initially thought 'Oh, where is that throwout,' but he turned it around."
Jannetti is looking forward to accelerating the learning curve in tomorrow's final day of racing, but he is fully aware of the depth of talent at the top of the class. "The other boats will remind you very quickly if you make a mistake," he said. "My goal is to keep it light, keep it fun and go home with a smile on my face."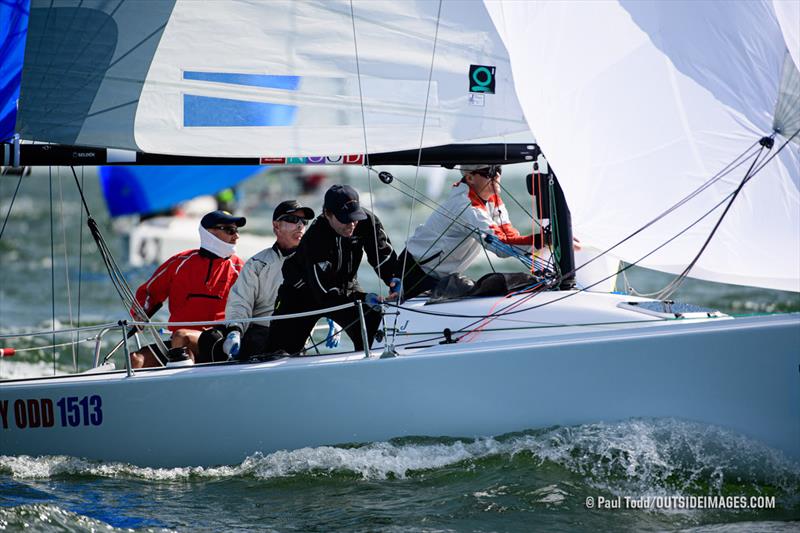 David Jannetti and team on the J/70 Very Odd – 2020 Helly Hansen NOOD Regatta St. Petersburg – photo © Paul Todd / www.outsideimages.com
Two junior teams sponsored by Helly Hansen are battling hard in the J/70 fleet. The all-female team, skippered by 17-year-old Heather Kerns, of Apollo Beach, Fla., is made up of high school-aged sailors and say they are "having a blast doing the event with 'girl power.'" Together for almost four years, they finished third overall in the 2019 J/70 U.S. Youth National Championship, held at the NOOD's host club, St. Petersburg YC.
Kerns and her team concluded today's racing on a high note, finishing fourth, which she attributes to them sailing a well-rounded race. "We got a good start and stayed focused on boatspeed and good communication," Kerns said. "The wind had picked back up and since we are a light team we really focused on depowering. Everything just came together. It's fun to show the guys that an all-girls team is competitive; and it's great to have Helly Hansen supporting us."
The final day of racing begins tomorrow, scheduled for a 10 a.m. start. Full results available here.
For more information on the NOOD events, visit www.sailingworld.com/helly-hansen-nood-regattas.
by Laura Muma / Sailing World