National titles in four IRC classes plus a white sails event will be decided on Dublin Bay next weekend (Friday 3rd-Sunday 5th September 2021) when the National Yacht Club hosts the Irish Cruiser Racing Association (ICRA) National Championships.
The Covid-19 pandemic forced the abandonment of much of the 2020 and early 2021 fixtures but measures have now been relaxed enough to permit safe competition afloat though shoreside social activities continue to be severely curtailed for this season.
"Our main priority is to deliver a strong racing series afloat this year which will certain to be a warm-up for hopefully a full 2022 season," said Richard Colwell, Commodore of the Irish Cruiser Racing Association. "While social is more difficult in Covid restrictions, we have worked hard to make sure there will still be limited social activity spread across the Dun Laoghaire waterfront so everyone can enjoy the event as much as possible."
A total 17 clubs from Ireland's North, South and East coasts will be represented by 77 crews, a slight reduction in usual numbers that is attributed to the gradual reopening of the country after three waves of the virus.
"This year's event is an opportunity for re-building crews and team bonding," said Colwell. "This year hasn't been without regular club racing, but the ICRA championships will be the biggest test of the year with so many clubs represented in the fleet."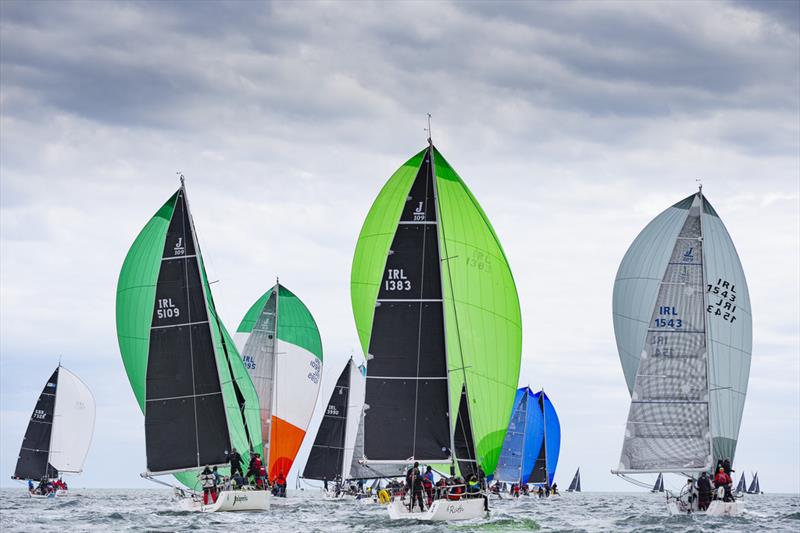 ICRA Nationals 2019 © David Branigan / Oceansport
After a great season with his previous boat Eleuthera, Frank Whelan's J122 Kaya from Greystones Sailing Club could well be the form boat in Division Zero though with a slew of rivals in this hotly contested class. Conor Phelan's Ker 37 Jump Juice from the Royal Cork YC along with Paul O'Higgins' JPK1080 Rockabill VI from the Royal Irish YC are certain to be in the mix along with Robert Rendell's GS44 Samatom from Howth YC.
After overall victory in Kinsale for the Sovereign's Cup in June, Mike & Richard Evans' J99 Snapshot will again be seeking to disrupt the J109 fleet's dominance of Division 1 though Stuart Cranston's Ker 32 Hijacker from Strangford Lough could add a fresh challenge.
Of the J109's, John and Brian Hall's Something Else from the National YC will be looking for a result on home turf but can expect Howth's Colwell with John Murphy on Outrajeous to be on form as well as the Jones family's Jelly Baby from Crosshaven and the Goodbody's White Mischief from the Royal Irish YC.
"We're all set and looking forward it – this is our first regatta in two years – we have a great crew, some of whom have sailed with me for 40 years," said Tim Goodbody (80). "Racing under IRC is great as we can sail with nine up so I can share the helm with Richard when I get tired."
Nigel Biggs from Howth YC on Checkmate XVIII will be the boat to beat in Division 2 after a near perfect track-record of wins in Dublin Bay in recent years though the Wright/De Nieve owned Mata, also from Howth are likely challengers amongst the half-tonners.
If the event gets breeze, clubmates Dux, an X302 sailed by the Gore-Grimes family could repeat their 2019 event win though Lindsay Casey and Denis Powers' J97 Windjammer from the Royal St George YC are also tipped for the fresher conditions.
Bray Sailing Club's Flor O'Driscoll will be taking on the might of the Royal Irish YC with his J24 Hard On Port facing the likes of Paul Colton's Cri Cri and Barry Cunningham with Jonathan Skerritts' Quest, both revamped quarter-tonners.
"I've always enjoyed the ICRA's as the J24 is rated pretty well under IRC," O'Driscoll said while preparing for East coast championships in Howth. "We raced for the first time in two years in Foynes for the southerns but could have done better with a sixth place."
The ICRA series will be hosted by the National Yacht Club, Dun Laoghaire with further updates and results available at cruiserracing.ie and on social media.
by Irish Cruiser Racing Association