Guangdong-Hong Kong-Macao Greater Bay Area Cup Regatta & Macao Cup International Regatt 2020
20 kts was promised, and that's what there was – first thing in the morning. The first day of the GBA/Macao Cup 2020 got away to a fairly feisty start in the waters to the south of Coloane, which is the southern part of Macao as a whole.
But first of all there was a sail-past, under engine as it was a bit breezy. The combined fleet of IRC and Beneteau 40.7 OD divisions were dressed overall as they processed from Fisherman's Wharf westward along the Macao waterfront as far as the Macao Tower and the Sai Van Bridge before turning back and heading out to sea.
Breeze for the openers had dropped to 16 kts by 11.30h start time, and continued to moderate during the day, winding up at a comfortable 10-12 kts at 15.00 hrs. Team Pean (Lionel Péan, FRA) took the first race in the Beneteau division, but had a hiccup in the second when they 'finished' after two sausages of a windward-leeward course, only to have to hoist sails again and chase off for a third sausage – and they still finished third, and first for the day. RHKYC Sharks (Michelangelo Valenti, ITA) is a youth keelboat developmental crew, and did exceptionally well to finish second for the day on 5,2 despite being pushed OCS not once but twice at the start of the first race. Third place for the day went to Vivat Sailing Team (Yury Firsov, RUS).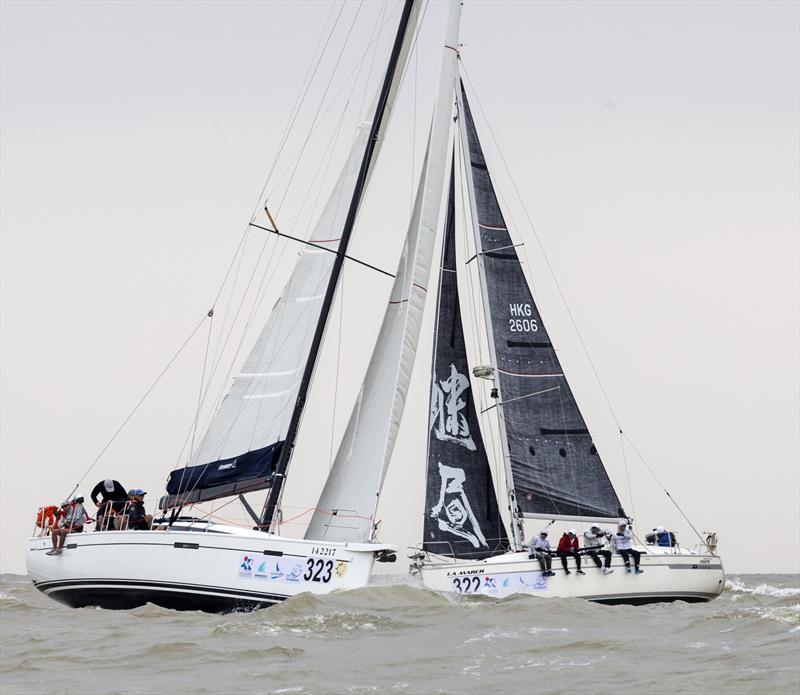 Daydream (left), Shenxin Master. Macao Cup International & GBA Cup Regattas. © Guy Nowell
Returning competitors Blu (Alan Cheung, HKG) finished second in this event, and definitely set out to win in 2020 with a 3,1 score for today. Macau Sugram Seamo (Zhong Jing Sheng, MAC) were third in 2019, and like Blu, improved themselves by one place today. Seamo is a Soto 40, and far and away the quickest boat on the race course, but carries the handicap that goes with it, and had to settle for two 2s. Third for the day was Daydream, a Dehler 32 (Cynthia Wong, HKG) clearly punching above their weight.
In Asia, Hobie 16 racing and the Vongtim family from Thailand are practically synonymous. This time it is Damrongsak and Kitsada Vongtim upholding the family name. 2,1,2,1 is a good way to start a regatta and take the lead on the first day of the International Catamaran Invitational. The cats were racing rather closer to Fisherman's Wharf than the keelboats, simply because they can: water outside the fMacao Outer Harbour fairway (ie between the bridges) averages less than 2.0m. Team Diva (KOR) got up for second place, and third went to another THA entry, Team Phoenix.
We got the breeze today, and waves in the form of some quite severe chop. Not much sunshine to speak of, and there's nothing we can do about the colour of the water! Macao is brown, and that's because we are at the mouth of the Pearl River, the second-largest in China (by volume), which means a lot of silt.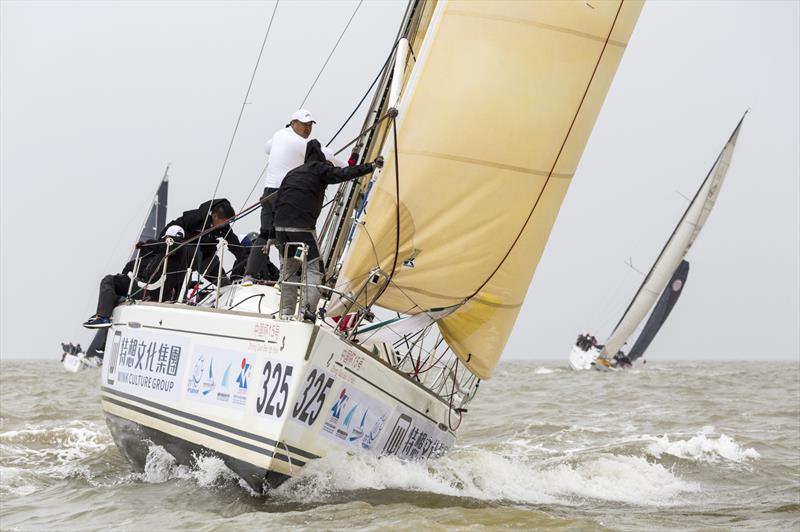 Team Wink Culture Group. Macao Cup International & GBA Cup Regattas. – photo © Guy Nowell
Racing restarts at 11.30hrs tomorrow. Standing by on 72.
Full results: http://www.macaoregatta.com/en/result2020
All other information: www.macaoregatta.com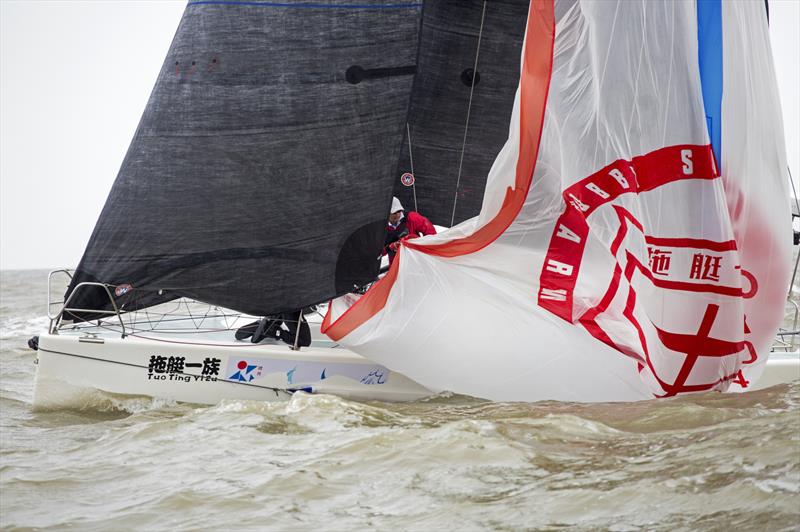 Tuo Ting Yizu. Macao Cup International & GBA Cup Regattas. – photo © Guy Nowell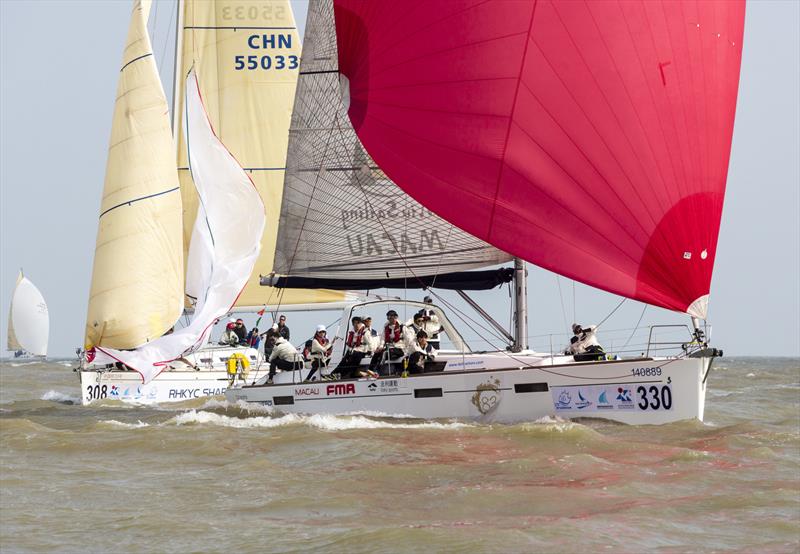 Mu Sailing. Macao Cup International & GBA Cup Regattas. – photo © Guy Nowell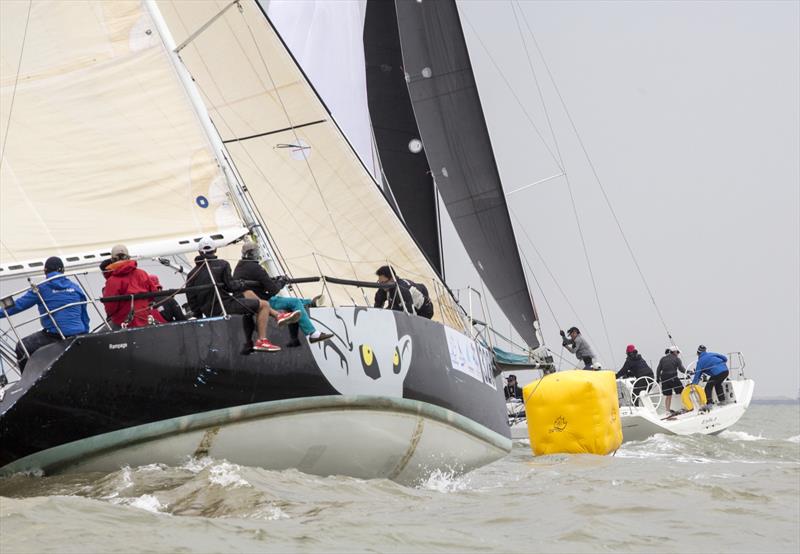 Rampage. Macao Cup International & GBA Cup Regattas. – photo © Guy Nowell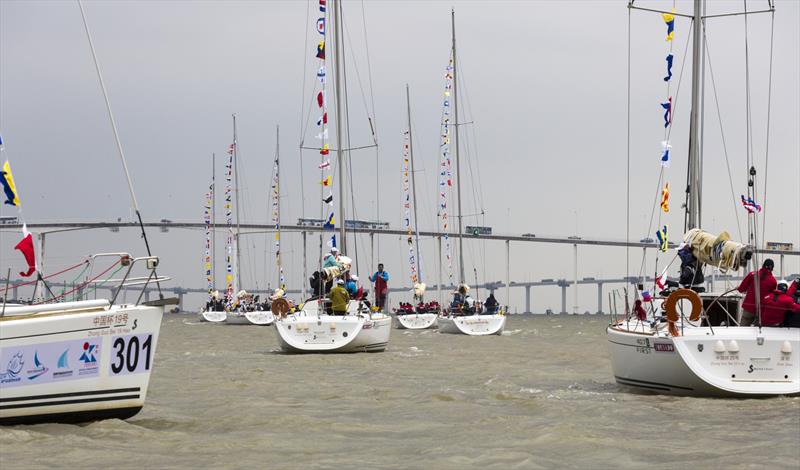 Parade of Sail. Macao Cup International & GBA Cup Regattas. – photo © Guy Nowell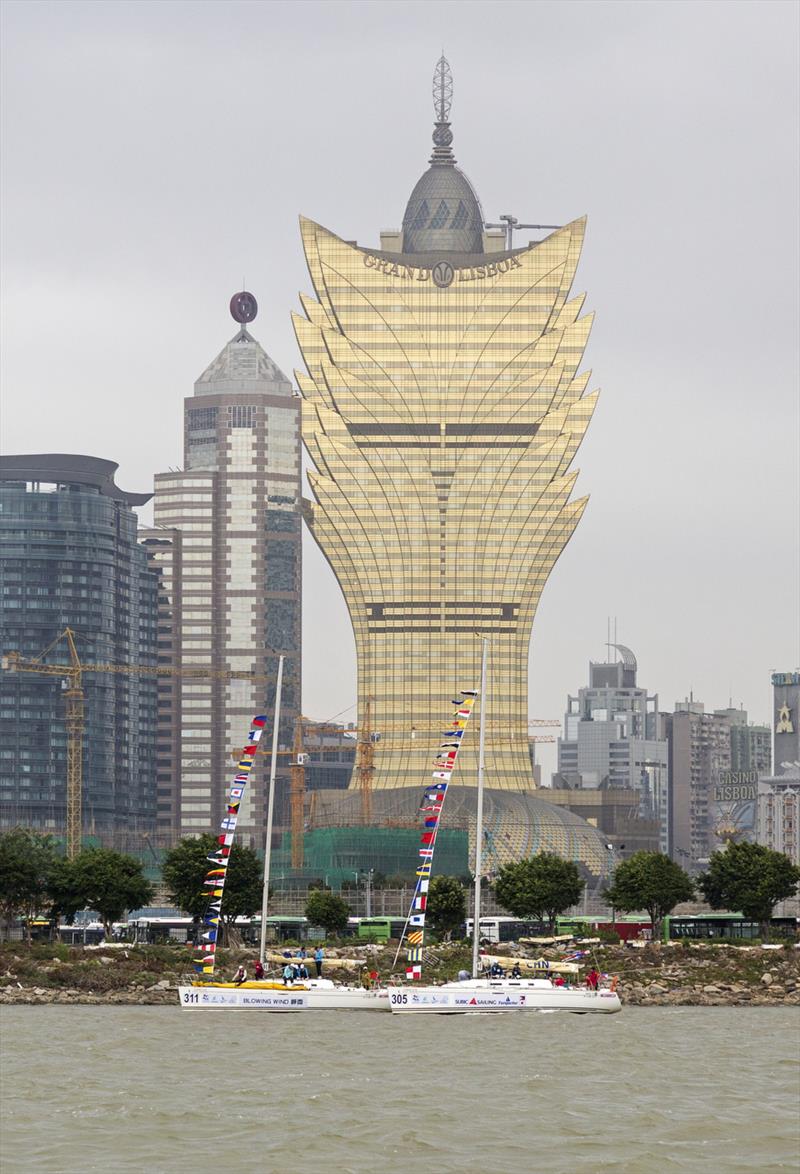 Parade of Sail, Grand Lisboa. Macao Cup International & GBA Cup Regattas. – photo © Guy Nowell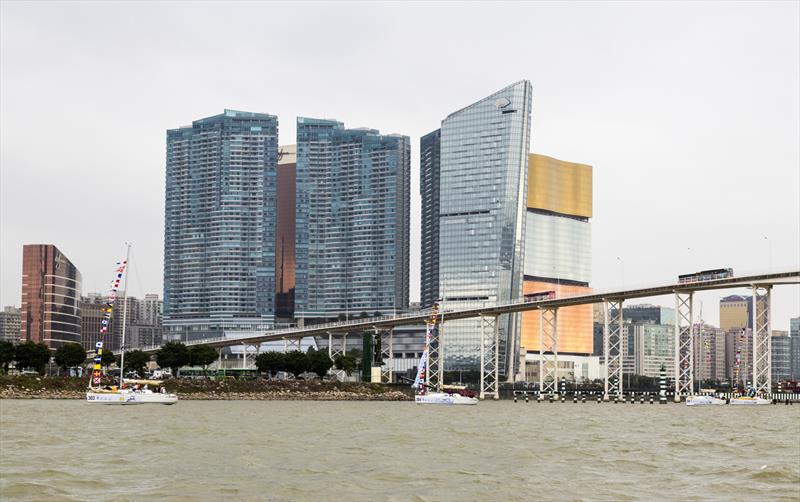 Parade of Sail. Macao Cup International & GBA Cup Regattas. – photo © Guy Nowell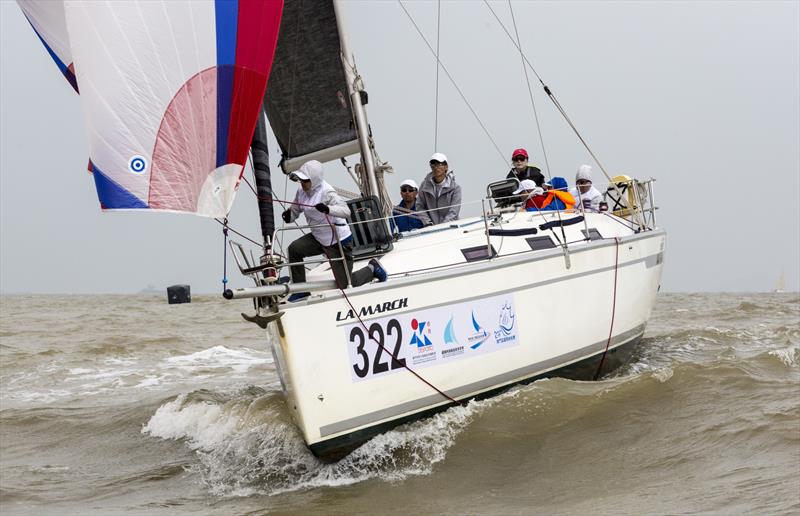 Shenxin Master Sailing Team. Macao Cup International & GBA Cup Regattas. – photo © Guy Nowell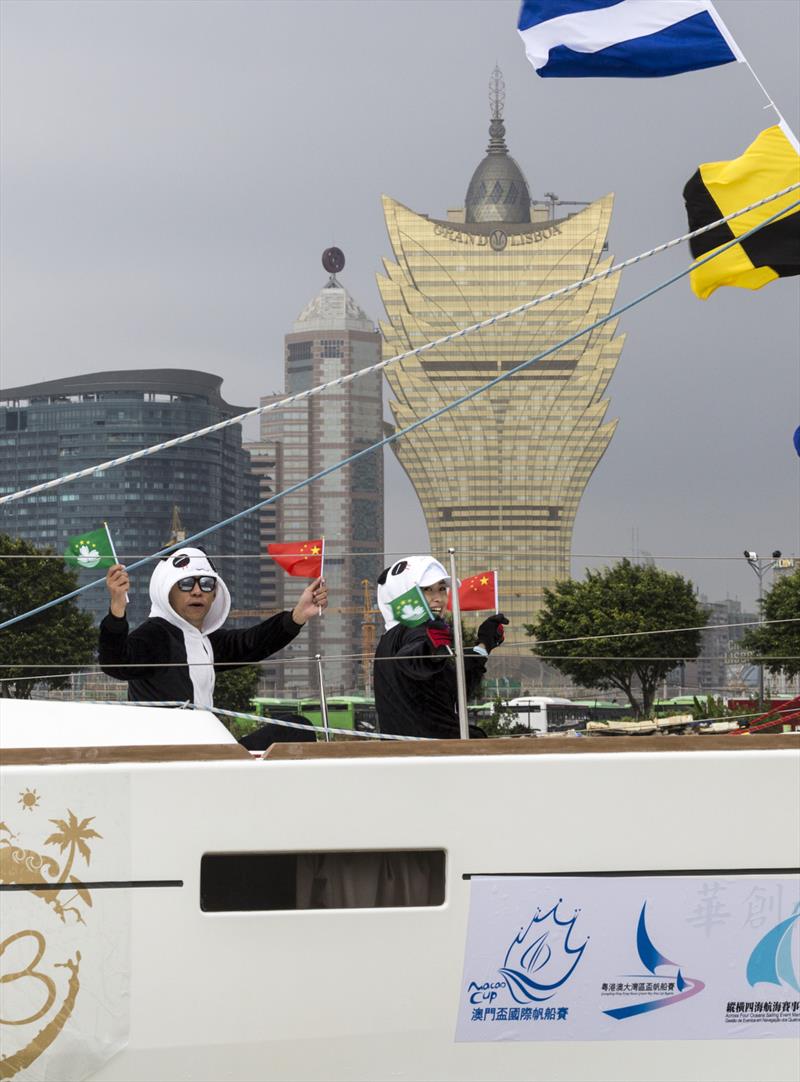 Pandas on the waterfront! Macao Cup International & GBA Cup Regattas. – photo © Guy Nowell
by Guy Nowell, Sail-World Asia