We trust that you, your club and members have had a fantastic 2018/2019 sailing season thus far and wish to introduce you to the National Sailing League.
You may already be aware of the Sailing Champions League (SCL) which was established in Europe 8 years ago with the formation of the German Sailing League. The Sailing Champions League has now grown to 20+ countries and 300+ clubs. Each NSL run events in their country for the title of top sailing club and compete in the SCL Final at St Moritz in September 2019.
Now it is Australia, New Zealand and Oceania's turn having joined the Sailing Champions League family, to bring this successful and much needed club v. club fleet racing competition to this part of the world. The purpose of this letter is to seek your clubs' interest in becoming one of the foundation clubs for the National Sailing League (NSL).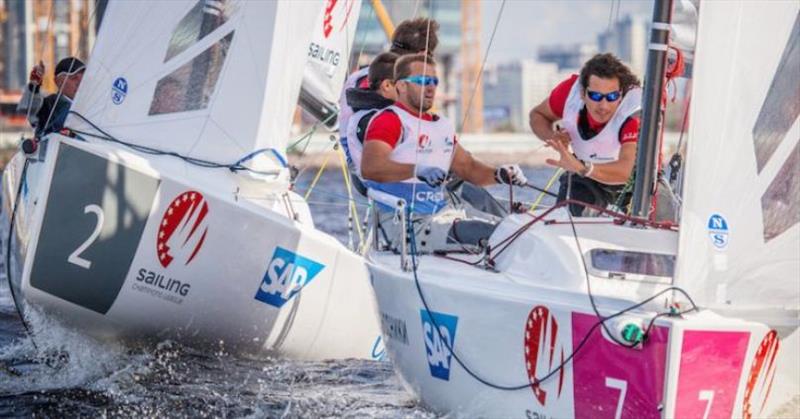 2017 Sailing Champions League Act 1 in Saint-Petersburg – photo © Anya Semeniouk
1. The idea behind Sailing Champions League
It's a straightforward format that has been working well in football for years; and it also works for sailing: An international club competition generating high levels of media interest and a competition that clubs, sailors and fans can all identify with.
The idea behind SCL is simple: it's the championship of the national champions. The most successful clubs of the NSL countries are competing against each other to fight for the title: "Champion International Sailing Club of the Year".
Here are two recent videos which provide mode detailed information on the SCL:
What is League Sailing?
2. What is Sailing Champions League sailing
SCL and NSL events are short course, fully umpired fleet racing. There are 6-8 one-design 7m sports boats in each race of 12-15 minutes long and sailed over a windward/leeward course.
20+ teams are rotated through the boats so that each team races in each boat and any boat bias is eliminated. There are typically 48 races in the qualifying rounds followed by a five race final round. The top six teams from the qualifying round progress to a knockout five race final series.
Races are staged very close to the shore providing good viewing opportunities for spectators and supporters. Commentators, miked-up competitors and on-board cameras bring the action to the crowd throughout the racing.
Clubs can enter a team in each of the Open, Women's and Youth divisions. Each team must have at least one female. Open teams consist of four crew, Women and Youth teams have up to five crew. All members of a youth team must be under 21.
You can see this in action through the Sailing Champions League YouTube channel.
3. Who is the Champion International Sailing Club?
The most successful NSL clubs compete against each other in three SCL events (Open, Women and Youth). Each club forms a team from its most accomplished sailors.
To win the title and the much sought-after trophy, the clubs must perform under pressure and put in a world-class performance when it matters most. Short umpired fleet races, one-design boats, a standardised course and a competition between the most prestigious sailing clubs in the world all these ingredients combine to guarantee sailing at its best.
4. What is the National Sailing League
NSL have secured the licence to bring the Sailing League to this part of the world and over the next few years expand to reach all clubs in Oceania to provide the platform for a region wide club v club competition which will determine the Champion Club in Oceania. The top clubs will then have the opportunity to compete against the best clubs in the world at the SCL finals.
To kick off this exciting new concept, we are hosting an inaugural NSL Final at Royal Sydney Yacht Squadron on 26-28 April 2019 to be raced in Elliot 7's. From this event we have secured two entries into the SCL Final (St Moritz, Aug 2019) for the top teams to compete against the world best clubs. In addition, the top youth team is eligible to compete at the SCL (Youth) Event (Kiel – June 2019) and the top female team at the SCL Women's Final (Copenhagen Sept 2019).
Details of the 2018/19 NSL Final are as follows:
Location: Royal Sydney Yacht Squadron
Dates: racing on 26, 27, 28th April 2019 (welcome of teams at function on 25th April)
Boats: Elliot 7's
No. invited of teams: 24 (2 NZL, 2 Oceania, 20 Australia)
No. of sailors per team: max 4 (minimum 1 female per team)
Entry fee (inclusive of 2018/2019 NSL membership): $3,000 + GST
Format: 6 boat, short course umpired fleet racing. 12-15min races
5. Registration of interest process
For your club to be considered to receive a first round invitation, we ask that you fill out the following short online form "registration of interest form" by Monday 21st January as we plan to issue initial invitations by 31st January to enable clubs to start preparing teams.
6. The future
After the first NSL Final we will be expanding throughout Australia and New Zealand. Each season will include qualifying events at State and Regional levels to qualify for the NSL Final. We believe this club vs club model should be very successful in this part of the world in not just creating a single NSL Final, but multiple feeder / qualifier events or series to make league sailing a regular part of the club sailing landscape.
We are keen to work with clubs to create these regional league events and create fleets of League boats that are used for the NSL events, but also to be used for other events (match racing, teams racing) as well as club training and club racing.
Although we are not restricting the age of participants for the NSL, we are extremely aware of the need for our sport to appeal to the 17-27 (youth / intermediate) sailors who we are struggling to retain in the sport. We see that both the format of the NSL, the boats selected and the club team model whereby the funding of the team may be undertaken by the wider club / membership thus these best youth / intermediate sailors can represent their club without the burden of boat ownership or regatta expense.
If you have any questions or queries please contact either, Mark Turnbull (Melbourne) or Howard Elliott (Sydney) directly.
by Mark Turnbull OAM