The saying goes that it's easy to look like a tactical genius if one has a faster boat. While this might be a cliché, that sure doesn't stop Luna Rossa Prada Pirelli's brain trust from looking incredibly smart after a weekend of Prada Cup Finals racing on the waters off of Auckland, New Zealand, that saw the Italian team post an impeccable 4-0 scorecard over INEOS Team UK.
But rather than an all-out speed advantage, the Italian-flagged boat just seemed to be in far better control, allowing the team's dual helmsmen (Jimmy Spithill and Francesco Bruni) and their tactician (Pietro Sibello) to put the boat where they wanted, when they wanted.
Sadly for Sir Ben Ainslie and INEOS Team UK, the same cannot be said of their control over Britannia. The team struggled in all four starts, losing one race before the starting gun even sounded and suffering a race-ending "wheelie" in race four that also helped the Italians register another win.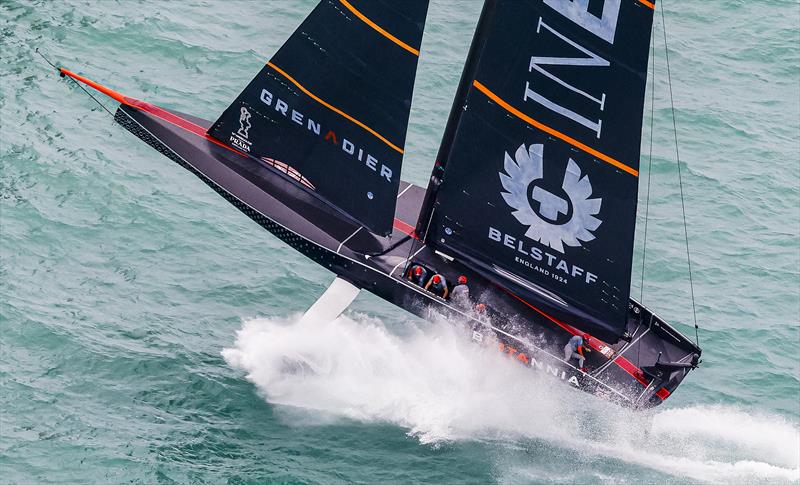 PRADA Cup Final day 2 – Airtime for Britannia in the race 4 pre-start – photo © COR36 / Studio Borlenghi
Yet while things are looking just fine for Luna Rossa at the moment, any student of the America's Cup—and, specifically, the 34th America's Cup (2013 in San Francisco)—can tell you that the racing isn't over until it's over.
And in the case of the Prada Cup Finals, this means one team registering seven wins. Luna Rossa may be more than halfway there, but, as Sir Ben said at the post-racing press conference after the second night of Finals racing, their job hasn't changed. They just need to win seven races. No more, no less.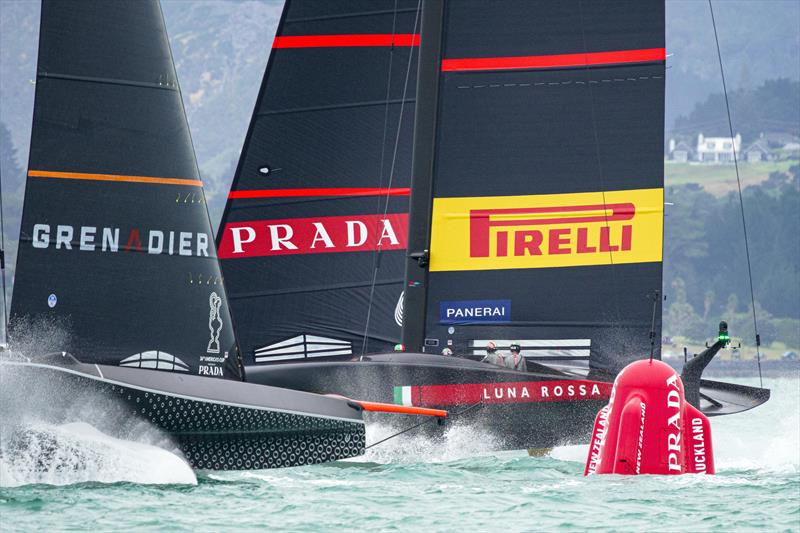 Racing in the Prada Cup – Day 2 – February 14, 2021 – America's Cup 36 © Prada Cup Media
Back in 2013, it was Spithill's job to say similar things when his team, Oracle Racing, found themselves in rapidly rising and borderline boiling water in their battle against Emirates Team New Zealand. But Spithill didn't give ETNZ's Glenn Ashby or Dean Barker an inch at the press conferences. Oracle might have been down, but Spithill knew that he could count on his team, his designers and boatbuilders, and his red-hot tactician to give him the winning edge.
That tactician was none other than Sir Ben, who was still fresh from winning his fourth consecutive gold medal at the London 2012 Olympics.
Yet another factor draws some similarity between AC34 and the Prada Cup Finals that could prove to be important. Back in 2013, numerous races were cancelled due to wind or time limits, giving the American-flagged Defenders time to make their boat faster, and to improve their boathandling skills.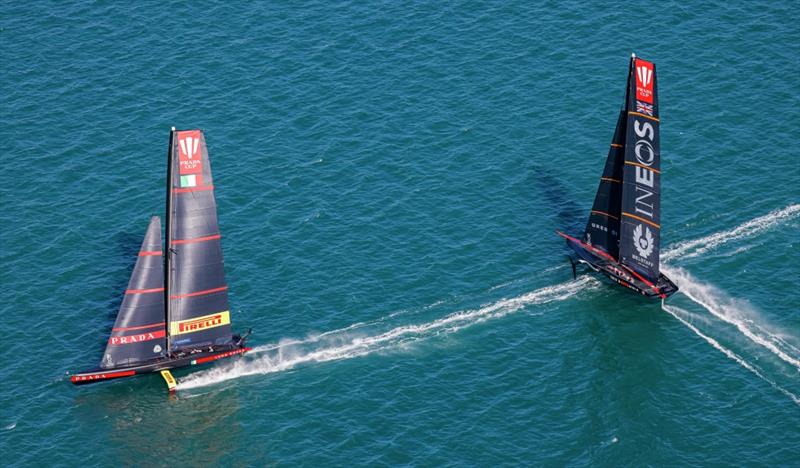 PRADA Cup Final day 1 – Luna Rossa Prada Pirelli and INEOS TEAM UK – photo © COR36 / Studio Borlenghi
While the wind gods have been cooperating during the Prada Cup Finals, a different devil is stalking Auckland's streets.
New Zealand has been a shinning city on the hill (speaking of cliches) for other countries during the coronavirus pandemic. Chalk this up to highly effective governance and a population that was quick to embrace science, social distancing and masking—not a wanna-be despot and his crackpot conspiracy theories—but the video footage of maskless, closely packed crowds of Cup fans happily watching the racing was the envy of the world.
But, during the post-racing press conference, word broke that three new cases of COVID 19 had been detected in Auckland and that the city was entering a Level 3 lockdown, beginning with a three-day city-wide quarantine.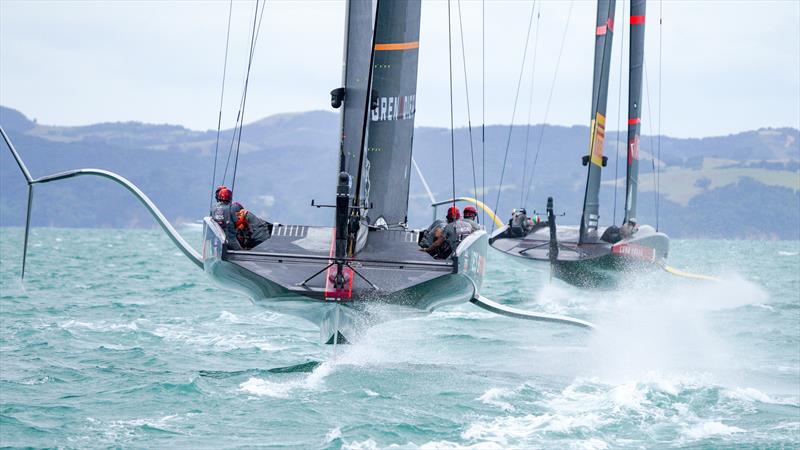 PRADA Cup Final day 2 – Tight match racing for Luna Rossa Prada Pirelli and INEOS TEAM UK – photo © COR36 / Studio Borlenghi
This matters greatly for the Prada Cup Finals, as the next scheduled race (originally slated for Tuesday, February 16) has now been postponed. As of this writing, the official event website, www.americascup.com, is reporting scheduled racing on February 18, 19, 20 and 21, however this can obviously change fast, depending on Auckland's lockdown situation.
Could this unexpected break give INEOS Team UK the time they need to regroup and become more competitive as a team?
Be sure to stay current with the website for the latest news on when the Prada Cup Finals will continue.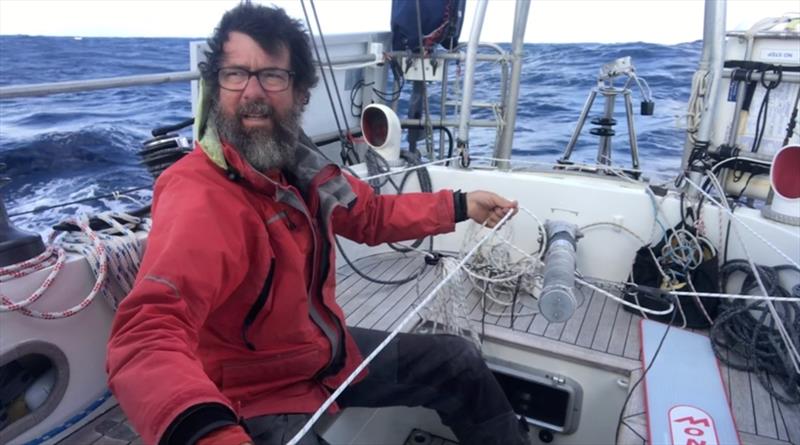 Randall Reeves completes Figure 8 Voyage – photo © Ocean Cruising Club
Meanwhile, much closer to home, the Cruising Club of America announced the winners of their annual awards. Randall Reeves was awarded the CCA's prized Blue Water Medal for single-handing Moli, his 45-foot aluminum cutter, through the Northwest Passage and around Antarctica, a voyage that began and ended in San Francisco and saw Reeves rack up some 39,000 nautical miles in a single season.
Christian Charalambous (AUS) won the CCA's Rod Stephens Seamanship Trophy for saving his entire crew after their yacht lost its keel in the Tasman Sea. Calypso Romero and Adrien Koller of France (and a couple) won the Young Voyageur award for completing eight impressive cruises that plied high-latitude waters. Stephen Brown (UK) earned the 2020 Far Horizons Medal for circumnavigating the Americas, while fellow Brits Simon and Sally Currin were awarded the CCA's 2020 Royal Cruising Club Trophy for cruising Greenland's Scoresby Sound, which stretches above 70 degrees north latitude.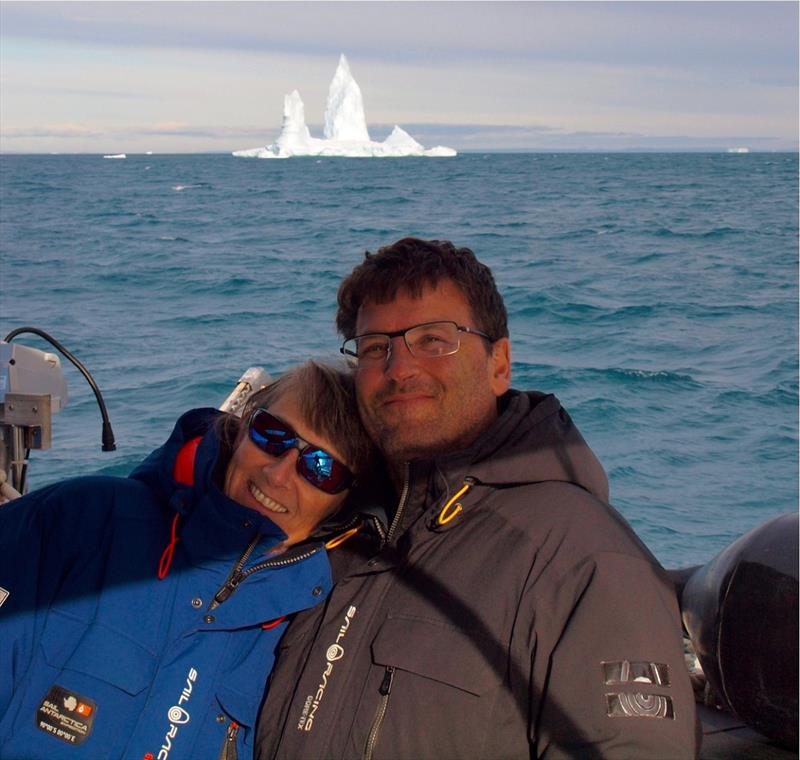 Sally and Simon Currin – photo © Cruising Club of America
The Salty Dawg Foundation also received a CCA Special Recognition Award for their impressive work helping more than 180 boats return to the USA last spring when the pandemic began. (For a Sail-World interview with Salty Dawg's Tim Metcalf, check out this link: www.sail-world.com/news/229519/Tim-Metcalf-on-the-SDSAs-Homeward-Bound-Flotilla)
Finally, Alan K. Forsythe collected the CCA's 2020 Charles H. Vilas Literary Prize, Peter L. Chandler took home the 2020 Richard S. Nye Trophy for his 20-years of service as the club's treasurer, and John "Jay" Gowell and Jeffrey S. Wisch were given CCA Commodore's Awards for their work as the chair of the Newport Bermuda Race and the CCA's fleet surgeon (respectively).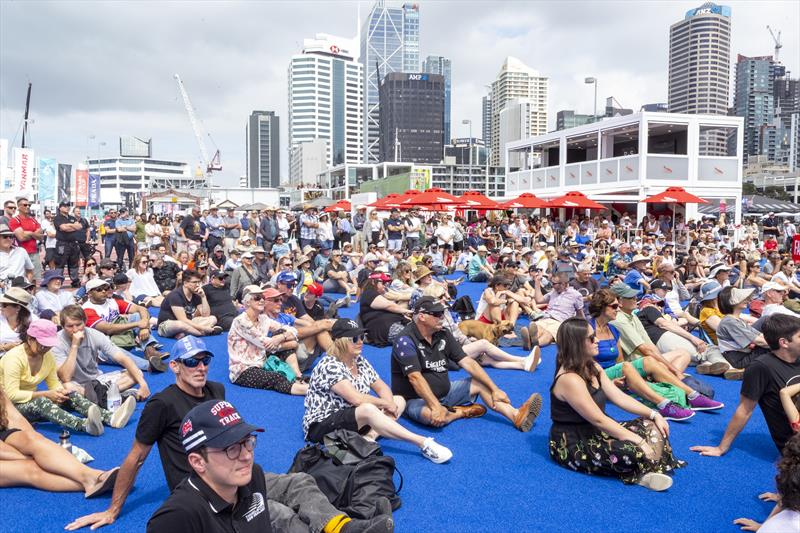 Crowds all set for the PRADA Christmas Race – photo © COR36 / Studio Borlenghi
Sail-World congratulates all of these impressive sailors for their hard-earned awards, and we sincerely hope that New Zealand is able to demonstrate to the world—once again—what's possible when an entire population joins forces to stop the wretched coronavirus scourge.
May the four winds blow you safely home.
David Schmidt
Sail-World.com North American Editor
by David Schmidt