Traditionally, the 1,020.0nm race from San Diego, CA to Puerto Vallarta, Mexico has been blessed with at least 4-5 days of amazing downwind sleigh-rides offshore of the famous Baja Peninsula, with breezes often in the 15-20 kts range from the northerly quadrants.
Not surprisingly, with the advent of various forms of climate change, the "new normal" was anything but a downwind sleigh-ride blasting around the end of the Baja Peninsula with a long, fast, port gybe into the finish line into the Bahia de Banderas.
In fact, it was one of the lighter races on record.
There were two J/Teams sailing in what had become a "drift-fest" for the first half of the race. Breezes built a bit more for the latter half of the race, but nothing like what the fleet had seen in past years.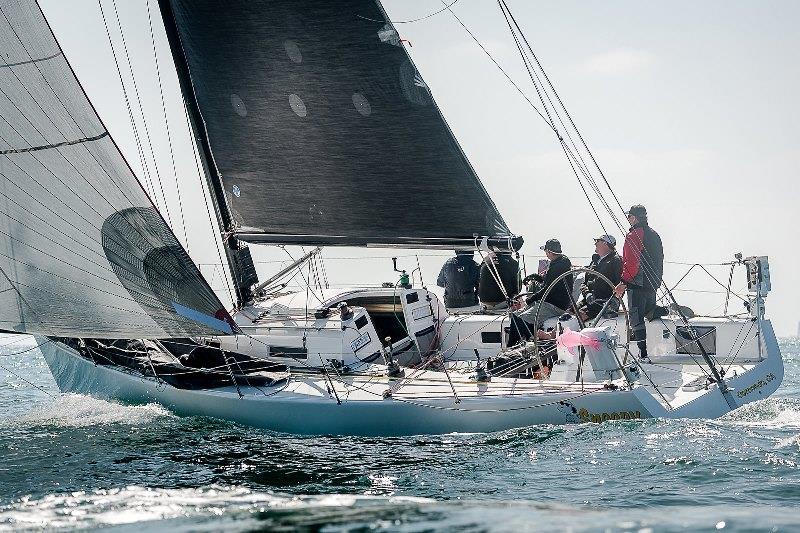 Puerto Vallarta Race 2020 © pvrace.com
To get a better feel of what was happening during the race, be sure to read the Katara team's very good PV Race blog each day.
In the end, despite the challenging conditions, both boats ended up in the silverware in their respective classes. In the ORR 3 Class, Mark Surber's southern California team on the J/125 Snoopy took second in class and 13th overall. Then, in the ORR 5 Class, Roger Gatewood's Florida-based crew on the J/145 Katara also managed to take a second in class and 12th overall; beating their J/125 stablemate overall by just 30 minutes ORR handicap time after six-plus days of racing!
More Puerto Vallarta Race sailing information here.
by J/Boats