VO65 entry and star-studded line-up for inaugural Mirpuri Foundation Sailing Trophy
The Mirpuri Foundation Racing Team has announced the official entry of its VO65 'Racing for the Planet' boat in next week's inaugural Mirpuri Foundation Sailing Trophy, crewed by a star-studded team including reigning two-time Volvo Ocean Race winner, Charles Caudrelier.
Caudrelier, who currently skippers Maxi Edmond de Rothschild, will join the Mirpuri Foundation Racing Team for the sustainable two-day event
Mirpuri Foundation Racing Team skipper Yoann Richomme has assembled a team of internationally renowned sailors for this special event which also includes Volvo Ocean Race winner Jack Bouttell, plus Willy Altadill, Nicolas Lunven and Emily Nagel. They will be joined by Frederico Pinheiro de Melo & Bernardo Freitas who were part of the Mirpuri Foundation's 'Turn the Tide on Plastic' entry in the previous edition of the Volvo Ocean Race.
With 12 accumulated outings in the Volvo Ocean Race between them, the one-off Mirpuri Foundation Racing Team crew is sure to be one of the most experienced sailing line ups competing anywhere in the world.
Yoann Richomme, skipper of the Mirpuri Foundation Racing Team said: "I am so excited to share the team we have assembled for this very special event and we are very thankful to the Mirpuri Foundation for the support it is giving the sailing community by setting up the Sailing Trophy in such a short period of time. We are really pleased to enter the VO65 'Racing for the Planet' boat in the event too, and I am eager to get back in the water and learn as much as I can about the boat. There are incredible prizes available for this race and a great lineup, so the competition will be fierce. I can't wait!"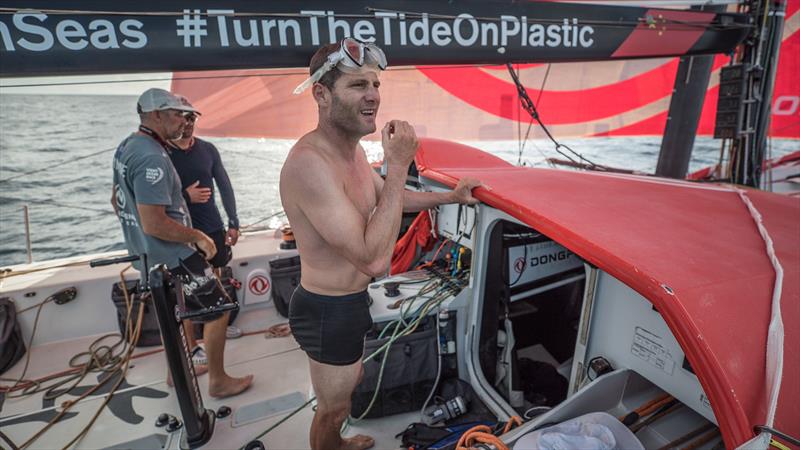 Leg 8 from Itajai to Newport, day 09 on board Dongfeng. 30 April, . Charles Caudrelier after diving under the boat to get the seaweed out of the rudders. – photo © Jeremie Lecaudey / Volvo Ocean Race
Organised in partnership with the Clube Naval de Cascais, the sustainable two-day regatta between Cascais and Sesimbra for a prize pool of over €30,000 includes a top prize of €16,000 for first position.
The Sailing Trophy, which will raise important awareness and funds for marine conservation projects, will be the first health controlled events of its kind in the world, in the wake of the Covid-19 pandemic, serving as an example for how to implement testing procedures and distancing measures to minimise the health risk of competitive sport.
Dr. Paulo Mirpuri, Founder of the Mirpuri Foundation said: "We are privileged to welcome such an incredible team of sailors aboard our 'Racing for the Planet' boat for the inaugural Mirpuri Foundation Sailing Trophy. Yoann has assembled a special team for this race with some of the greatest names in international sailing and there is nowhere else in the world that fans can see a lineup of this quality racing one of the fastest boats out there. With our partners, we have worked hard to implement the best practices to ensure that this event can go ahead safely and we can all enjoy watching and competing against some incredible racing and to raise awareness for our ongoing marine conservation projects, through some friendly and safe competition."
Entries for the inaugural Mirpuri Foundation Sailing Trophy will close on June 17 at 23:59. Information regarding entry and the Notice of Race can be found at mirpurifoundation.org/mfst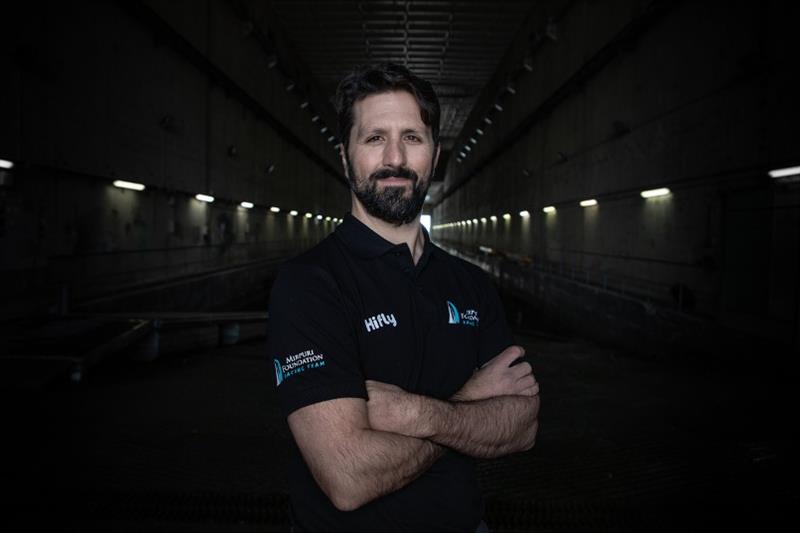 Yoann Richomme – Skipper of the Mirpuri Foundation Racing Team – photo © Mirpuri Foundation Racing Team
by Mirpuri Foundation