The New Zealand team finished third, eighth and fifth in the three fleet races to end the first day of racing in SailGP Italy in fifth position overall with 11 points.
The United States and Japan are in pole position to qualify for the final with both teams on 21 points. Jimmy Spithill's US Team won two of the three fleet races, while Nathan Outteridge's Japan claimed a single victory.
Another day of light wind conditions in southern Italy meant each F50 featured three crew rather than the usual five to allow for a lower take-off speed.
New Zealand SailGP Team flight controller Andy Maloney said: "It was another really tricky day sailing three up. I think it went well and we made some big improvements from yesterday which was our first day sailing three up.
"We managed to do some really good things and obviously there's a lot of room to improve, especially on the manoeuvres with three onboard and all of us taking on new jobs that we'd done for the first time yesterday. We're trying to iron those out and if we can do that I think we'll be competitive."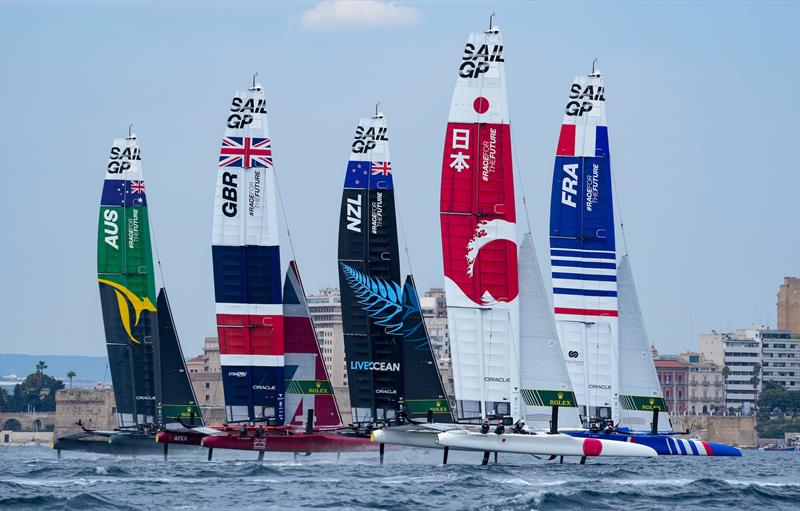 Australia SailGP Team, France SailGP Team, Great Britain SailGP Team, New Zealand SailGP Team and USA SailGP Team competing on Race Day 1 at Italy SailGP, Event 2, Season 2 in Taranto, Italy. 05 June . – photo © Bob Martin / SailGP
The New Zealand SailGP Team got off to the perfect start in race one as it led around the first mark, before the USA squeezed between New Zealand and Japan at the final reach to clinch the win.
Maloney said: "We had a really great start in that first race and managed to string together most of our manoeuvres around the laps, especially the gybes, so we managed to stay near the front of the fleet. It's a bit of a shame we didn't quite get the Japanese on that final reach but it was still a great start to the event for us."
The New Zealand SailGP Team was unable to back up its impressive performance in the second race as the team was a touch early at the start and paid the price as it incurred a penalty and was unable to bounce back.
"In the second race we were maybe half a second over and then we were at the back of the fleet and we made a few mistakes from there as well," Maloney said.
"The start is so important, especially in this light air. Once you get to the back you have to do something pretty special or pick out a shift to get past everyone and we didn't quite manage to do that in the second race."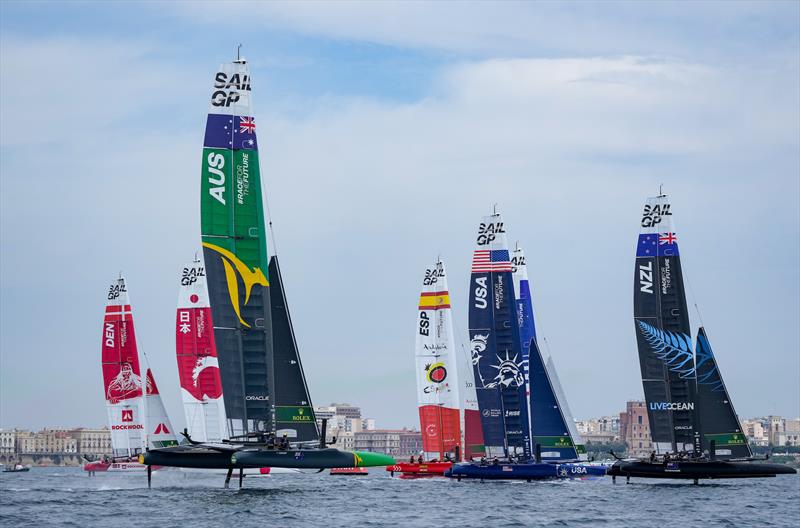 Denmark SailGP Team , Japan SailGP Team, USA SailGP Team, Spain SailGP Team France SailGP Team and New Zealand SailGP Team competing in the first race on Race Day 1 at Italy SailGP, Event 2, Season 2 in Taranto, Italy. 05 June . – photo © Bob Martin / SailGP
In the third race where the New Zealand SailGP Team finished fifth, Maloney said: "We had a decent start but we were in the pack for the whole race so I thought we fought pretty well to hang onto a mid-pack finish. We did a few things a lot better in the third race than we did in the second race so that's pretty pleasing and we'll try and keep learning from there and improve for tomorrow."
While Maloney rued a few mistakes that proved costly today, he believes the team is well placed to challenge for a spot in the winner-takes-all final podium race tomorrow.
"It wasn't as good as it could have been today but we've improved massively since yesterday and we haven't thrown it away. We're still in the fight to get into the final race tomorrow which is as good as we could have hoped for at this stage of the Italy Sail Grand Prix.
"The gains have been massive and we learned so much today that we'll debrief and come out even better tomorrow. Hopefully there's a little more breeze and we can sail with a full crew tomorrow and get the big boys on board so they can help us out but if not we'll be ready for it as well."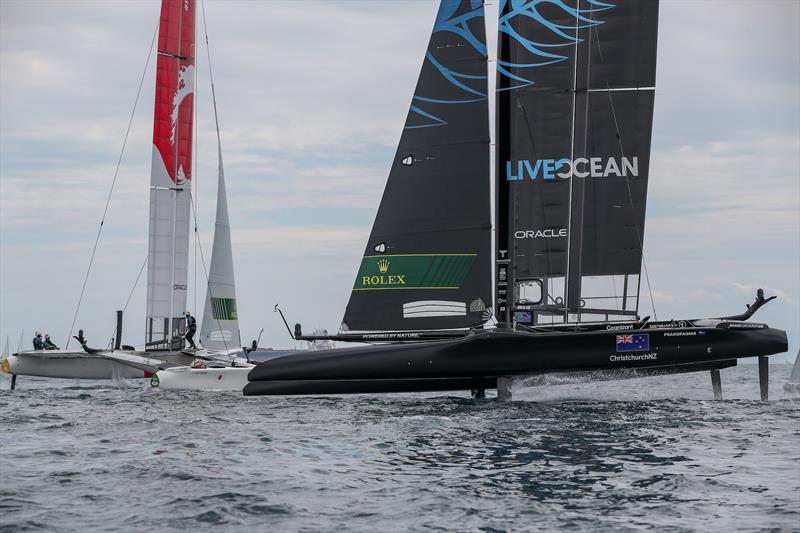 New Zealand SailGP Team helmed by interim skipper Arnaud Psarofaghis competing in the first race on Race Day 1 at Italy SailGP, Event 2, Season 2 in Taranto, Italy. 05 June . – photo © Ian Roman / SailGP
You can watch all the action from the second day of the Italy Sail Grand Prix live on Sky Sport from 11.30pm NZT tonight. For full viewing details visit sailgp.com/watch
SW: For NZ to make the podium and final sixth race in SailGP Italy, they need to beat the British team, on average points scored in the final two races. The Kiwis need to beat SpainSailGP by three places in Races 4 and 5. In the final race 6, the three finalists start on zero points and the places in Race 6 determine the podium places in SailGP Italy.
Italy Sail Grand Prix Leaderboard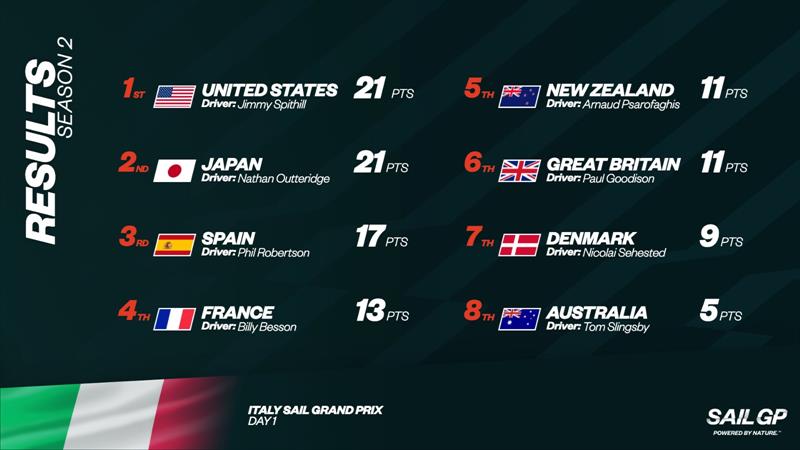 Results after Day 1 of Italy SailGP, Event 2, Season 2 in Taranto, Italy – photo © SailGP
1 // USA // 21 pts
2 // Japan // 21 pts
3 // Spain // 17 pts
4 // France // 13 pts
5 // New Zealand // 11 pts
6 // Great Britain //11 pts
7 // Denmark // 9 pts
8 // Australia // 5 pts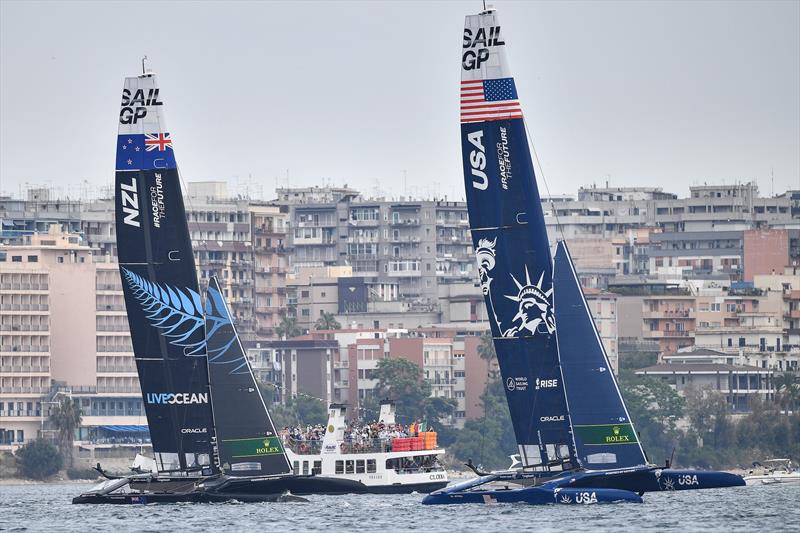 USA SailGP Team helmed by Jimmy Spithill leading New Zealand SailGP Team helmed by interim skipper Arnaud Psarofaghis on race day 1. Italy SailGP, Event 2, Season 2 in Taranto, Italy. 05 June – photo © Ricardo Pinto / SailGP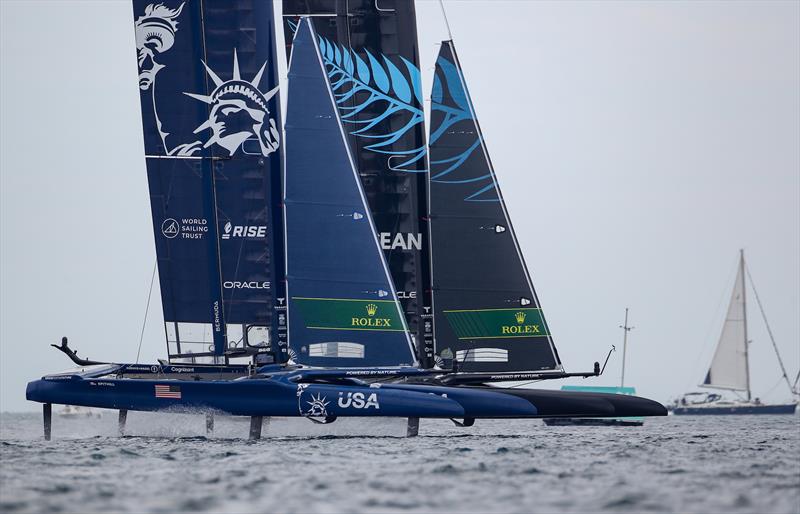 USA SailGP Team helmed by Jimmy Spithill and New Zealand SailGP Team helmed by interim skipper Arnaud Psarofaghis competing in the first race on Race Day 1 at Italy SailGP, Event 2, Season 2 in Taranto, Italy. 05 June – photo © Ian Roman /SailGP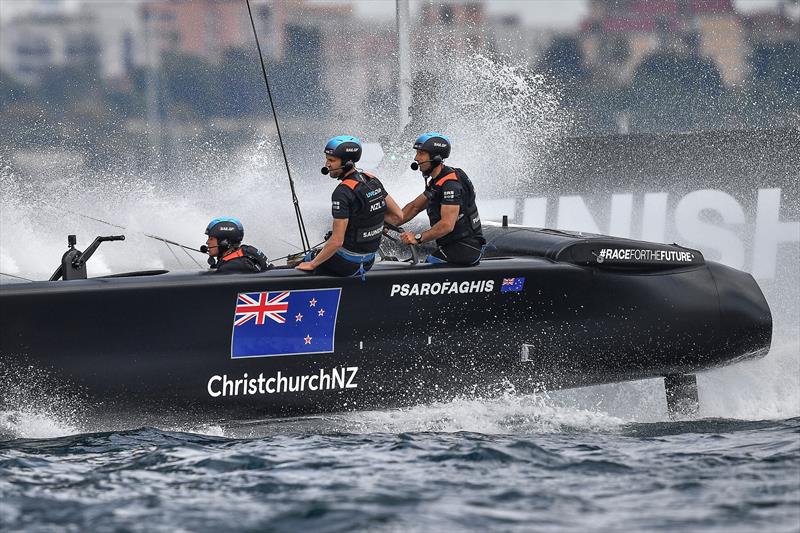 New Zealand SailGP Team helmed by interim skipper Arnaud Psarofaghis in action on Race Day 1 during racing. Italy SailGP, Event 2, Season 2 in Taranto, Italy. 05 June – photo © Ricardo Pinto / SailGP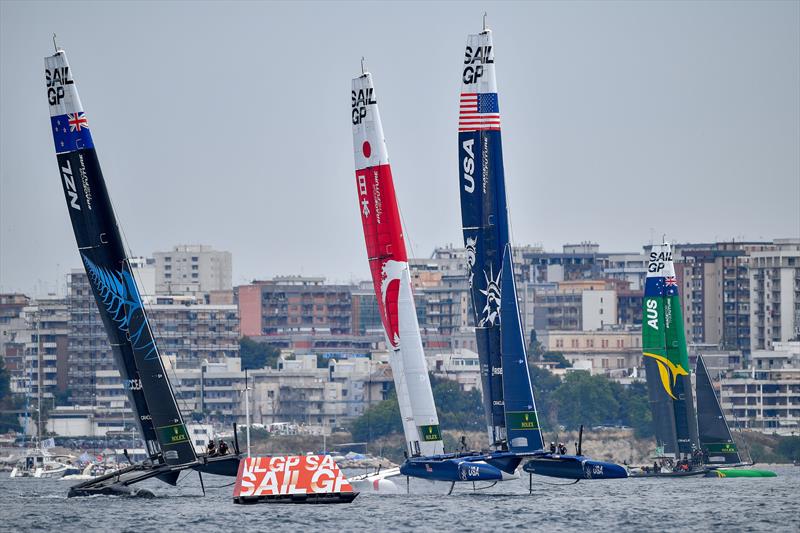 New Zealand SailGP Team, Japan SailGP Team, USA SailGP Team competing on Race Day 1 as Australia SailGP Team sits flat in the water with a technical fault at Italy SailGP, Event 2, Season 2 in Taranto, Italy. 05 June . – photo © Ricardo Pinto / SailGP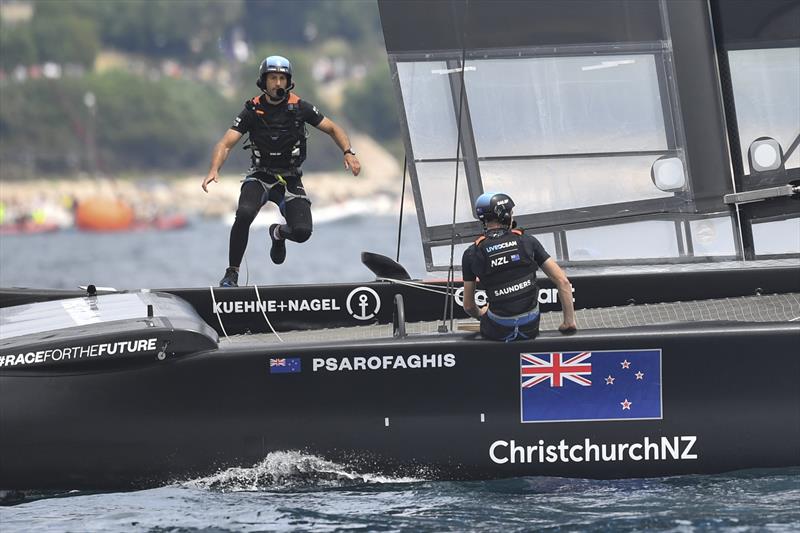 New Zealand SailGP Team helmed by interim skipper Arnaud Psarofaghis in action during race 1 of Italy SailGP, Event 2, Season 2 in Taranto, Italy. 05 June . – photo © Ricardo Pinto / SailGP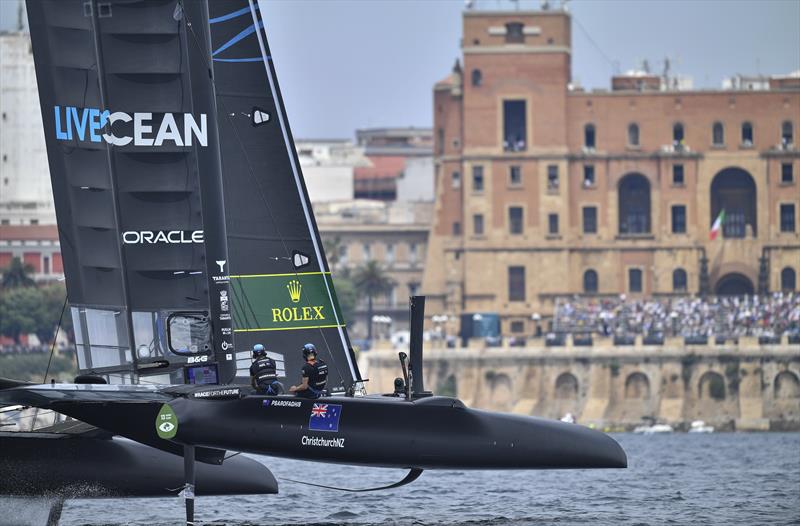 New Zealand SailGP Team helmed by interim skipper Arnaud Psarofaghis in action during race 1 of Italy SailGP, Event 2, Season 2 in Taranto, Italy. 05 June . – photo © Ricardo Pinto / SailGP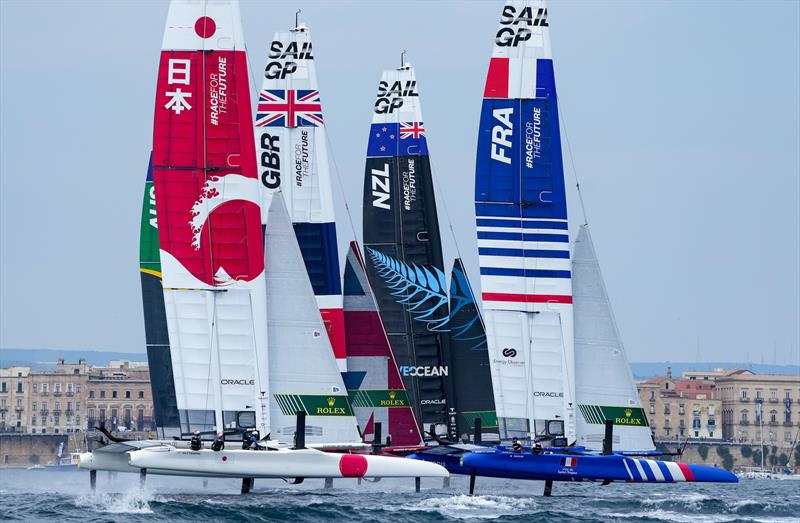 Australia SailGP Team, France SailGP Team, Great Britain SailGP Team, New Zealand SailGP Team and USA SailGP Team competing on Race Day 1 at Italy SailGP, Event 2, Season 2 in Taranto, Italy. 05 June . – photo © Bob Martin / SailGP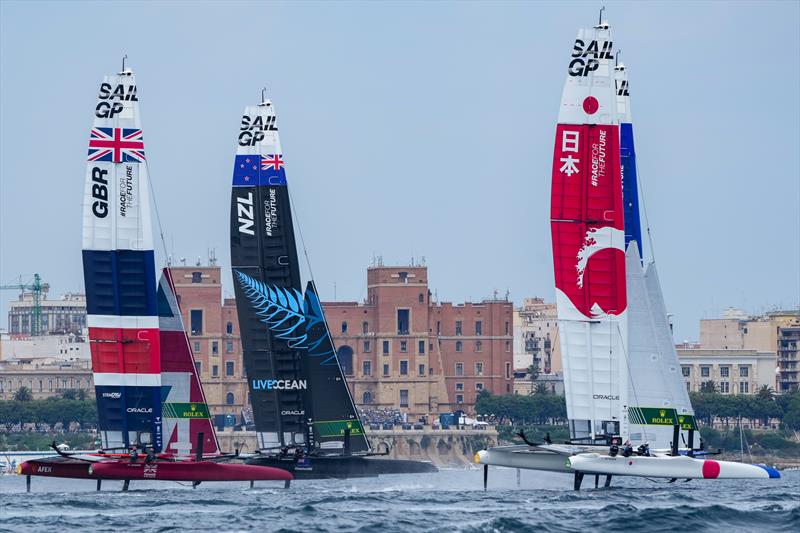 Great Britain SailGP Team, New Zealand SailGP Team, Japan SailGP Team and France SailGP Team competing on Race Day 1 at Italy SailGP, Event 2, Season 2 in Taranto, Italy. 05 June – photo © Bob Martin / SailGP
Denmark SailGP Team, Japan SailGP Team, USA SailGP Team, Spain SailGP Team France SailGP Team and New Zealand SailGP Team competing in the first race on Race Day 1 at Italy SailGP, Event 2, Season 2 in Taranto, Italy. 05 June – photo © Bob Martin / SailGP
by James Rigby/NZSailGP