With only three months to go until the start of the 2020 World Championship (1-9 May) in Charleston, South Carolina, Melges 24 teams all over the world are steadily signing up to compete.
Early entry deadlines are fast approaching, and March 1st is the earliest in which teams can take advantage of the lowest entry fees. Register now here.
"Premier racing is what we are going for at Worlds. Charleston is a really big venue, and we have lots of options on where we can race. If you are a team that has never done a Worlds, this is your chance to experience Melges 24 racing at its most exhilarating. It is an opportunity you don't want to miss," says longtime Melges 24 sailor and Charleston local John Bowden.
"Randy Draftz and his race/regatta management team are the absolute best. Their goal is to make the Worlds a one of a kind event," continued Bowden. "They are eager to address any concerns anyone has regarding racing, storage, logistics. If you have questions, they have the right answers."
Hands down, everyone recognizes Charleston as one of the most competitive and challenging race tracks for one design, performance yacht racing. This simple fact is exactly why Charleston was selected to host the Worlds and why teams are piling onto the entry list. Teams from Canada, United States, Germany, Italy and Australia are represented so far. See the current entry list here
They want to compete at the International Melges 24 Class' most prestigious event, but they are also pretty excited to be front and center at the 25th edition of Sperry Charleston Race Week (April 23-26). So far, 41 teams have thrown their hats into the ring making the Melges 24 Class the largest in attendance.
Register for Sperry Charleston Race Week here.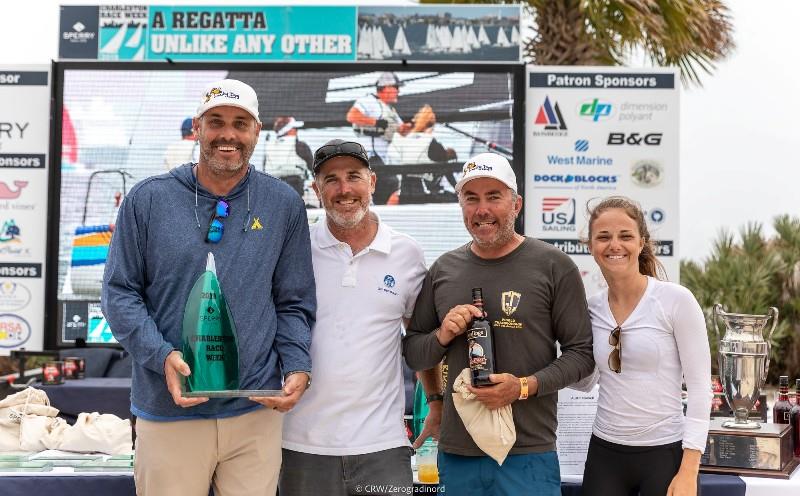 John Bowden (second from left) aboard of Travis Weisleder's Lucky Dog / Gill Race Team USA858 – the winner of 2019 Sperry Charleston Race Week – photo © CRW / Zerogradinord
by IM24CA