Competition is on the cards as Superyacht Cup Palma welcomes exciting new Performance Class entries
WallyCento Magic Carpet3 and performance cruiser Ghost finalising plans to join the fleet
Vitters Service and A+T Instruments join SYC as Silver Partners
Thursday Race Day sponsor Pantaenius Yacht Insurance returns as supporter
New Superyacht Cup Palma entry Magic Carpet3 was attracted to the 24th edition of Europe's longest-running superyacht regatta by the prospect of ultra-competitive fleet racing offered by the new Performance Class.
"We have taken part in several Palma Vela regattas so we are very familiar with the fantastic sailing conditions on offer out in Palma Bay, and we are excited and looking forward to what will be our first Superyacht Cup Palma appearance," said Magic Carpet3's captain Danny Gallichan.
"In particular the new Performance Class was a big factor for us, with the fleet racing starts and the high-intensity racing that goes along with it," he added. "It will be a great event for the owner and the whole crew to test themselves in what is sure to be a competitive setting."
Another new entry, the Luca Brenta designed Ghost, is returning to SYC for the first time since 2007 which will mark her new owner's first regatta at the helm.
Ghost was built by Vitters and will be flying the flag for the Dutch shipyard who have joined the Superyacht Cup Palma as a Silver Partner having recently opened a Vitters Service facility in Palma.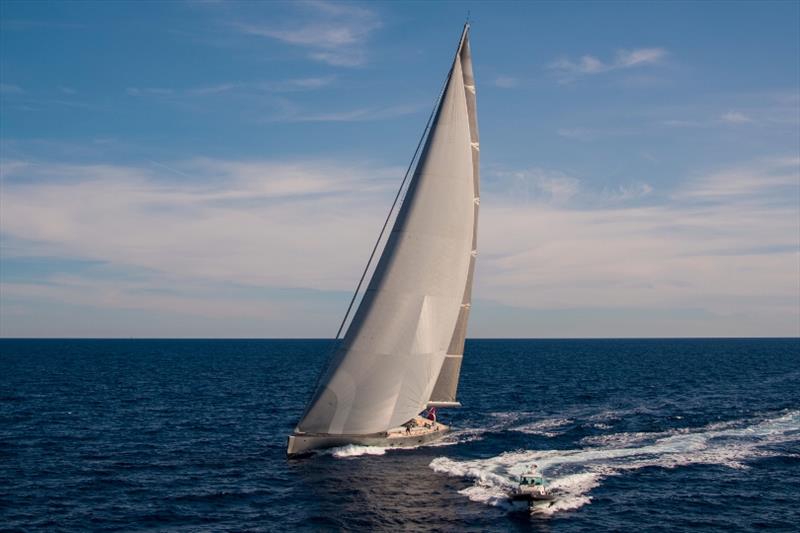 State-of-the-art performance cruiser Ghost, built by SYC Silver partner Vitters, returns – photo © Stuart Pearce
Another new SYC Silver Partner is A+T Instruments, the top-level yacht instrument and navigation system innovator co-founded by SYC regular Hugh Agnew.
Pantaenius Yacht Insurance, another long-term Silver Partner supporter and sponsor of the Thursday Race Day, has again renewed its relationship with Superyacht Cup Palma.
Astilleros de Mallorca, Evolution Sails, Gottifredi Maffioli, Rondal, RSB Rigging and SYC's official clothing provider Marinepool are all also returning as Silver Partners.
SYC's Preferred Hotel Partner the St. Regis Mardavall Mallorca Resort – host of the legendary Owners' Dinner, is another returning supporter.
"It is always a great pleasure to welcome newcomers to the Superyacht Cup Palma, as well as greeting old friends, and that applies to both our sailing entries and sponsor supporters," said SYC Event Director Kate Branagh.
"This year will be no exception and the sense of excitement is growing as the countdown has well and truly begun to our 24thedition."
Registration is open for The Superyacht Cup Palma which will run from June 17 to 20, 2020, with the Notice of Race now available, here: thesuperyachtcup.com/en/sailing-documents
It contains all the need to know conditions and details, along with a provisional programme of events afloat and ashore including the welcome party, happy hours, dock party, the Owners' Dinner, and prize-giving.
The regatta gets under way with the Captains Briefing on Wednesday 17 June followed by the Welcome Cocktail Party, the first event of a full and varied social programme centred on the vibrant Race Village which is located, as ever, in the heart of Palma.
Entry forms are available from kate@thesuperyachtcup.com
Owners and skippers are reminded that a limited number of berths are available at the Superyacht Cup Race Village and will be allocated on a first come first served basis.
by Superyacht Cup Palma