Back in December 2017, a group of sailors gathered together and decided to create the Midsummer Solo Challenge, a 123.0nm race from Marstrand around the northwestern archipelago of Sweden.
Here is the report from Peter Gustafsson sailing the famous J/11 BLUR.SE.
"This year it felt like it was real.
The idea behind Midsummer Solo Challenge was formulated at a meeting in December 2017, and last year was a test of the format.
This year there were nearly 80 boats registered; including long-distance sailors from Estonia and Switzerland. And it also felt that the breadth of experience was larger, from those who never raced to those who have singlehanded for 35 years.
It also felt like everyone took the event as a personal challenge to finish. That it was not a race, but a personal challenge where everyone is following their own conditions and ambitions. In my report, it may sound like a contest, but it's just my way of fooling myself into pushing myself to the limit and doing the sailing challenge that is not really necessary.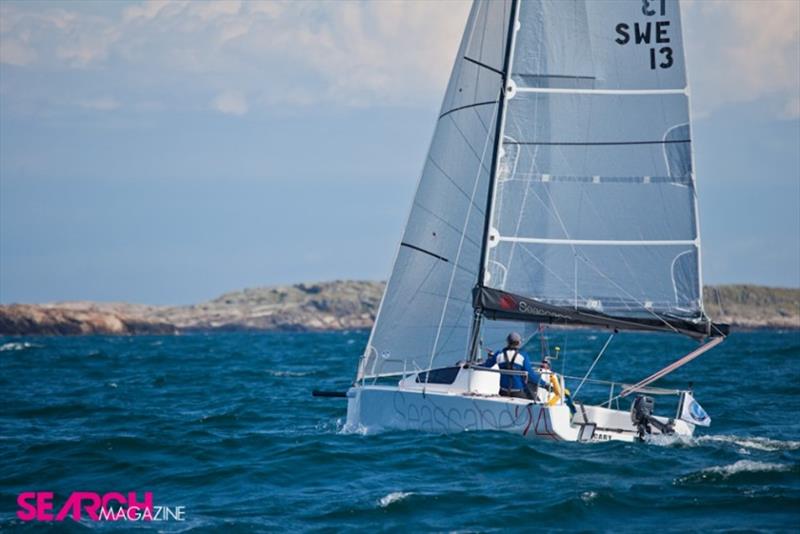 Midsummer Solo Challenge 2019 – photo © Search Magazine Segling
Most boats arrived on Thursday and were seen at the pier in front of the famous Carlsten's fortress.
We had a nice dinner that evening that ended with a review of safety, rules and a solid weather briefing by Erik Nordborg.
The forecasts showed moderate southern winds during Friday, which would decrease during the afternoon/ evening to become very light and varied during the night. Saturday morning the wind would increase again from the east.
As last year, the boats were divided into classes based on LOA, where the smaller boats started first. It became a fast start with TWD of 130-150, and I took it carefully with the slightly smaller A3 spinnaker.
It was beautiful sailing between the islands and we made quick progress going north.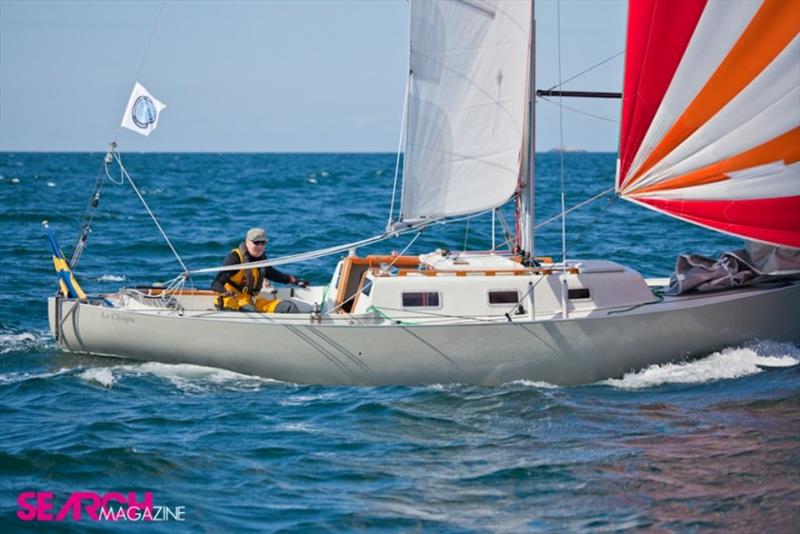 Midsummer Solo Challenge 2019 – photo © Search Magazine Segling
At Måseskär, the wind had eased a lot from the start of 7-8 m/s, and it seemed to be pure southerly up towards Lysekil, so I switched to A2 before I stepped north. Surprisingly, it was a smooth replacement, but still difficult.
Now, the wind rose again, and there was some gusts into the 9 m/s range. Suddenly, I had a hard time fetching the passage towards Islandsberg. So, I had to take the A2 down after a couple of broaches, and then put it back up. That was very tiresome.
There were other ways through the archipelago, but I didn't feel at all sure about these. Here I should have done my homework, because I was not going to chance it with the big A2 (155 m2) in almost 10 m/s!
Then the southerly kicked in again going up to Lysekil. But, as the wind again got lighter, I passed many boats.
After rounding the top mark in the north, it was first upwind and then reaching as I headed back south. I had both Code 0 and J0, and I had a lot to do on the front deck. But, the wind increased and I went fast with just the jib. So, I decided to save on my strength. Even here, I felt a little worried about the right choice. Nevertheless, I didn't seem to lose anything to the boats behind which I always had on AIS tracking. I also had a look at my friend Jonas Dyberg on the J/88.se to see which choice he and others made.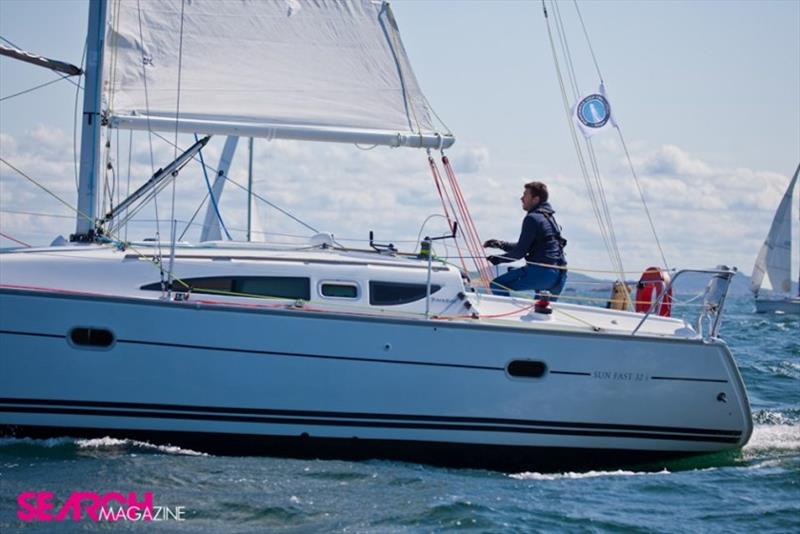 Midsummer Solo Challenge 2019 – photo © Search Magazine Segling
After Hållö, the big A2-gennaker was up again. It kept me in the middle of the course when the wind had now started to back even further. When it died, I didn't want to be on any edge east or west. In fact, quite a few of the boats ahead had chosen to go further west, and there was certainly more power there for a while. But, not for long.
Very true, the wind died on the way into the Fjällbaka archipelago. I had actually intended to take the western approach to Testholmen, but then I saw that some boats had wind inside.
I switched to A3 spinnaker to be able to sail higher, and tossed my lot among those boats going up the inside to the east.
Also, I had some stops, getting becalmed in some place, but I came through quite OK.
After a while, I lost patience. The theory was that the weather would fill in from the south, so I put up the A3 again and switched to the J1, even though Ramskär was NNW from where we were.
And, thankfully, I found some type of wind that was extremely sheared (I sailed TWA 155 with gennaker). I had something that the others who were 5 km. to the east did not have. Here I passed the J/88.se.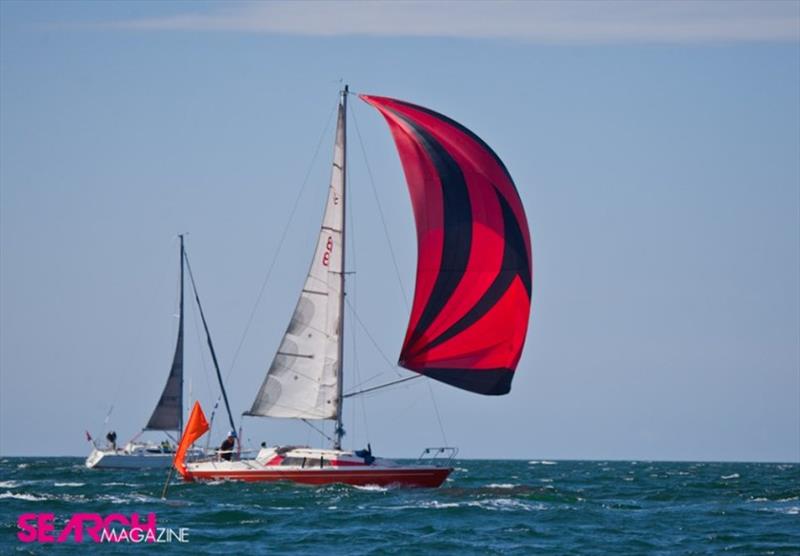 Midsummer Solo Challenge 2019 – photo © Search Magazine Segling
Now, it was only two more boats that were ahead on the track. And, still a long way home.
But, just like last year, the wind died again. For a long time, I drove straight west with 0.8 knots current. Very frustrating. And, you didn't dare to sleep either.
Then a little wind filled in from the east, as promised. And, I could go from J0 to A3 at the approach to Väderöarna.
I tried to balance a desire to go further east into the archipelago and sail quickly south towards the next mark.
At Hållö, there was too much wind, and a little too tight angle for the gennaker. Up with the jib, which felt OK when it blew 6-7 m/s, but not when it got lighter on occasion.
I then got my Code Zero up and aimed straight at Trubaduren.
I really wanted to be the fastest boat around the track and watched the distance to the finish.
After Hätteberget, there was a short cross in to the bay at Strandverket. Good with wind, very hot and a wind that twisted between TWD 60 and 80 degrees.
In the end, I was the fastest around on my J/111 BLUR.SE, which everyone expected.
But, I am most satisfied with the fact that I sailed extremely actively throughout the race, I was good at decision-making when things happened with the weather and I tried to avoid big, tragic mistakes that would cost a lot of distance. It is a mental game, a physical game, a strategic game. It is tough!
I think we have managed to create a more intense and beautiful variant of the Silverrudder Race in Denmark and I hope that more will discover this form of sailing in the future. It's not as difficult as you think. And the feeling is also much better than you thought before you tried it."
More information at Facebook page here and event website here.
by Peter Gustafsson, J/Boats