The 2018 Taittinger Royal Solent Yacht Club Regatta was a record breaking year for entries with 198 boats and around 1,000 crew racing off Yarmouth in the Western Solent.
This year, the 12th edition of the regatta, is predicted to attract similar numbers and Champagne Taittinger and the Royal Solent Yacht Club are joined for the first time by Isle of Wight-based, independent financial planners, Rouse Limited as supporting sponsor of this increasingly popular regatta.
Over the regatta weekend from Friday 26th-Sunday 28th July, the majority of classes will have two races on Saturday with one race on Sunday started from committee boat lines off the Island and Mainland shores. The range of classes competing in the 2019 Taittinger Royal Solent Yacht Club Regatta is famously diverse with a yachting design timeline reaching back over 100 years including SB20; Contessa 32; Folkboat; Gaffers; four IRC Divisions; IRC Classic Cruiser; IRC Swan; J24; J80; J109; two RYA NHC Classes; Sigma 38; X One Design (XOD) and Yarmouth One Design (YOD).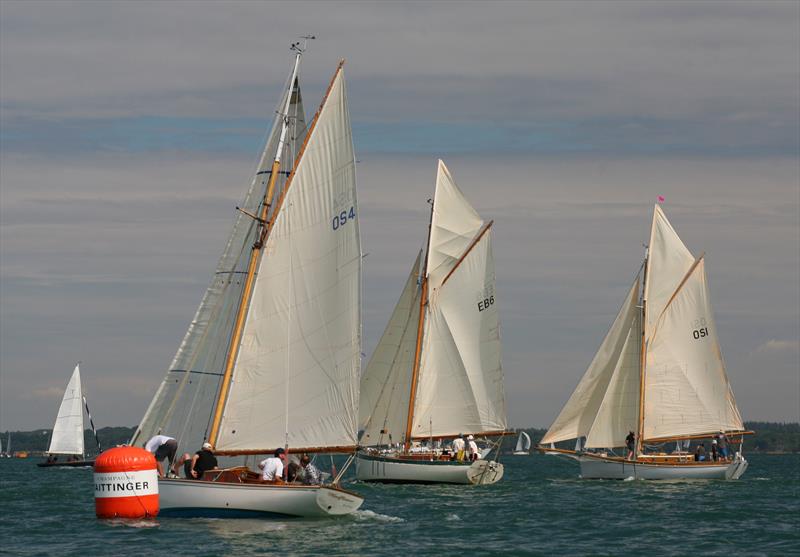 2018 Taittinger Regatta – photo © Keith Allso
While the event's focus is on well organised and enjoyable racing, the social schedule ashore continues to supply entertainment for competitors and non-racing, shore-based family and friends. The regatta officially opens on the evening of Friday 26 July with the Champagne Taittinger Reception on the waterfront lawn of the Royal Solent Yacht Club. On Saturday night, the legendary Towers Party in the landmark property adjacent to the RSYC will feature, live music, food and drink and a spectacular fireworks display and, following racing on Sunday afternoon, a hog roast on the RSYC's lawn and prize giving wrap up the weekend. For those attached to a competing crew, but opting to remain ashore, the RSYC's lawn and balconies will provide the perfect base for spectators and will remain open throughout the regatta.
Ben Rouse, Managing Director of the regatta's new supporting sponsor, Rouse Limited, is looking forward to this year's event: 'We are delighted to be able to support this very popular and successful club regatta for the first time this year,' he confirms. 'As an Island-based business with a community of clients both on the Island and beyond its shores, we recognise the value of investing time and effort in hosting and supporting events such as these; as well as bringing people together in an enjoyable setting they also offer the chance to showcase the wealth of opportunities the Island offers, not just in terms of leisure but business and employment too,' explains Rouse. 'We wish all participants, and the RSYC, a very successful regatta 2019.'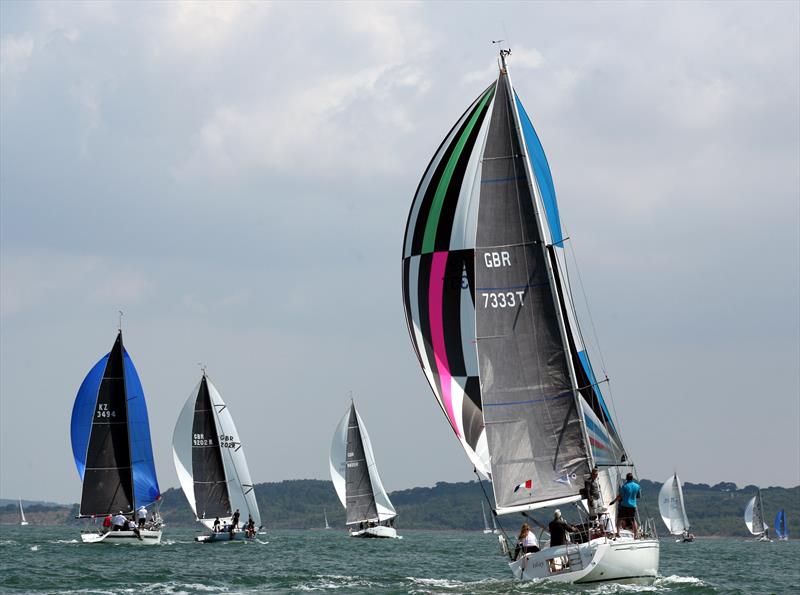 2018 Taittinger Regatta – photo © Keith Allso
The event's status as the South Coast's most popular yacht club regatta has meant that early registration for this year's event is strongly recommended.
Anne Kyle, Commodore of the Royal Solent explains: 'We aim to welcome as many boats as we can and usually fill Yarmouth Harbour to capacity,' says the Commodore. 'There was spectacular racing last year and it was a real pleasure to see so many satisfied sailors having such a great time on the water, and the town of Yarmouth buzzing with activity,' she continues. 'Given the increasing popularity of this regatta, any new or returning competitors would be wise to register early to avoid disappointment.'
The deadline for entries to the 2019 Taittinger Royal Solent Yacht Club Regatta is 22nd July 2019, but the Early Bird Discount (Dayboats £32; Keelboats £66) remains until 13th June 2019.
For all competitor enquiries please contact:
Royal Solent Yacht Club, The Square, Yarmouth, Isle of Wight, PO41 0NS
Tel: 01983 760256
Fax: 01983 761172
Email: sailing@royalsolent.org
Read the full Taittinger Royal Solent Yacht Club Regatta 2018 report here.
by Oliver Dewar