It's all systems go for the United States SailGP Team on the eve of Sydney SailGP, the first installment of a new global sailing championship.
This is the first time the American squad will compete together on the world's fastest sailboats as they begin their quest to take home the season's end $1 million purse against five rival nations Australia, China, Great Britain, France and Japan.
The six national teams will compete in the F50 foiling catamaran, the fastest and most technologically advanced sailboat in the world, capable of speeds exceeding 50 knots (60 mph). In training earlier this week, the U.S. SailGP Team already hit 45 knots, and expects to beat that during racing (weather permitting), but this time in close quarters with five other boats to add to the intensity.
"I think people will be amazed regardless if they understand sailing or not," said Rome Kirby, skipper for U.S. SailGP. "Imagine six boats flying over the water at 60 mph trying to be the first around each mark of the course. No one sailors or spectators has ever experienced or watched these incredible speeds before in sailboat racing. Exciting is an understatement."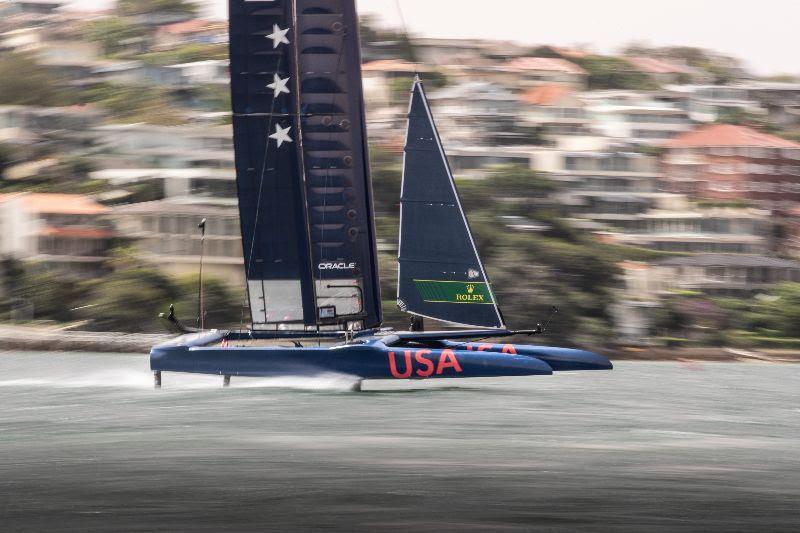 United States SailGP Team at Sydney Harbour – photo © Matt Knighton / United States SailGP
Meet the U.S. SailGP team
The American squad is the youngest of the six teams competing in SailGP. Kirby (29, Newport, RI) leads the team as skipper and helmsman, joined by Taylor Canfield (30, USVI), Dan Morris (31, Edina, Minn.), Mac Agnese (24, Ft. Lauderdale, Fla.), Hans Henken (26, Coronado, Calif.) and Riley Gibbs (22, Long Beach, Calif.).
Despite their young age, the team is driven. They already have stacked between them multiple world championship wins, and numerous America's Cup and Volvo Ocean Race campaigns to their credit. Agnese, Gibbs and Henken are currently campaigning in hopes to quality for the 2020 Olympic Games in Tokyo.
"You dream of representing your country in high profile events," said Agnese, one of two grinders on board who produce the boat's power through maneuvers. "I thought I'd be nervous, but right now I'm anxious and ready to go. This boat has an incredibly steep learning curve but we've been training hard and looking forward to getting out there."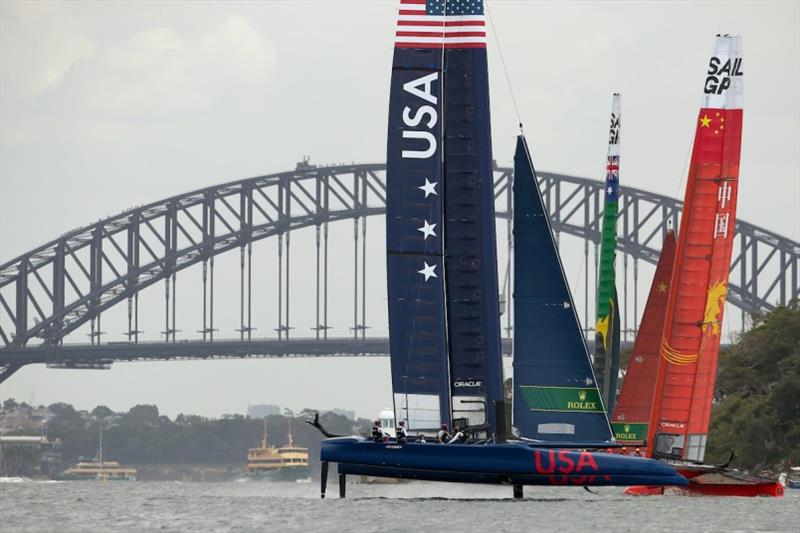 United States SailGP Team at Sydney Harbour – photo © Lloyd Images / SailGP
About the F50 foiling catamaran
The teams will race in identical 50-foot foiling catamarans that are the most technologically advanced sailboats currently in the world, producing real-time data from 1,200 onboard sensors that is available to all coaches, teams, umpires and fans. This level of transparency has not been seen in high-performance sailing before.
"The F50s are incredible machines that have so much technology and data that we use on and off the water to help us sail the boat even better," said Canfield, who is the tactician and the flight controller, which is the system that flies the boat through maneuvers to keep it hovering over the water.
by Laura Muma