Twenty solo skippers will take the start line of the Vendée-Arctique-Les Sables d'Olonne this Saturday following a totally new ocean racing course from Les Sables d'Olonne to the south of Iceland back around the Azores to finish back into the famous Vendée haven.
At four months before the start of the Vendée Globe, the new Vendée-Arctique-Les Sables d'Olonne race will now be the only real benchmark for the IMOCA fleet skippers to test themselves and their boats after what has proven to be a difficult winter and spring.
It will be the first and only chance to evaluate performance in proper race mode, to validate the winter's choices and ensuing work and to see if further improvements still need to be made before November's pinnacle event.
Targets for the race will be different for skippers all the way through the fleet. Some will press hard to find the so called red line, beyond which the boat and skipper should not push. Others, with brand new boats, or those still needing to secure final qualification miles in order to be on the Les Sables d'Olonne start line, will adopt a more conservative approach.
Marking Your Territory
At a few months before the Vendée Globe gaining any kind of psychological edge over your immediate competition can never be a bad thing, but mostly at this stage it is about building confidence and reliability in the machine.
Out front in terms of time on the water, optimising and success to date are undoubtedly Jérémie Beyou (Charal) who is on to his second generation V2 foils as is Thomas Ruyant (Linkedout). Charlie Dalin (Apivia) the Transat Jacques Vabre winner is on his V1 foils having just tested one of the new V2 set. These three have 2020 new generation boats and will certainly take the race to each other when the competitive urges take over.
Five of the eight new, 'class of 2020′ generation boats will line up, two VPLP designs Charal and Kojiro Shiraishi's sistership (DMG Mori Global One), one Juan K boat in Sébastien Simon's (Arkea-Paprec) which has new foils, both Verdier designs Dalin's Apivia and Ruyant's LinkedOut. This is expected to be a baptism of fire for Armel Tripon's L'Occitaine en Provence, the Sam Manuard scow which was only launched in May and which was racing to be ready after recent bow and rudder damage.
But any of these the new boats might find themselves pressed hard, or even overhauled by the well optimised 2016 boats such as Sam Davies' Initiatives Coeur – tipped by many as an outsider for the podium as is Kevin Escoffier (PRB). Germany's Boris Herrmann (SeaExplorer – Yacht Club de Monaco) has been going well in training with his new foils but also potent will be Yannick Bestaven (Maître CoQ) and even Italy's Giancarlo Pedote (Prysmian Group). Les Sables d'Olonne's Arnaud Boissières on La Mie Câline Artisans Artipôle and Fabrice Amedeo Newrest – Art et Fenêtres both have well set up foiling boats and have bona fide Vendée Globe experience to draw on.
Arctic Warm Up
For others, the Vendée-Arctique-Les Sables d'Olonne is a decent dress rehearsal. The IMOCA race within a race for the straight boarded, non foiling fleet will be interesting too. Bringing his boat back in perfect condition is the stated aim of Manuel Cousin Groupe Sétin as it is too of Miranda Merron Campagne de France and newcomer to the IMOCA class Clarisse Crémer on Banque Populaire who is on a steep learning curve after moving up from the Figaro and Mini classes under the mentorship of Vendée Globe champion Armel Le Cléac'h. Damien Seguin on Apicil Group and Maxime Sorel V & B Mayenne are very expeienced, successful transatlantic racers also upgrading from different classes to take on the ultimate solo challenge.
Five needing miles to qualify
Armel Tripon, Kojiro Shiraishi on their new boats, Clément Giraud (Vers un Monde sans SIDA) and Isabelle Joschke (MACSF) have what appears to be a simple target, finish the race in order to ensure they will qualify to start in November. But nothing can be taken for granted in the world of solo IMOCA racing and anything can happen. They have to finish. The exception to this, as a skipper who has a new boat but has completed the two handed Transat Jacques Vabre, is 2018's La Solitaire du Figaro winner Sebastien Simon who needs to complete 2000 nautical miles solo.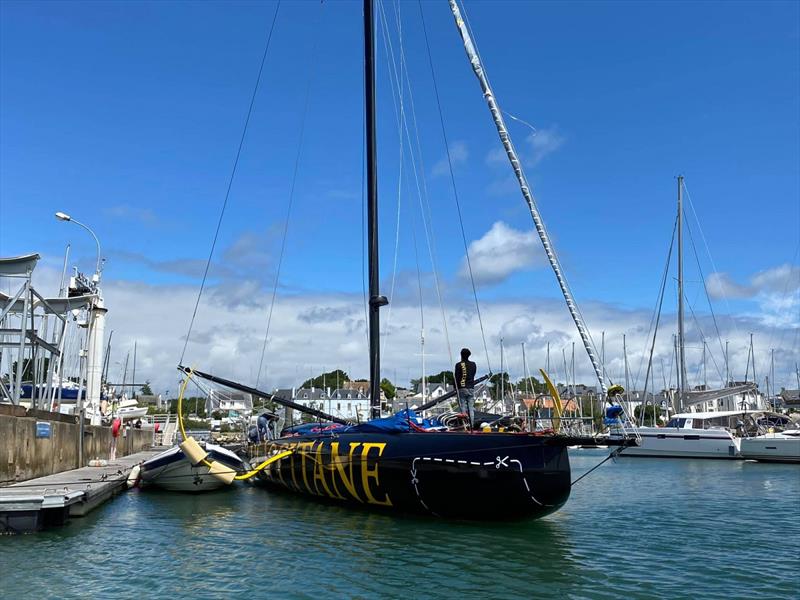 Vendée-Arctique-Les Sables d'Olonne Race 2020 – photo © Marion Pennanéac'h – L'Occitane
A miniature Vendée Globe
The course is designed to be a Vendee Globe scaled down. But for the first time sailors will get to flirt with the high latitudes, nearly at the Arctic Circle. The first turning mark, to the SW of Iceland is at 60 degrees N (the Arctic Circle is at 66 degrees33'48.1? N about 190 miles further north). So the skippers will leave the Northern European summer to have to deal with chilly low pressure systems, the possibility of ice and…the cold. The upside? They will have nearly 24 hours of daylight and have a good chance of seeing the Aurora Borealis, the northern lights.
Then it is south, back to summer, and the Azores and ideally a bit of the Portuguese trade winds sailing towards the Azores, before climbing back from NE following the classic Vendee homewards-bound route across Biscay to the famous South Nouch buoy. That will really feel like a good. well earned omen.
by Vendee Globe