The 128′ Hoek sloop Vijonara was delivered in spring 2018, following her 18-month build programme in Falmouth. Andre Hoek, her Dutch designer, said "This is the second hull in our 'Truly Classic 128' series, and this project in particular has been a fantastic experience from start to finish.
The vessel was created for knowledgeable clients with extensive sailing experience. Based on a proven hull specification, the Owners had a distinct vision for her customisation to suit their lifestyle, and she has been optimised extensively for performance.
A new addition to the 128' design is a bow sprit that houses the downwind sails such as A-symmetric spinnaker or a Code sail, as well as paying homage to true vintage sailing yachts." The project team at Pendennis, with oversight by the Owners' representatives at MCM, used modern 3D scanning technology to ensure millimetre precision in the yacht's symmetry.
further explained the design specifics of Vijonara, having worked closely with the Owners to create their uniquely envisaged yacht: "The deck layout has been reconfigured in line with the Owners' requirements, with a helm station positioned in front of the aft deckhouse creating a social atmosphere close to the centre cockpit, enabling the helmsman and guests to remain in close contact. In doing so the aft cockpit has become the Owner's cockpit, not only creating privacy but also providing an extension of the aft Owner's cabin and deckhouse. The central steering wheel with two adjacent side consoles are flanked by winches and hydraulics for performance sailing by a small crew. The stainless-steel steering pedestal is piece of art in its own right, with a classic nighthouse housing the compass encircled by a double spoked wheel with an oval shaped rim."
Owners played an intrinsic part in the design of the yacht's interior, and in partnership with Hoek, created a comfortable layout suitable for family cruising. An open plan Owner's suite, designed for relaxation and privacy, includes his and hers bathrooms, a private seating area and a study, and the unique addition of an oculus with its own underwater lighting through which the Owners can view the underwater world by both day and night. Forward of the Owner's cabin on portside is a large main salon with a TV and library, which provides a separate social area to the main dining suite. An important consideration for the clients was to incorporate a gym, which is positioned on the starboard side and can be transformed in to a spare cabin, if needed.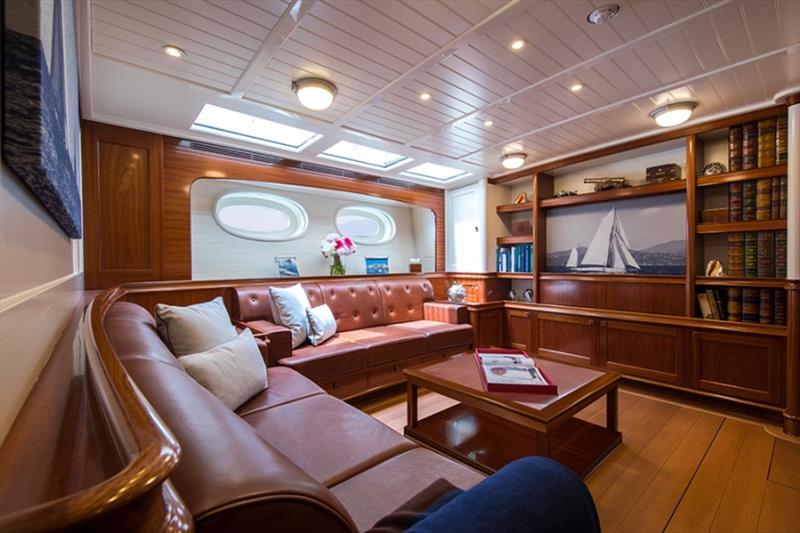 styling is highlighted by Sapele Mahogany flat panelling and traditional detailing, and the floors are laid with Italian Walnut with a 6mm Maple margin seam. To complement the high-quality interiors, a unique decision was made by the Owners to collaborate with Hermès and entrust their bespoke teams with interior fittings including the desk area, several sofas, two club seats, the oculus mounted into a leather-clad table, and a world map made of leather marquetry. These exceptional pieces were designed by the bespoke creative team and handmade by the craftsmen of Hermès in their French workshop, using supple leathers coupled with their world-renowned know-how.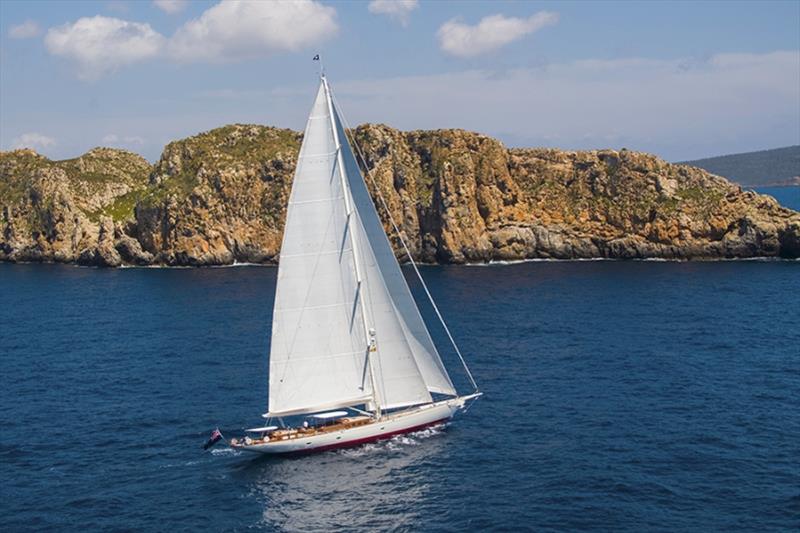 42m SY Vijonara – photo © Stuart Pearce
This stunningly beautiful classic yacht showcases an extraordinary level of attention to detail in the interior and exterior joinery, making her a very special addition to the fleet of 30 other bespoke-built superyachts launched over the years by Pendennis Shipyard. Mike Carr, Managing Director at Pendennis, proudly announced "Vijonara will be a fitting complement to the yard's 30th anniversary celebrations at this year's Monaco Yacht Show in September."
Sailing yacht Vijonara was presented with the 2019 World Superyacht Award for Best Sailing Yacht (30m to 59.9m) at a spectacular ceremony in London this weekend.
The 42-metre sloop stood out from the other highly regarded nominees in the category due to her being a near perfect example of a Modern Classic, commented the Judges, adding: "Vijonara exuded the charm and character, as well as a sense of luxurious comfort that one might expect in a great classic yacht."
Vijonara was built under the supervision of MCM co-founder Nigel Ingram, who acted as owners' representative on the project.
Her highly optimised aluminium hull was constructed at Dutch shipyard Bloemsma before completion at Pendennis in the UK. Launched in the spring of 2018, she is the second yacht from Andre Hoek's Truly Classic 128 series, and her Swiss owners took a keen interest in all aspects of the design, both technical and aesthetic.
Having built up knowledge and experience of sailing over many years and vessels, through chartering and ownership, Vijonara's owners provided numerous specific requirements in order to make her their perfect yacht.
By adding a bowsprit, the owners can enjoy the thrilling sensation of lounging in the netting while under way. This new feature delivers Vijonara with plentiful additional power from carrying larger downwind sails as well as improved ease of handling with a reduced crew.
The yacht's reconfigured deck layout moved the helm station forward of the aft deckhouse, which creates a social atmosphere close to the centre cockpit and allows easier communication between the helmsman and guests. The aft cockpit space has become a dedicated owners' cockpit. It is directly accessed from the owners' suite, which has been moved aft and features an integrated study in the deckhouse. A gym has been added to the guest accommodation per the owners' request.
Luxury French brand Hermès was engaged to devise the interior décor onboard Vijonara, with its signature tan leather and white stitching visible throughout the yacht. Understated and chic brushed metal hardware allows the tan and cream colour palate to stand out while repeated accents of blue are a nod to classic maritime tradition. The overall interior theme evokes the class and sophistication of a bygone era coupled with the very best in modern comforts and technology.
When announcing her victory, the Judges highlighted the build quality and outstanding craftsmanship of Vijonara notably her woodwork as well as her extremely good performance under sail, particularly in lighter breezes. The twin cockpit layout was also a hit with the Judges, though the "welcoming accommodation areas" were named as the most important factor in choosing Vijonara to take home the Neptune Award.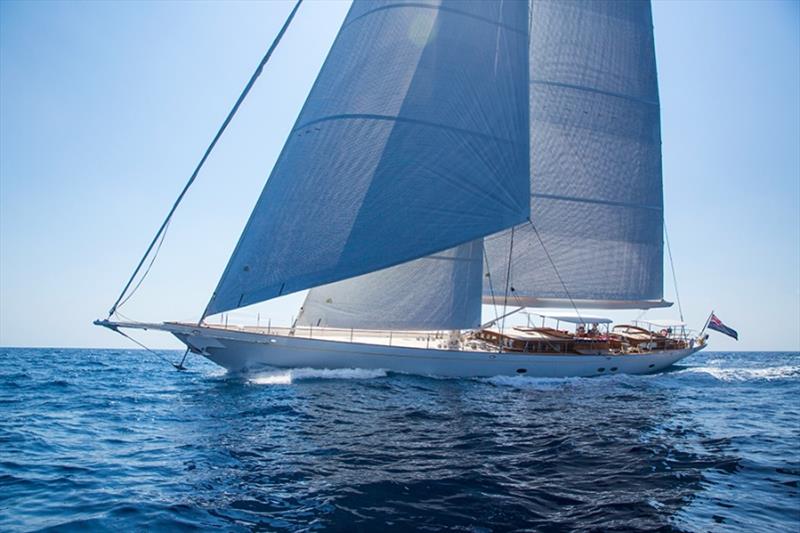 42m SY Vijonara – photo © Stuart Pearce
World Superyacht Awards is a peer-reviewed programme predominantly judged by experienced, passionate superyacht owners who have new-build experience, making it uniquely credible and influential.
MCM co-founder Nigel Ingram, owners' representative during Vijonara's construction, commented: "We are very proud to learn that Vijonara won the Best Sailing Yacht 30m to 59.9m at this year's World Superyacht Awards. These projects are a team effort; our congratulations go to the talented group of naval architects, designers, craftsmen and boat builders that created her including, of course, Hoek Design and Pendennis. We are absolutely delighted the judges decided in Vijonara's favour, as we feel that the team created something very special: a timeless and elegant spirit-of-tradition yacht with fine sailing characteristics and a well proven sea-kindly hull form. We would like to take this opportunity to thank her owners for the trust and confidence they placed in MCM to realise their sailing dream."
Building the 42m super sailing yacht Vijonara – Behind the scene of her design inputs with Nigel Ingram
"When I look back on my experience as owner's representative on the superyacht Vijonara, it was a very smooth project from beginning to end. That really depended on the owners and the relationships all the various parties established with them." Nigel Ingram MCM co-founder.
As a former racing sailor and yacht captain, sailing boats are what MCM co-founder Nigel Ingram knows best. He acted as the owner's representative throughout the construction of the 42m sailing yacht Vijonara, the second in Andre Hoek's Truly Classic 128 series. The project had an unusual genesis as her aluminium hull was built at Bloemsma in the Netherlands and she was completed by the Pendennis Shipyard in the UK. The yacht was delivered to her experienced Swiss owners in the spring of 2018, coincidentally the 30th anniversary year of both MCM and Pendennis.
"I had completed two refits at the yard and knew what they were capable of" says Ingram "When the owners visited the yard in Falmouth, they just clicked with the people there and a contract was signed pretty quickly."
The owners had owned several smaller sailing boats, but 42m Vijonara was their first new-build project. As part of the research they had also chartered Atalante, the first Truly Classic 128 delivered in 2015. But they were looking for more than just a carbon copy and brought their own ideas to the table.
Owner had a very clear vision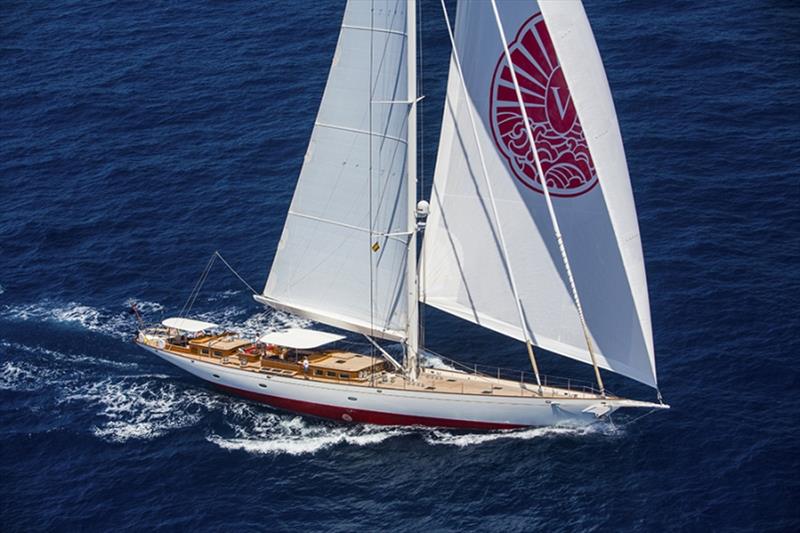 42m SY Vijonara – photo © Stuart Pearce
An early request was for a bowsprit, not just to be able to carry larger downwind sails and for ease of handling with a reduced crew, but also because they enjoyed lounging in the netting while under way. In addition to a revised deck layout with the helm station amidships, an aft owner's suite with an integrated study in the deckhouse, and a gym, they also decided to engage Hermès to devise the interior décor.
"Despite her classic lines, Vijonara is a thoroughly modern sailing yacht with a very powerful sail plan, but those long elegant overhangs also mean you lose interior volume and a major challenge during construction was fitting everything in," says Ingram. "For safety reasons, the owners also requested quite high bulwarks on what is a very sleek hull with a low freeboard. This pushed the deck down and we had to be careful to maintain the ceiling heights below deck because the owner is quite tall."
Another challenge was the decidedly short construction schedule that had to dovetail with the owners' cruising plans. In the event, Pendennis was able to complete the build and fitting out in just 18 months.
"The owners had a very clear vision of what they wanted to achieve and it was my job was to make sure all the parties pulled together to achieve that vision," says Ingram. "Understanding what the owner wants is paramount, but then we have to explain what the constraints are and be very clear about the challenges. Building a boat – superyacht is all about teamwork and the tight build schedule was achieved largely because everyone involved worked so well together."
Also key to ensuring that the project progressed smoothly were the owners themselves, who were closely involved throughout but easy to approach, quick to make decisions and rarely changed their minds.
"A good owner's representative is essential on any new-build project," say the owners. "Not someone who's fighting over every penny necessarily, but someone who can bring together the different partners to make it happen. Nigel was very good at doing that and a gentleman to boot. Being involved as owners makes the experience much more rewarding, but it's important not to try and second-guess every decision."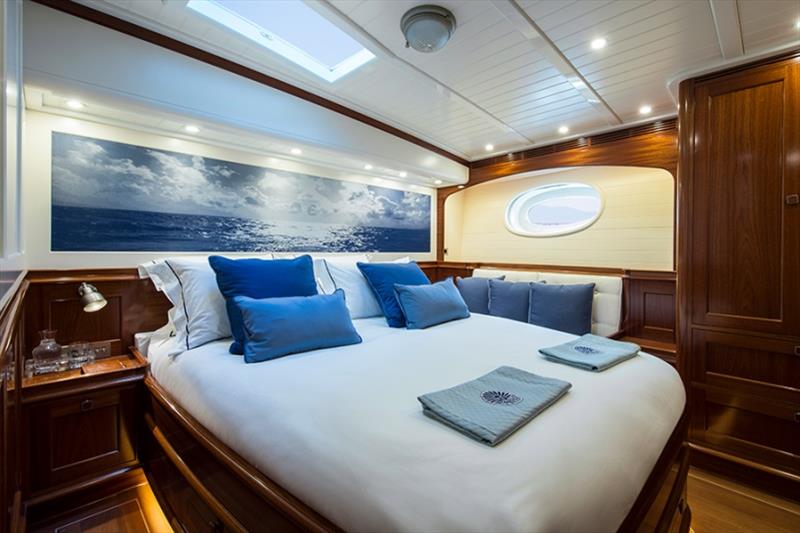 42m SY Vijonara – photo © Stuart Pearce
A well managed superyacht
Nigel Ingram's role as owner's representative came to end when Vijonara was handed over to her proud owners early last spring. But the relationship continues as the yacht has signed up with MCM's Yacht Management division.
"We much prefer to keep the lines of communication open and stay close to the yacht on a formal or ad hoc basis through the warranty period, or indeed as yacht managers as in the case of Vijonara," explains Ingram. "Well after the yacht has been launched and delivered, our Yacht Management division ensures consistency and continuity of service so that owners can enjoy their yachts with peace of mind."
Hull #3 in the Truly Classic 128 series is under construction at Bloemsma and will be finished in Turkey with Nigel Ingram's acting as owner's representative. Construction of hull #4 has also started and will be completed at Pendennis.
specification
TYPE
Sailing Yacht – Cutter Rigged Sloop
NAVAL ARCHITECT
Hoek Design
EXTERIOR STYLING
Hoek Design
INTERIOR DESIGN
Hoek Design
LOA
42.25m (over deck: 39.4m/128ft)
by MCM press