The annual Waterhead race – taking in the whole length of Lake Windermere, England's longest lake, took place on Sunday 9th June.
The 30 competitors started out from South Windermere Sailing club at the south of the lake in a perfect F3 south westerly, and after a short beat south, started the long downwind leg northwards towards Belle Isle midway up the lake.
The tall rig of the Norfolk Punt of Colin Murray made nothing of any dirty wind at the start, and after rounding the windward mark first soon pulled out a sizable lead. The smaller rig of the AC International Canoe of Alan Bennett made life more difficult for him to get through the fleet, but once in clear air he charged after the Punt.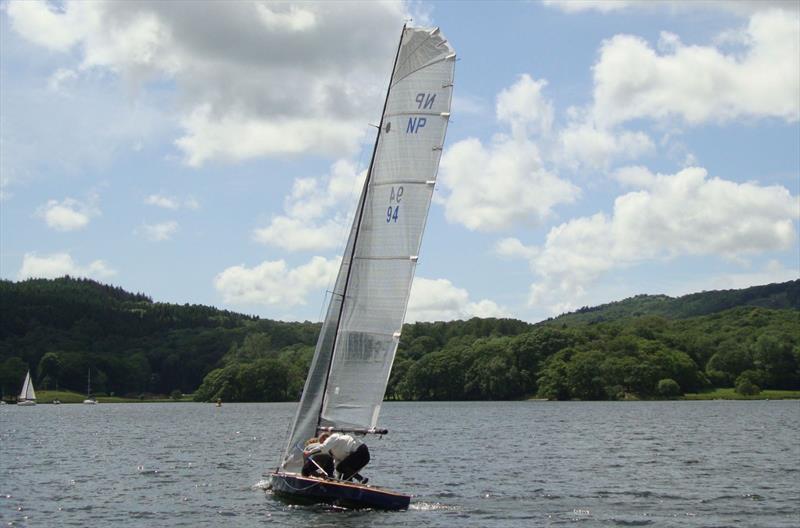 Norfolk Punt during the Windermere Waterhead Race © SWSC
North of Belle Isle the north lake has a slightly more westerly orientation, so the fleet hardened up from a run to a reach, getting eventually tighter and tighter towards the Waterhead Buoy off Ambleside. It was on this leg that the asymmetrics really started to pull away from the other boats, although things got a bit tricky when it really tightened up and got gusty, leading to the Murrays in the Punt having a short swim. So Alan in the Int Canoe rounded first, followed by the Murrays in the Punt, then Chis Pickles /Matt Sharman in an RS400 and Nick Heather in an SB20. At that stage Mark Fearnley / Chris Spicer were the leading FF15 (of 7), rounding 4th.
International Canoes are known for their blistering pace upwind, but not blistering enough to keep ahead of the Norfolk Punt, who soon pulled away into the distance. Not really bothered by the wind shadows going back through Bowness Bay, or by the Tourist boats, or the chain ferry, or even a broken port side trapeze wire, the Murrays Punt finished well ahead, finishing the 20 mile course in 2 hours 39 minutes. Alans Canoe came in 9 minutes later, and Chris's RS400 10 minutes after that.
Back down the lake the wind was gradually dropping, and all hope of handicap victory for everyone still on the course disappeared. The race was on still for 1st FF15 though, and after 3hrs 15 minutes of racing Fearnley/Spicer came in only 10 seconds ahead of hard charging James and Jude Downs, with Pete and Lynn Holt only a further 42 seconds later.
Overall Results:
1. Norfolk Punt – Murray / Murray
2. RS400 – Pickles / Sharman
3. FF15 – Fearnley / Spicer (first keelboat)
4. FF15 – Downes / Downes
5. FF15 – Holt / Holt
6. International Canoe (A/C) – Alan Bennett (first Single Hander)
13. FF15 – Alison Graham (1st lady)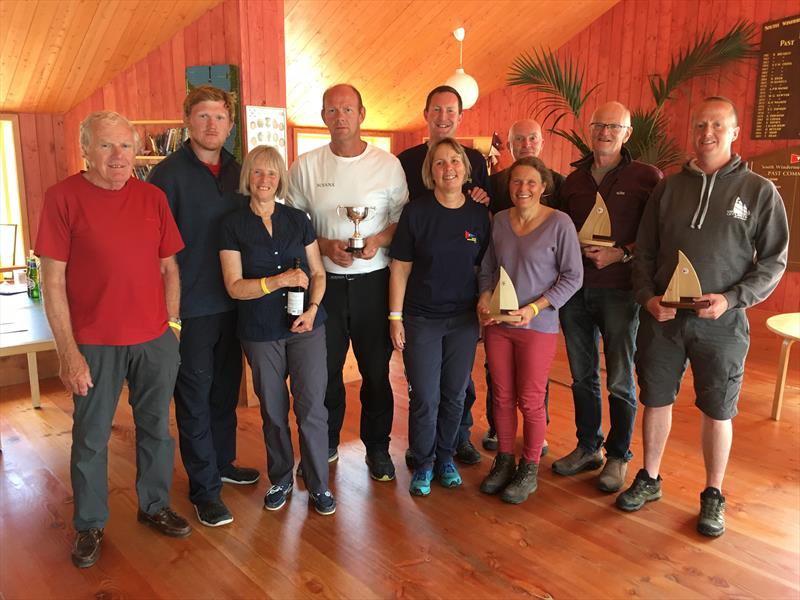 Windermere Waterhead Race prize winners – photo © SWSC
by Mark Fearnley